Bruins
3 takeaways from the Bruins' marquee win over the Maple Leafs
Hats off (again) to David Pastrnak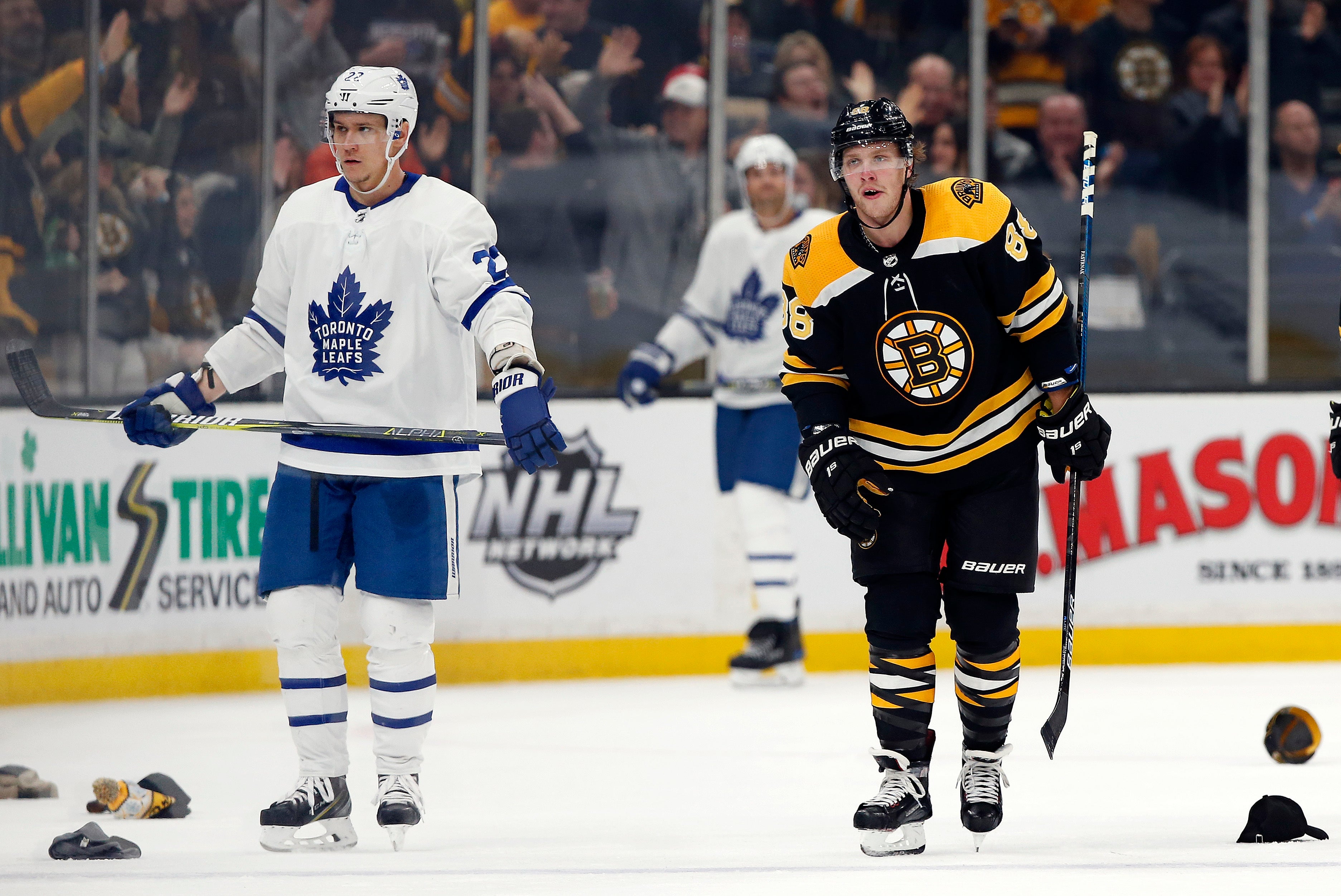 COMMENTARY
First came the ugly 8-5 loss to the Vancouver Canucks. Next came a newsworthy day that included a Providence call-up (Jakob Forsbacka Karlsson), injury update (with Charlie McAvoy's concussion), and a player leaving to attend to a personal matter (Tuukka Rask).
Then came the response.
It was a rough 48 hours for the Boston Bruins, but they found a way to overcome adversity and earned a marquee win over a Maple Leafs team — fresh off a 6-1 triumph over the Devils the night before — that was previously unbeaten away from Toronto.
"We wanted to bounce back, and I thought it was a great game from top to bottom," Patrice Bergeron said following Boston's 5-1 victory. "Obviously everyone played a great game and no matter what the situation was, we stuck with it and we kept going on our toes and kept going forward. So, I thought it was a great effort by everyone."
Here is what we learned as the Bruins downed their Original Six rivals in the first meeting since their seven-game opening round playoff series in April.
Hats off (again) to David Pastrnak
When this line is going, they're really going.@pastrnak96 completes the @Enterprise hatty in beautiful fashion. pic.twitter.com/Hatra23KZl

— NHL (@NHL) November 11, 2018
Pastrnak's play to set up Bergeron's ninth goal of the season was a prelude for yet another epic night.
Pastrnak's individual effort to out-muscle a Leafs defender in the corner and feed Bergeron for the tip in late in the first period didn't go unnoticed from the Bruins assistant captain and fellow top line compadre Brad Marchand, either.
"I think that's something that he's worked on a lot the last few years, and he's really developing his game all around," Bergeron, the NHL's leading point producer, said about Pastrnak. "It pays dividends for him and for our line. It's great to see, and he's obviously a great talent, and he's so good at getting open. So, when you add being tenacious on the puck and winning battles, that makes a big difference."
"The way he's playing the position is really transforming him — not just offensively, but also a great two-way player," Marchand added about Pastrnak. "Every team has good guys offensively, but if you're able to get those top players to buy in defensively and play a good two-way game…that's what you need to win. He's going to be the future of the franchise, so for him to play that way just pushes him and others to play even better."
The future is now for Pastrnak, whose 15 goals top the league leaderboard in that department. Saturday also marked his second hat trick of the season.
No one question's Pastrnak's ability, but the fifth-year winger interestingly admitted to not feeling well over the last few days. His assist on Bergeron's goal must have settled things down.
"Yeah, I mean, like I feel good physically and I felt good today – to be honest," Pastrnak said. "It was the first time after a while since I've felt good – and I thought they were going to come strong side so I had a good angle on him and got the puck back."
What, if anything, changed between the past few days and Saturday?
"No, I mean, like physically I felt better and I don't know what I did differently. A good dinner maybe, a good breakfast, say a couple of swear words and went to bed," laughed Pastrnak.
As long as he keeps producing, the Bruins won't mind Pastrnak cursing and changing his routine, at least off the ice.
Jaroslav Halak got back on track
Halak forced Cassidy's hand Thursday nights when he allowed four goals on 19 shots in a little over 30 minutes. The Bruins coach had no other choice but to go with Halak a day after Rask's departure.
The journeyman goalie made the same number of saves (15) through the midway point of the opening period Saturday night, nine of which came on Toronto's first power play attempt. The Bruins needed that too, as a potent Leafs attack led by John Tavares and Mitch Marner peppered Halak with 41 shots on goal, including 30 in the first two periods.
The veteran regained his composure and kept Toronto's high-powered offense in check with good positioning and timely stops until the Bruins regained their footing with the Bergeron marker.
"I think team-wise, individual-wise, we wanted to just come out and play our game obviously we took that penalty at the beginning and they kind of got into the game," Halak said postgame. "They had a good start, you have to give them credit but I think we bounced back and the second and third period I think we played really well."
Halak, now 5-1-2 this year, will likely get the nod Sunday against the Golden Knights in Boston's second half of its back-to-back.
A solid season debut for 'JFK'
Halak, Pastrnak, and the Bruins' top line deserved all the accolades Saturday night. The other 14 players played a supporting role away from the score sheet.
Former Boston University standout Jakob Forsbacka Karlsson highlighted the supporting cast in his first NHL game since skating in the 2016-17 regular season finale against the Capitals.
Forsbacka Karlsson's development into a two-way forward saw its share of speed bumps in his first two professional seasons. But the Swede stayed composed and did more good than harm in his time in Providence and earned a trip up I-95 despite a mere four-point start to the season at the AHL level (one goal, three assists).
Centering Anders Bjork and Danton Heinen on the third line, JFK took a good step forward in a tough matchup against the Leafs' third line of Andreas Johnsson, Par Lindholm and Connor Brown. He earned Cassidy's trust by winning 67 percent of his faceoffs and forcing a takeaway in 11:19 of ice time.
"He was good. I would've liked to get him more minutes as the game went on but we tried to keep with the [third line] matchup]," Cassidy said. "We thought it would be good for him, made a great play to Jake [DeBrusk] back door, winning the puck, being strong on it. I thought he was in the middle of the ice, won some board battles."