Bruins
Here's the list of injured Bruins, and when they're expected to return
The Bruins have relied heavily on their younger players from the AHL to carry the torch in the absence of so many key players.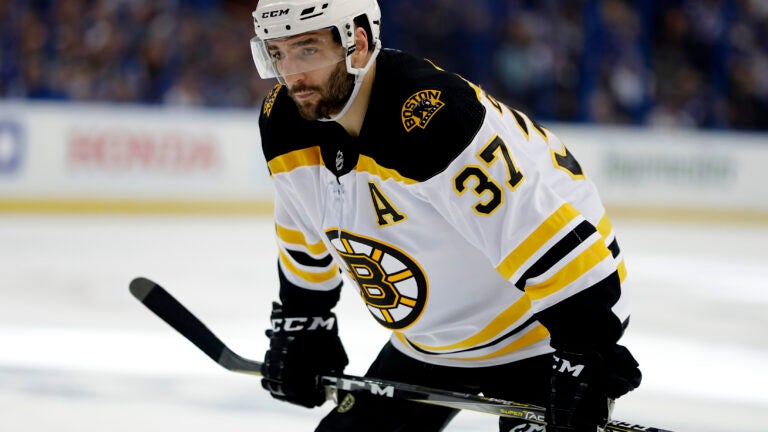 Less than two months into their season, the Bruins are feeling the full effect of the injury bug.
With a good number of their defensive corps and other key players out with injuries, the Bruins have relied heavily on their younger players from the AHL to carry the torch for Boston, who now stand at 11-6-3 in the regular season.
Here's what we know about the Bruins' injured players.
Zdeno Chara, MCL tear
The Bruins captain was injured during the first period on November 14 against the Colorado Avalanche, tearing his left MCL. Chara did not stay with the team for the rest of their four-game road trip and returned to Boston for evaluation. The Bruins have marked his leave as indefinite and announced that he will be re-evaluated in four weeks.
Might be the play where Chara went down with an injury. Not a good look on that knee. pic.twitter.com/EuYblCreVX

— Conor Ryan (@ConorRyan_93) November 15, 2018
Kevan Miller, hand
Miller was injured during a game against the Edmonton Oilers in October after blocking a shot with his hand. He was sent back to Boston on October 20 to be evaluated by their medical staff and is expected to return in Wednesday night's game against the Detroit Red Wings.
Patrice Bergeron, upper body
Bergeron was initially injured during Friday's game against the Dallas Stars, taking a hard hit into the boards before heading into the locker room.
Patrice Bergeron goes hard into the boards, headed to the room #NHLBruins pic.twitter.com/IQ3gofzxeT

— Marina Molnar (@mkmolnar) November 17, 2018
He returned to the bench during the second period but had "a tough time finishing the game," according to head coach Bruce Cassidy and was favoring his left shoulder while on the bench.
The Bruins announced that Bergeron would not play in Saturday night's game against the Arizona Coyotes and would return to Boston for evaluation.
"He was meeting [with doctors] today, so we have nothing new," Cassidy said on Monday. "I know he was in a lot of pain, but I don't know if there's anything major which is good news. But I don't want to speculate. I just know that he's not coming back to Detroit."
John Moore, lower body
Defenseman John Moore missed Friday and Saturday's games due to a lower body injury.
"He's day-to-day," Cassidy said following a morning skate in Dallas. "Had a little bit of aggravation during the game on Wednesday and it wasn't very good [Thursday]. Better today, but he's questionable for [Saturday's] game."
Moore joined Bergeron and headed back to Boston for evaluation.
Brandon Carlo, upper body
Cassidy announced that Carlo "probably [would not] play" against the Vegas Golden Knights on the morning of November 11, opening up a spot in the defensive ranks for Jeremy Lauzon.
Carlo was later ruled out for at least one game, missing Wednesday's 6-3 loss to the Avalanche. He reportedly did not travel with the team. Carlo is currently listed on the Bruins' roster as on injured reserve.
Urho Vaakanainen, concussion
The 19-year-old rookie has played just two games so far this season after being recalled from Providence on October 20. Vaakanainen made his NHL debut on October 21 and sustained a concussion two days later against the Ottawa Senators.
The Senators' Mark Borowiecki later received a one-game suspension for the hit. Vaakanainen remains on a day-to-day basis with the team. Cassidy has said there is currently no timeframe for the rookie's return, but he was seen skating prior to the team's practice on November 7 and was practicing with the team in a no-contact jersey on November 13.
He did not join the Bruins for the first leg of their four-game road stint, but Cassidy announced that he will join them on the road in Detroit.
Charlie McAvoy, concussion
The Bruins defenseman was sent back to Boston after suffering a hard hit in Edmonton and reportedly "not feeling right."  The Bruins' medical staff deemed his symptoms as concussion-related, though they were late to develop. He was placed on injured reserve on October 29, a retroactive move from when he was initially injured on October 18.
Sweeney also provided an update on Charlie McAvoy, saying the defenseman has been dealing with a concussion.

"He's been in protocol since [the Edmonton game] and is progressing – no timeline [on a return] but making progress."#NHLBruins

— Boston Bruins (@NHLBruins) November 9, 2018
McAvoy returned to skating alongside Vaakanaien, and both players are expected to join the Bruins on the road in Detroit.