Bruins
3 takeaways from the Bruins' 4-2 loss to the Maple Leafs
The Bruins deserved a better fate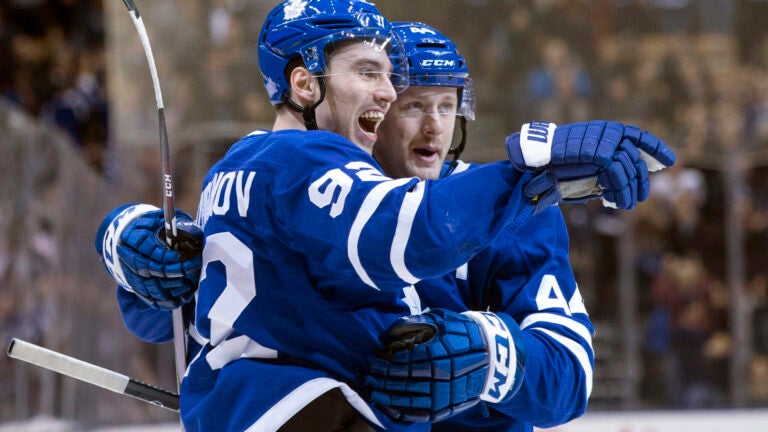 COMMENTARY
The Boston Bruins entered Monday's contest 3-0-2 in their last five games and, despite numerous injuries, strung together gutsy performances against quality opponents. They found themselves in another close contest against John Tavares, Mitch Marner and the rest of the Toronto Maple Leafs Monday night.
Bruce Cassidy's squad battled back from two separate one-goal deficits, out-shot the Maple Leafs 40-31 — including three hit-posts — and had ample opportunities to control their fate. But Zach Hyman's empty-net tally with 1:35 remaining in the third period sealed Toronto's 4-2 victory.
Here is what we learned as the Bruins fall four points behind the Leafs in the Atlantic Division standings.
Turnovers and injuries continue to haunt the Bruins
The Bruins could have easily walked away with at least one point — if not two — if it weren't for turnovers and untimely injuries.
Kevan Miller, who returned last Wednesday after a shoulder injury kept him out over a month, left the game in the first period after taking a shot to the throat area. The veteran defenseman was then sent to a local Toronto hospital for precautionary purposes.
At look at the play that forced Kevan Miller to miss the end of the first period. Weird bounce off the initial shot by Tavares. pic.twitter.com/jo7vwKV8XS

— Conor Ryan (@ConorRyan_93) November 27, 2018
"Looks like X-rays are negative, got it in the throat. They're going to keep him overnight for observation, make sure his breathing stays normal. Hopefully he's able to fly back tomorrow, that's the plan," Cassidy stated about Miller's injury to Jack Edwards and Andy Brickley. "I don't know if there's a timeline, if he's back in Thursday, if it's that simple. But right now he's out of any danger from what we've heard."
His absence forced the Bruins to use a five-man defensive rotation in which they featured John Moore, Torey Krug and Matt Grzelcyk as often as possible against Toronto's top two lines.
Miller's latest injury wasn't the only issue. The Bruins committed far too many turnovers — including several in their defensive end — that led to scoring chances for the opposition. Despite out-shooting the Maple Leafs, Jaroslav Halak (27 saves) had to bail them out on several occasions with last-second stops.
The power play was clicking on all cylinders
Par Lindholm's second period hooking minor marked Toronto's first penalty in 147 minutes at Scotiabank Arena. The Bruins, who had two power play attempts on the night, wasted little time to take advantage of this rare opportunity.
Krug, Brad Marchand, Jake DeBrusk, and David Pastrnak applied tremendous pressure in the offensive zone on both attempts they had with a man-advantage cashed in once.
With Toronto's defenders gassed, Marchand found Pastrnak for the easy goal to even things up at 1-1. The Bruins spent over a minute and a half in the offensive zone leading to Pastrnak's 18th of the season.
Really good power play by @NHLBruins. Pastrnak gets his 18th. Ties Skinner for 2nd in NHL. Laine has 19. 1-1 in Toronto. pic.twitter.com/nKfnTlGeAI

— Bucci Mane (@Buccigross) November 27, 2018
Boston's power play pegged the Leafs deep on its second chance, but couldn't convert as Marchand's wraparound attempt rang off the crossbar. The Leafs took a 2-1 lead — on Igor Ozhiganov's first career NHL goal — shortly after the power play expired.
The injury-riddled Bruins are struggling to put the puck in the net. Their power play hasn't been an issue, however. They hope that trend continues every time they get the chance with the man advantage.
Pastrnak torches Leafs again to end his goal drought
David Pastrnak, now tied for the league lead in goals with 19, has been one of the brightest stars in the NHL so far this season and once held a four-goal advantage over every other player in the league. But the 22-year-old hit a cold spell in the past five games — largely due to Patrice Bergeron's absence on the top line — and hadn't lit the lamp since Nov. 14.
The fifth-year Bruin continued to torch the Leafs Monday night. His two tallies — including his second-period beauty with Torey Krug assisting —  marked his fifth goal in two games against Boston's Original Six rivals.
This pass by @ToreyKrug though, David Pastrnak with his 2nd of the game #NHLBruins trail 3-2 after 2 pic.twitter.com/J3e7dh10bV

— Marina Molnar (@mkmolnar) November 27, 2018
And it wasn't just his scoring ability that was on display in Toronto. Pastrnak's aggressiveness both with and away from the puck gave him time and space to cycle the puck and fire his patented slap shot from the top of the left faceoff circle all night.
Pastrnak and the rest of the Bruins return to Boston for a two-game homestand starting Thursday — on Rick Middleton night — against the New York Islanders.