Bruins
3 takeaways from the Bruins' 2-1 shootout win over the Islanders
Ryan Donato secured the win with a 'nifty' shootout goal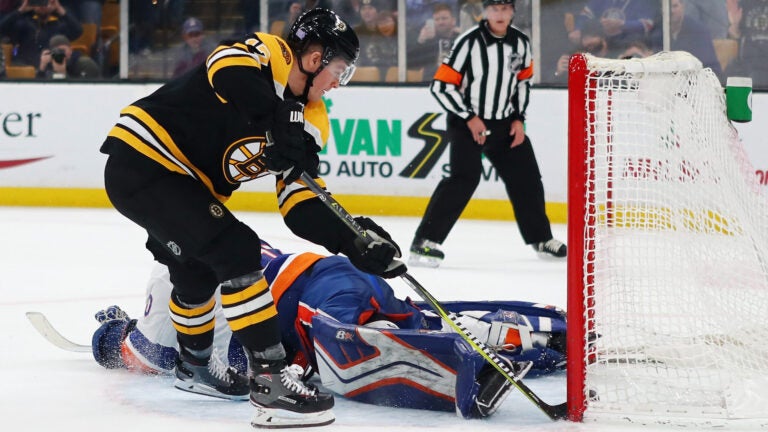 COMMENTARY
Ryan Donato wore No. 16 throughout his hockey life. That number wasn't available upon his arrival to the Bruins so he got the next best thing: a jersey patch in honor of Rick Middleton's banner-raising night.
Donato's father, former Bruin and current Harvard University head coach Ted, idolized Nifty growing up. His son was on hand to see Middleton finally raise that No. 16 to the rafters between fellow Bruins greats Milt Schmidt and Terry O'Reilly during Thursday's pregame ceremony at TD Garden.
Fittingly enough, Ryan Donato had a night to remember in his first game back in Boston since his Providence assignment on Oct. 30. With the game on his stick in the fourth round of the shootout, Donato had his own nifty moment when he beat Islanders goalie Robin Lehner with the backhander to secure another two points for the Black and Gold.
"Yeah, 16 was on the chest tonight, on the little patch there," Donato replied in his first postgame answer to the hoard of reporters. "So hopefully we'll keep it for the rest of the season. We'll see."
"I mean, you work really hard in your time down there and to get repaid for it," the second generation Donato added about his shootout winner. "It's been a long time since [my last game in Boston]. You can work hard up in this league and not have a lot of success so finally working hard paid off and it was nice to have that feeling.
Here are some other things we learned as the battle-tested Bruins scratched their way to another victory.
Bruce Cassidy was pleased with Donato's return.
Donato's shooting instincts and offensive creativity gave the Bruins a late-season lift in 2017-18. The team expected another step forward after Donato tallied nine points (five goals, four assists) in his first 12 career NHL games.
A slow start, however, sent Donato down I-95 South for AHL seasoning. He seesawed between the third and fourth lines during his first 11 games that resulted in a single goal on the stat sheet. Playing top line minutes with Providence, the 22-year-old regained his scoring touch, notching nine points (five goals, four assists) during his 10-game stint.
Donato realized that a good 95 percent of the game is played without the puck. He took that mindset to heart during his first interaction with Cassidy upon his call-up. The third-year Bruins coach echoed that sentiment following after watching his team grind through another low-scoring affair.
"Well, he should. He's going to have to play defense if he's going to play here. Especially right now, we're winning a lot of close games, so that's fine," Cassidy said. "We're not trying to coach the skill out of him, by any means, but we just want to make sure that it's okay if he errs on the side of caution right now and make sure that he's working to be above pucks because I think his natural instincts will take over offensively."
Donato's final stat line in his Boston return included a blocked shot and three shots on goal in 10:41 of ice time.
Tuukka Rask stood tall in the extra session.
Regulation: 22 saves

OT: 6 saves

Shootout: 4 saves@tuukkarask | #NHLBruins pic.twitter.com/8gcauxELi5

— Boston Bruins (@NHLBruins) November 30, 2018
Something dawned on Rask since his return from a leave of absence a few weeks back.
Rask had a relatively quiet workload through 60 minutes, at least compared to his previous four starts. His workload picked up considerably as the Islanders had prime opportunities to end things during the 3-on-3 overtime. The Finn put together quite the goaltending clinic with key stops on breakaways and odd-man rushes during the five-minute session.
His six overtime saves and perfect 4-for-4 outing in the shootout put the Bruins in position to win. Rask delivered, again, and improved to 3-0-2 in his last five games.
"You just kind of work hard in practice, try to get some shots and work with the goalie coach, and then when the game time comes, you try to be there. Some days you are; some days you aren't, and the past few games I have," Rask (28 saves) said about his recent run. "It's a mystery; I don't know. I want to do it every night, but you know."
The Bruins are still searching for their ideal lineup.
Low-scoring games have become the norm in Boston as they battle the ongoing injury bug. Their defense and goaltending are coming through in the clutch despite the plethora of ailments to the likes of Zdeno Chara, Charlie McAvoy, Brandon Carlo, and Kevan Miller to name a few. Goal scoring had been hard to come by in Patrice Bergeron's absence.
Cassidy finds himself adjusting his lineups on the fly. Thursday's example meant splitting up Brad Marchand and David Pastrnak against a stingy Isles D. The former slotted in with Colby Cave and Jake DeBrusk while the latter reunited with fellow countryman David Krejci, with Joakim Nordstrom moving up to the off wing.
"I thought Marchy [Marchand] and Pasta [Pastrnak] early on were trying to make plays against – basically they play a 1-1-3. They protect the blue line well," Cassidy said about his in-game lineup adjustment.
"We put Nordy [Nordstrom] up on the wing with Krech [Krejci] and Pasta to give him more of a defensive conscience so they could still play their game in those games. Every line we've put together for the most part, there is some of that thought that there's a solid defensive guy just because of the way the games have played out for us recently."
They're finding ways to win. That's all that matters to Cassidy and company.