Bruins
3 takeaways from the Bruins' ugly 5-0 loss against the Panthers
"At times, it looked like men amongst boys out there."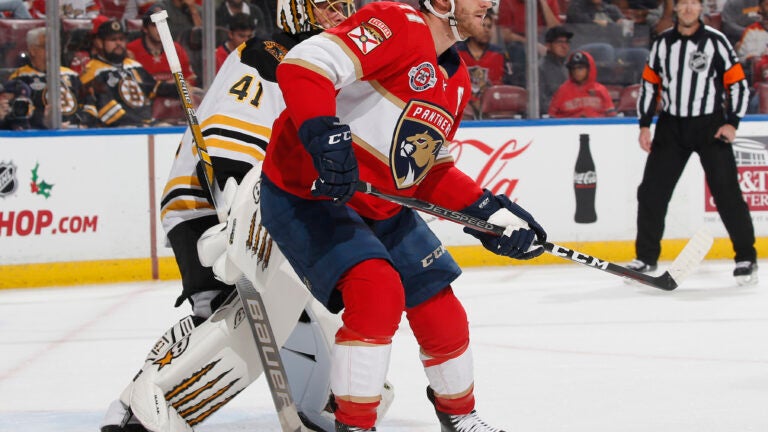 COMMENTARY
Bruce Cassidy expects growing pains with his young Bruins as they battle through the injury bug. He didn't expect the effort his team put forth Tuesday night in front of a small handful of Panthers supporters at BB&T Center.
Defensive breakdowns, a lack of urgency in the attacking end, and lethargic play along the walls all factored into Boston's ugly 5-0 loss against their Atlantic Division foes Tuesday night. Things won't get any easier as their second-round rematch with the high-octane Tampa Bay Lightning await the Black and Gold in 48 hours.
Here is what we learned as Cassidy and company suffered their biggest shellacking since the 7-0 opening night setback against the defending Stanley Cup champion Washington Capitals.
Things unraveled in the middle 20.
The Bruins came out flat from the get-go. But par for the course, Jaroslav Halak kept his team in it with a sharp 13-save first-period effort.
Halak didn't fare much better the rest of the way. His teammates were far worse.
The snowball effect began when Mike Hoffman pounced on a loose puck behind Halak — off a feed from Colton Sceviour — for the game's opening goal at 4:21 of the second. It continued when defenseman Mike Mattheson went end to end unscathed following a Bruins faceoff win to give his team a 2-0 lead at 13:13.
It got worse. At 15:14, Halak whiffed on a Jonathan Huberdeau a shot, a save he makes 9.5 times out of 10. Hoffman's second of the period — a one-timer on the power play at 19:55 capped off — Florida's four-goal second period.
"Clearly not our best," a blunt Cassidy told Jack Edwards and Andy Brickley postgame. "We weren't on time to start. I thought Jaro [Halak] was good in the first period, so you'd hope we'd pick it up in the second…recognize that we have good goaltending and cover for our mistakes. But it didn't happen."
Cassidy's team is struggling to find the back of the net. Their defense and goaltending have backed them up even without a former Norris Trophy winner (Zdeno Chara), a physical specimen (Kevan Miller), a stout two-way defender (Charlie McAvoy), and a four-time Selke Award winner (Patrice Bergeron).
The goal scoring issues continued on Tuesday night. The Bruins have scored three goals only once in their last 19 games. But, even with a makeshift lineup, the constant breakdowns, odd-man rushes piled up resulting in their worst defensive outing during this injury-riddled stretch.
"At times it just looked like men against boys out there," Cassidy added. "And we just weren't up for the challenge tonight."
The Bruins need Brad Marchand and David Pastrnak to wake up.
There's no doubt that every Bruin will hold themselves accountable for this wasted effort. The 12 forwards and six defensemen all did one thing as a team in South Florida: played poorly.
So singling out Boston's two top wingers, Brad Marchand and David Pastrnak, doesn't do justice for this game alone. But Tuesday night shined a bigger light on their ongoing struggles without Bergeron, their do-it-all center flanking them on the top line.
At first, Cassidy broke up the Marchand-Pastrnak duo in hopes of finding more scoring balance in Bergeron's absence. The third-year Bruins coach reunited Marchand and Pastrnak after a two-game stint. Neither has provided that usual spark as the top line wingers have combined for a mere nine points in the last eight games.
A rotating door with Jakob Forsbacka Karlsson and Colby Cave mostly getting top-line duty in Bergeron's absence hasn't helped Marchand or Pastrnak. Yet, the talented wingers fared alright when Riley Nash assumed top line duties last year whenever Bergeron was out. Nash is in Columbus now. The Bruins don't have a versatile player of that pedigree on their current roster.
Cassidy moved David Krejci with Pastrnak and Marchand Tuesday night. He may need to use that top-heavy line when the Bruins face Steven Stamkos, Nikita Kucherov and the Bolts come Thursday.
Time for a good old bag skate?
Any old time hockey supporter would agree that a team coming off an effortless outing should be subject to a high-intense practice the next day. So, it came to a little surprise when Edwards, Brickley, Dale Arnold, Billy Jaffe and Barry Pederson used this as one of their postgame talking points.
The Bruins could use a spirited practice before facing the Lightning. Yet, the last thing this young team needs is to have nothing left in the proverbial gas tank when they drop the puck in Tampa.
Pucks will be present at Wednesday's practice, unlike the vintage bag skates. But the Bruins could still use an engaging and productive training session — while still making room for physicality — after laying an egg against the Panthers.
"That's why I'm glad we don't play football. We don't have to wait another week to get things going in the right direction," forward David Backes told reporters postgame. "We have a heck of a challenge against a team that ended our season last year. So, if you can't get up for that one, then you don't belong to be here, and we need to have a great, concerted effort from all 20 guys in that game to get a win."
Yes, they had a healthier lineup following their opening night blowout in Washington, but the Bruins don't have to look far to their bounce-back effort against the resurgent Buffalo Sabres the very next night for added motivation. They'll need that — and more — against Stamkos and company.