Bruins
3 takeaways from the Bruins' 3-2 loss to the Lightning
Scoring goals is the major issue that's plaguing the Bruins.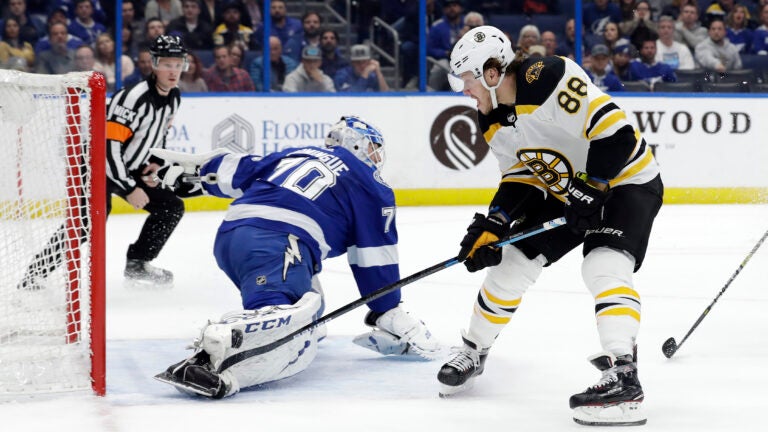 COMMENTARY
The Bruins had a better effort — compared to their ugly 5-0 loss to the Florida Panthers — against the league-leading Tampa Bay Lightning. But costly turnovers and the ongoing offensive struggles reared their ugly heads as Boston wasted another solid effort from Tuukka Rask (27 saves).
Here's what we learned as the Bruins dropped their third straight game in regulation following Thursday's 3-2 loss to the Bolts at Amalie Arena.
Scoring goals is THE major issue
Say what you want about injuries, but there is no excuse for Boston's lack of offensive production thus far.
The Bruins have tallied 72 goals this year and only 16 in their last 10 games. That output is not good enough and won't cut it against the Eastern Conference elite.
David Pastrnak and Brad Marchand are trying to put the team on their backs in Patrice Bergeron's absence. Yet two players, no matter how talented they are, can only carry a team so far.
The Bruins desperately need scoring depth. Sean Kuraly, Noel Acciari, Danton Heinen, Colby Cave, Jakob Forsbacka Karlsson, and Chris Wagner have done very little aside from providing a breather for the overworked top line.
It's obvious when guys like Pastrnak, Marchand and even Jake DeBrusk have off nights. The odds of anyone scoring are slim to none when Boston's top three scorers are off.
David Krejci, the team's second-line center, recorded his first goal in 19 games with his late third-period tally. One goal in 19 games for a top-six forward is not good enough.
Charlie McAvoy entered Thursday's contest with the eighth-most points on the team. That is a telling stat given that he only skated in seven games prior to his return to the lineup in Tampa.
The injury-plagued Bruins aren't getting the job done offensively. This may force GM Don Sweeney into making a trade even when Bergeron returns.
"Our best players have to be our best players"
Head coach Bruce Cassidy didn't single any players out after watching his team's effort (or lack thereof) against the Panthers. But, he indirectly called out Pastrnak and Marchand with the aforementioned quote following one of their worst performances of the year Tuesday night.
The talented wingers took Cassidy's message to heart two nights later.
Marchand led all Bruins forwards with 20:59 time-on-ice, while Pastrnak tallied his 20th goal of the season that gave Boston an early 1-0 lead. The latter had a golden chance to light the lamp again in the opening period but couldn't elevate the puck over the outstretched pad of Louis Domingue just minutes after the Lightning evened things up at 1-1.
It wasn't a perfect night for Marchand and Pastrnak but they have something to build on when the Bruins welcome the highly-talented Maple Leafs to TD Garden on Saturday night.
Charlie McAvoy returns
The Bruins received some welcomed news when Charlie McAvoy returned to the lineup for the first time since their Oct. 18 tilt in Edmonton.
McAvoy, who has spent the past month and a half working his way through concussion protocols, skated with John Moore and tallied 21:02 of ice time.
It wasn't the easiest of returns for McAvoy, who made a few expected mistakes after missing the past 20 games. McAvoy's notable blunders came in the first period on an unnecessary hooking penalty and a costly turnover that led to Brayden Point's 21st goal of the season.
The Bruins are happy to have the former Boston University standout back, but they know it will take a few games before he returns to form.