Bruins
Bruins address Charlie McAvoy's tardiness
"I'm a young guy, and trying to adjust and learn all the right things."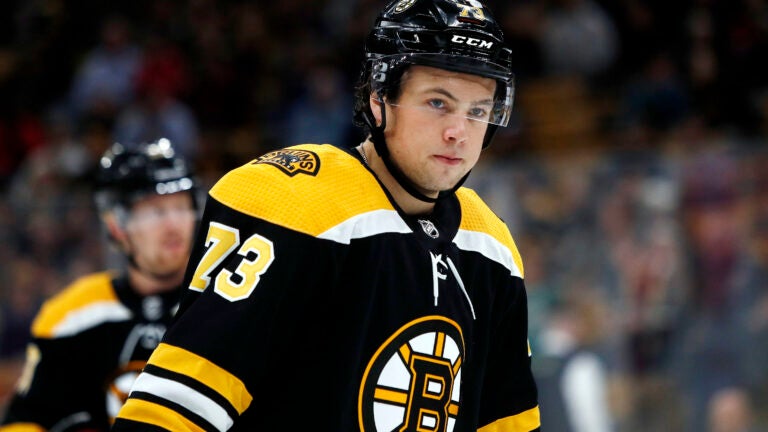 Second-year defenseman Charlie McAvoy acknowledged his teammates called him out after he was late to two separate team-related events this season.
McAvoy, speaking to the Boston Globe's Kevin Paul Dupont, admitted he needs to pay closer attention to the responsibilities of being a pro. After showing up late to the team bus following a game and to a meeting on special teams, McAvoy said the onus is on him to "make sure [he is] always there — five minutes early, 10 minutes early, 15 minutes early."
"I'm a young guy, and trying to adjust and learn all the right things," he told the Globe Saturday night. "We have the best group in the NHL as far as leaders go — these are guys that I idolize — and my ultimate goal for my career is to grow as a player, to be those guys, and take on leadership roles and be the kind of people they are on and off the ice."
Bruins team president Cam Neely does not seem worried about McAvoy's behavior. Speaking to Michael Felger on 98.5 The Sports Hub Saturday, Neely said McAvoy has only been late and not missed anything.
None of the actions reached the level of requiring discipline, per Neely, who expressed confidence that team leaders Zdeno Chara, Patrice Bergeron, David Krejci, and Brad Marchand would have the situation under control.
"I don't look at it as a major issue," Neely said. "There was nothing missed … he was just late. And, as it should be, it's frowned upon. … It's a young player, you know, probably getting caught up in things and trying to figure things out. Not an issue."
Bergeron and Chara echoed Neely's sentiment.
"It's hasn't been a problem at all," Bergeron told the Globe. "Chucky's one of those guys that, you know, when you are younger you have things to learn, and that's what he's doing right now. It hasn't been an issue. It has not happened often, either. And it's being dealt with, and he's a great kid — so there's no issues there at all."
McAvoy specified it was Marchand who called him out on his behavior, noting that Marchand is looking out for his future and wellbeing.
"And for that, I couldn't be more thankful," McAvoy said.
McAvoy hopes to practice with the team Monday or Tuesday following a recent five-game absence due to a lower-body injury.