Bruins
3 takeaways from the Bruins' 2-1 overtime win over the Avalanche
The Bruins aren't making things easy for themselves.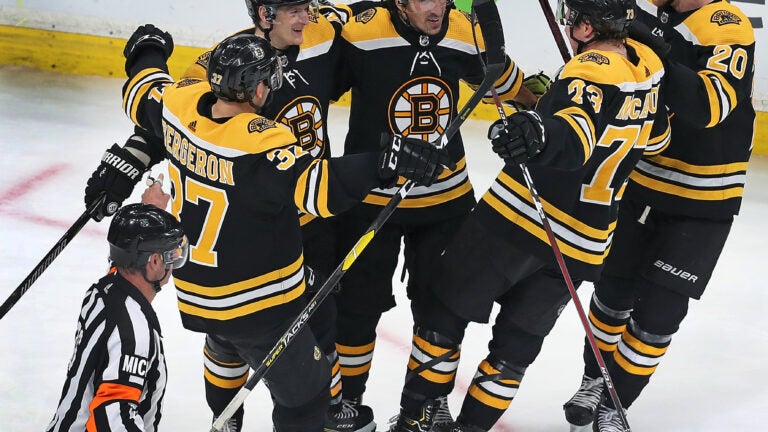 COMMENTARY
They haven't made things easy for themselves over the last week or so, but the Boston Bruins are finding ways to win.
The trend continued on Sunday when the Bruins welcomed the high-tempo Colorado Avalanche — a team they haven't beaten at home since March 29, 1998 — with an expected high-scoring game in mind. What they got instead was a war of attrition in a tilt featuring the NHL's top two scoring lines.
Boston's stifling defense helped them claw their way back from a 1-0 deficit. They got a goal from an unusual suspect after John Moore's point shot found its way past Semyon Varlamov for the second-period equalizer — a tally that ultimately forced overtime.
With just 57 seconds remaining in the 3-on-3 extra session, Brad Marchand — following an excellent cycling sequence with Patrice Bergeron and Torey Krug — found the back of the net for the walk-off lamplighter.
"It was tough out there today," head coach Bruce Cassidy said postgame. "We didn't have much in the first period. You could see it in the guys that it had been a long week. It was going to be tough if we had to chase the game all day. We acknowledged that between periods and said let's just be patient. We did have a good second, got one early enough and wanted to make sure we didn't have to chase it again."
Here's what we learned from Boston's 2-1 OT victory over Colorado.
The Bruins are finding ways to earn points.
The Bruins moved to third place in the Atlantic Division as they extended their point streak to seven games. They've had to earn each and every one of those points.
Nothing has come easy with the 2018-19 Bruins. They've relied on overtime in five out of their last seven games against teams beneath them in the standings. The lone outlier from that recent stretch came in their shootout loss against the Central Division-leading Winnipeg Jets.
Yet, you can't fault them for consistently finding ways to pick up points along the way. Sunday was the latest example.
The Avalanche controlled most of the play and had ample opportunity to take over this contest. But the Bruins stuck to their game plan and kept grinding away until they caught a break.
"It's a character win," fourth liner Chris Wagner said. "Tight game against a good team, even though they haven't been doing great lately. They compete and they're fast, so great job."
The Bruins have 26 games remaining in their regular season slate. They'll take points any way they can in a tightly contested playoff race.
As the old saying goes: they don't ask how; they ask how many.
Moore steps up for Matt Grzelcyk
With a healthy blue-line intact, Moore and Matt Grzelcyk have rotated with each other for the better part of the last month. The former, however, made more trips to the Level 9 press box.
But Grzelcyk's lower body injury gave Moore an opportunity to play vital minutes with Brandon Carlo this weekend.
Moore, who welcomed a new addition to his family recently, stepped up when the Bruins needed it. The 28-year-old offseason acquisition netted the game-tying goal in the second period and finished a plus-one with three shots on target.
John Moore with a snipe to even things up? pic.twitter.com/1ghEsZI6Os

— Matt Castle (@Matt_Castle22) February 10, 2019
"Yeah, it felt really good. It felt really good to contribute and help the team," Moore said. "I had a cheering section at home. My wife and I just had a new baby. I know my daughter loves coming to these afternoon games so I knew they were watching at home. I'm going to race home, see them, change a diaper or two, so I guess the real shift starts now."
Moore even had one of the most bizarre goals — or in this case non-goal — of the year. Watch it for yourself.
Goal didn't count – but what a bizarre sequence. pic.twitter.com/2abRWKCoEy

— Conor Ryan (@ConorRyan_93) February 10, 2019
"To be honest with you, last minute I was just trying to get the puck in deep and right when it hit the stanchion," Moore said about the play. "I knew they were going to blow it dead but it would have been nice if they were looking the other way."
Jaroslav Halak puts together a strong outing.
Halak came back down to earth following his hot start to his first year in Boston. He entered Sunday looking for his first victory since Jan. 3 against the Calgary Flames.
The 33-year-old journeyman changed his fortunes Sunday during one of his most complete outings of the season. Halak stayed dialed-in from the get-go during his 35-save outing and helped keep the potent trio of Nathan MacKinnon, Mikko Rantanen and Gabriel Landeskog in check.
"It's nice to win a game again, it's been a while," Halak said. "I felt alright [my last two starts] against the Rangers and against Winnipeg. You know, when it goes to OT, 3-on-3, you never know what's going to happen and then a shootout. So, in a shootout, you always get some great players going against you and you know, if they make a good move, good for them and I move on to the next game. So, like I said, tonight, I thought we were going to a shootout again and when it went in I was happy and I just couldn't believe it at first. It's nice. It's nice to get a win again."
His best save of the evening came at the most unexpected of times. The Bruins were in the midst of a 5-on-3 power play looking to take a 2-1 lead. Instead, a bouncing puck fell right to MacKinnon as he exited the penalty box with a breakaway attempt.
Halak stood tall, didn't fall for any fakes and made the clutch save to keep things tied at 1-1.
?‍♂️#NHLBruins pic.twitter.com/QoDgZ5uThD

— Boston Bruins (@NHLBruins) February 10, 2019
"I just tried to take away the 5-hole. And you know, I think the puck was bouncing on him and he didn't really get enough on the puck," Halak said. "I'm just glad it stayed out."
The Bruins were glad for that save too. They were also happy to give Halak his first win in over a month.