Bruins
5 things to know about new Bruins forward Charlie Coyle
He's a Boston kid, through and through.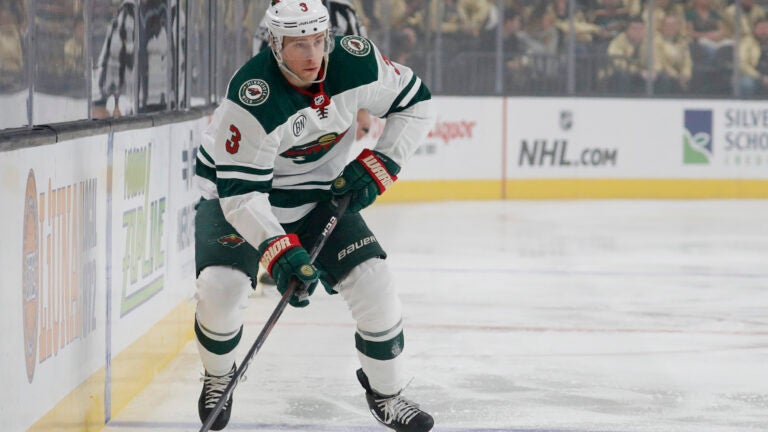 Bruins fans were treated to early trade-deadline news when general manager Don Sweeney acquired 26-year-old forward Charlie Coyle from the Minnesota Wild Wednesday in exchange for forward Ryan Donato and a fifth-round draft pick.
In 60 games this season, Coyle has scored 28 points.
Here are five things you need to know about the newest Bruin:
He's a Boston kid, through and through.
Coyle grew up in Weymouth, just 16 miles from TD Garden. He started making waves in hockey as early as his freshman year, when Weymouth High competed for the Super 8 Finals, the state's most competitive high school hockey tournament. Coyle played his next two years of high school hockey at Thayer Academy in Braintree. Thayer Academy has produced star NHL talent before: Former NHL players Jeremy Roenick, Tony Amonte (Coyle's cousin), as well as current Washington Capitals defenseman Brooks Orpik attended the school, among others.
According to Hockey-Reference, Coyle scored 48 points in 26 games at age 16 with Thayer Academy. He spent his age 17 season playing for the junior team South Shore Kings, scoring 63 points in 42 games. Coyle enrolled at Boston University for the 2010-11 season and scored 26 points in 37 games with the Terriers. He returned for his sophomore season at BU, but left mid-season to play junior hockey in the Quebec Major Junior Hockey League for his last year in amateur hockey.
Coyle was a first-round pick in the 2010 NHL Entry Draft.
The San Jose Sharks selected Coyle with the 28th overall pick in the 2010 NHL Entry Draft, which Bruins fans will remember as the year the team selected center Tyler Seguin second overall. Coyle is the 15th highest-scoring player among 2010 draft picks to date, with 242 points in 479 games.
The Sharks traded Coyle to the Wild in June 2011 in a deal that most notably sent defenseman Brent Burns to San Jose, where Burns would go on to win the Norris Trophy. Coyle turned pro for the 2012-2013 season and spent only 47 games in the AHL before earning a mid-season call up to Minnesota.
Coyle's production rose steadily each of his first five seasons in Minnesota. He scored a career-high 21 goals in 2015-16, but his best season came in 2016-17, when he scored 56 points in 82 games. Last season was fairly underwhelming, as Coyle played in only 66 games and did not reach 30 points.
He can play center and right wing, and scores effectively at even strength — a skill the Bruins need.
Coyle is a versatile forward, capable at center and right wing — positions where the Bruins could use some help. His added presence to the lineup allows coach Bruce Cassidy to slot him in at wing on David Krejci's right, or anchor a third line as a center. A revolving door of players — Joakim Nordstorm, Jacob Forsbacka Karlsson, Peter Cehlarik, and Trent Frederic — auditioned for those roles with mixed results.
Additionally, despite their success this season, the Bruins have struggled to score at even strength. According to statistics website Evolving Hockey, they have amassed the ninth-least goals during five-on-five play this season among all 31 NHL teams.
The Bruins have been propelled offensively by an elite powerplay and quality scoring from their top-five players. Coyle's 28 points this season put him tied for the team's sixth-best scorer with winger Jake DeBrusk. But 23 of those 28 points have come while Coyle is playing at even strength, and that's no outlier. Nearly 78 percent of his career points have come while playing at even strength.
The Bruins will retain Coyle's services for next year, too.
In Donato, Sweeney loses a forward still on his entry-level contract in this trade. But he's already completed his goal of acquiring a player who will play in Boston for at least one more season.
The Bruins spent past trade deadlines acquiring rentals — players whose contracts expired at the end of that season — but Coyle comes to the Bruins with a $3.2 million contract against the salary cap that expires at the end of the 2021-22 season. That gives Sweeney assurance his new forward will be in Boston for a possible Stanley Cup run this year and next alongside Bergeron, Marchand, and the rest of the team's core players.
He's made repeated efforts throughout his career to connect and give back to the community.
In a 2017 question-and-answer session with NHL.com, Coyle said he supports charitable causes such as Autism Speaks, United Heroes League, and Gillette Children's.
"I don't like to just go for one; there are a bunch of good causes out there and foundations that help a lot of people, so I like to be a part of a couple different ones and try to help out as much as I can," Coyle said. "It helps when you know someone in a certain situation that may be affected. That really kind of hits close to you, so you want to help out in any way you can and try to make a difference, even if it's small. Every little bit counts."
Coyle returns home to Weymouth each offseason and often plays in the annual Comm Ave Classic with other former BU and Boston College players. The charity game benefits foundations and charities such as the Pete Frates Home Health Initiative and the Travis Roy Foundation, which focus on providing in-home care to individuals with ALS and providing care and research for spinal cord injuries.
And if you catch him along the glass warming up before a game, Coyle just might say hello.
https://www.youtube.com/watch?v=F-FNZyVzoJA