Bruins
5 things to know about new Bruins forward Marcus Johansson
The Bruins exchanged two draft picks for Johannson, who is in the final year of his contract.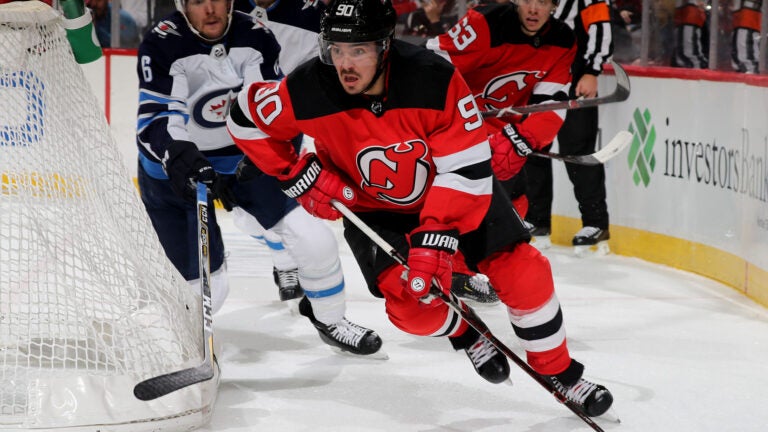 Bruins general manager Don Sweeney opted for a depth move before Monday's NHL trade deadline, acquiring 28-year-old forward Marcus Johansson from the Devils in exchange for a 2019 second-round draft pick and a 2020 fourth-round draft pick.
Johansson has 27 points in 48 games this season.
Here are five things you need to know about the team's trade deadline pickup:
First contact
Johansson missed the last two months of the regular season last year after receiving a concussion on a Jan. 23 elbow from Brad Marchand.
Marchand put a shot on net with roughly two minutes remaining in the third period in a game against the Devils. Johansson trailed, not far behind. As Marchand followed through in hopes of grabbing the rebound, Johansson came from Marchand's right, slashing down with his stick in an effort to wrap Marchand's stick away from his goaltender.
Marchand lifted his right elbow into the air and struck Johansson in the head. He left the ice under his own power, but he did not play again until midway through New Jersey's first-round playoff series against the Lightning last April.
Johansson criticized Marchand's hit as "stupid" last March and said he was not satisfied with the five-game suspension Marchand received, noting his long history with the NHL's Department of Player Safety.
"I hope it doesn't come to him ending someone else's career before it's enough," Johansson told reporters. "That's not why we play the game. I think there's always situations where you try and hit someone and you try to make a hockey play, and things can go wrong. Then there are plays like this, that has nothing to do with hockey. So it's sad to see, and I guess I'm unfortunate to be on the receiving end of that."
Sweeney said he does not think Johansson's addition to the Bruins locker room will cause any tension, and that he has seen plenty of players settle differences in the past. Johansson, for his part, called it "water under the bridge."
On a roll
Johansson, a versatile depth scorer, joins the Bruins during his best point-scoring stretch of the season.
He has scored 20 or more goals twice in his nine-year NHL career and appeared to be developing consistency in that range until Marchand derailed his 2017-18 season. Johansson found his scoring touch in his final days with the Devils, scoring six goals and assisting on six others his last 13 games.
? Check out some highlights of the newest member of the #NHLBruins @mjohansson90! pic.twitter.com/2xALzpsFKz

— Boston Bruins (@NHLBruins) February 26, 2019
Johansson has averaged more than 16 minutes/game in his career and can produce at any of the three forward positions. Don Sweeney spoke of similar "depth and flexibility" after acquiring Charlie Coyle, too.
Johansson's addition gives head coach Bruce Cassidy options when building his forward lines; he'll start playing on the right side of David Krejci on the second line, Cassidy opting to keep Jake DeBrusk on the left despite Johansson being a lefty shot.
Capital start
The Capitals made Johansson the 24th overall selection in the 2009 NHL Entry Draft, and he spent his first seven NHL seasons in Washington.
He made the Capitals' NHL roster at age 20 in 2010-2011, scoring 27 points his rookie year. His best season came in 2016-2017, when he scored 24 goals and 58 total points.
Johansson's first-ever NHL goal came against the Bruins on Oct. 19, 2010, with Tim Thomas in net. A defensive zone turnover behind the net by former Bruins defenseman Matt Hunwick left Johansson all alone on Thomas' glove side for a quick snapshot.
The Bruins went on to win that game 3-1.
A numerical first
Johansson has worn No. 90 his entire career and will become the first Bruins player to wear it, just as he was with the Devils. (He was the second player to wear the number for the Capitals, following in the footsteps of Joe Juneau, who wore it from 1994-99 after leaving the Bruins.)
According to the Devils, only 28 players in their history had ever skated with a number higher than 40 on their jersey when they acquire Johansson. Only three players have worn higher numbers in Boston: Marc Savard (No. 91 from 2007-2011), Michael Nylander (No. 92 in 2004) and Guillaume Lefebvre (No. 92 for 11 minutes in 2009) both wore No. 92 in one season stints with the team.
Only seven other active NHL players wear No. 90.
Social media star, sort of
A Marcus Johansson parody Twitter account gained a small following among Devils fans.
The fan-created account at @GenMJohansson takes the persona of "General Marcus Johansson of the Devils Army of New Jersey" and tweets in letter format, writing to a certain "Dearest Abigail" with updates on Devils games. General Johansson appeared resigned to his fate as a trade piece at Monday's deadline in the last week.
Dearest Abigail,

As we prepare to invade the world's most famous train station, I remain back at camp alone with this bottle of rum. Our chaplain has been sent to Dallas, and I await my fate. I hope my brothers will stand victorious today.

Yours,
General Johansson#NJDevils pic.twitter.com/Wt8WuLPzoj

— General Marcus Johansson (@GenMJohansson) February 23, 2019
The real Johansson indulged in the fun last April, lending his voice to read General Johansson's tweets in a Devils team podcast.
? LISTEN ? ?@MJohansson90 joins the #NJDAllAccessPod to discuss his return in Game 3, the #StanleyCup Playoffs and offers a dramatic reading of @GenMJohansson tweets!

— New Jersey Devils (@NJDevils) April 17, 2018
The owner tweeted on Monday that the account would not follow Johansson to Boston and implied it would re-brand as a new Devils player. He also told Bruins fans to "take good care of Mojo. He's a class act and you're gonna love him."