Bruins
Watch Zdeno Chara fight with Evander Kane during the Bruins' 4-1 win over the Sharks
Kane said postgame that Chara should have been penalized for a hit to the head.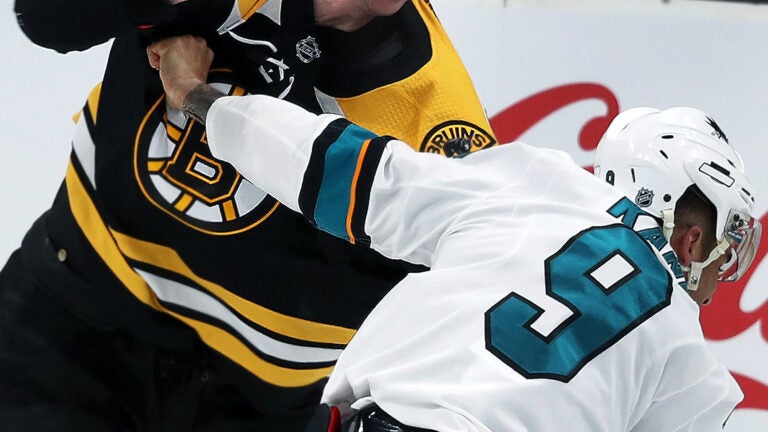 Bruins captain Zdeno Chara fought for the second time this season after he hit Evander Kane during the third period of the Bruins' 4-1 win over the Sharks at TD Garden on Tuesday.
With about five minutes left in the second period, Kane attempted to fight Sean Kuraly, and as officials separated the pair, Chara and Kane appeared to exchange words.
Early in the third period, Kane found himself on the receiving end of a hit from Chara behind the Bruins net. Kane appeared frustrated that Chara did not receive a penalty on the hit and took matters into his own hands, dragging Chara to the ground before the two exchanged blows.
Evander Kane goes after and fights Zdeno Chara after getting dropped pic.twitter.com/NKNpxdO7GF

— Brady Trettenero (@BradyTrett) February 27, 2019
After the game, Kane said he felt the hit was clearly a headshot and felt he needed to defend himself if the referees would not call it. "It was a hit right to my face, head, whatever you want to call it," he said. "Clearly I get up and look at the referee whose watching from the corner, and he's standing there with both arms down, and I'm absolutely stunned."
Evander Kane on his encounter with Zdeno Chara tonight: pic.twitter.com/IDckea75bf

— Bruins Daily (@BruinsDaily) February 27, 2019
Chara, for his part, downplayed the sequence of events.
"It's something that happens during games," Chara said postgame. "It's a physical game, maybe some frustration on his part, not sure, I can't really speak for him. Obviously I'm bracing myself for a check, and it just happened."
On Wednesday morning, The Boston Globe's Matt Porter tweeted that the NHL won't punish Chara for the hit.
After that, Kane tweeted a GIF of the Three Blind Mice.
https://twitter.com/evanderkane_9/status/1100781707177984000