Bruins
3 takeaways from the Bruins' Game 4 win over the Maple Leafs
Welcome back, David Pastrnak.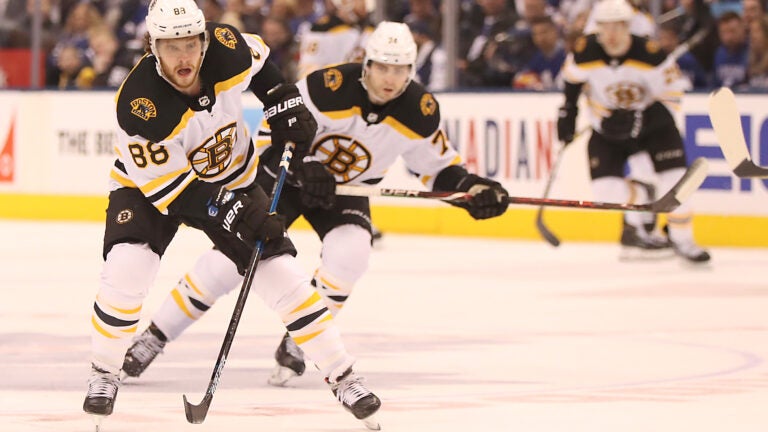 COMMENTARY
TORONTO — With their backs against the wall entering a pivotal Game 4, a fired up Boston Bruins squad got the job done.
Bruce Cassidy's side had a far easier time gaining entry into the offensive zone than in Game 3 on Monday night. But they needed to hold off a pair of surges from the Maple Leafs.
Charlie McAvoy started the scoring festivities with a power play snipe in the first period. Brad Marchand added a tap in on the doorstep a few minutes later for the early 2-0 lead.
BRIGHT LIGHTS!!! Charlie McAvoy PPG opens the scoring in Toronto 1-0 #NHLBruins pic.twitter.com/NapsR7SR2p

— Marina Molnar (@mkmolnar) April 17, 2019
Zach Hyman and Auston Matthews erased that lead early in the second period. But the Bruins never panicked and stuck to their game plan down the stretch.
The Bruins relied on their star players to seize back the momentum. And it paid off.
David Pastrnak tallied two goals just 1:35 apart to give the Bruins a 4-2 lead. And Zdeno Chara became the oldest player in league history to score a goal in the playoffs with his third-period tally to give the Bruins a three-goal lead. They needed that cushion as the Leafs surged again with Matthews's second goal of the night and Travis Dermott's shot from the point just 1:35 apart to pull them within one.
But again, Tuukka Rask and the Bruins D hunkered down when they needed to. They kept Toronto's potent offense in check for the last five minutes in change as Joakim Nordstrom sealed the victory with an empy-netter to even the best-of-seven series.
"Marchy [Marchand] got pucks deep. Pasta [Pastrnak] started to shoot it," Cassidy said following Boston's 6-4 victory. "Second chances, we talked about rebound recovery and see if we could break them down that way. We got away from it a little bit at times but for the most part I think we stuck with it. I don't know if the shot clock necessarily showed that because in the third period you get a little defensive, but for the most part we stuck to the plan and scored nice goals."
Here's what we learned following Game 4 from Scotiabank Arena.
Welcome back, Pastrnak
Better late than never. The 22-year-old made an emphatic statement Wednesday night with his first two tallies of the postseason.
The Bruins desperately needed him to bounce back following the first three games. Pastrnak did just that.
"Big game overall for the whole team," Pastrnak said postgame. "Not easy to win in this building. Hell of a win for us but it's over and we're going to focus on Game 5."
Pastrnak and the Bruins needed a response after Matthews erased a two-goal deficit with his first of the night — a wrister past Rask — just 67 seconds into the second. Leave it to the 2014 first round pick to pick a perfect time for his belated arrival to the postseason.
The young Czech had a fitting response for a player of his caliber after netting two goals — on a tip-in and one-timer with Marchand assisting on both — in 95 seconds to once again give the Bruins a two-goal lead.
Loading up on that ?.@pastrnak96 | #NHLBruins pic.twitter.com/dvJ4UNAsPr

— Boston Bruins (@NHLBruins) April 18, 2019
"He's a guy that we rely on to score and create offense and actually play a 200 foot game, he's certainly capable of that," Cassidy said about Pastrnak.
This was the type of game that was crucial for Boston's young star for many reasons. It helped the Bruins achieve the task at hand of winning the hockey game, but it's much bigger than that.
Game 4 was a confidence builder for Pastrnak. He struggled immensely through the first three games of the series.
More importantly, Pastrnak's performance Wednesday night proved he still has it.
"But it's good to see him score," Cassidy added. "Scorers when they don't score can get antsy. I'm not saying David was there but we wanted to keep him from going there. So getting his two goals, they get recharged."
One game won't make or break a player's season — or in this case a player's postseason. Pastrnak needs to use his Game 4 outing as a springboard for bigger and better things.
The Bruins did what they needed to do in Toronto.
The Bruins left TD Garden last week with the series tied 1-1. They'll return home for a crucial Game 5 deadlocked with the Leafs again, this time at 2-2.
Boston did what it needed to do and stole a game on the road to regain home-ice advantage in the seven-game series. The Bruins couldn't afford to head back to Causeway Street having to beat an excellent Maple Leafs squad three times in a row.
The Black and Gold don't have to worry about that scenario. They now wait to begin their de facto best of three series Friday night.
? Patrice Bergeron on Zdeno Chara's big night and the #NHLBruins effort to tie the series: "He's a competitor. Again tonight he was great for us." pic.twitter.com/RixWF3AGAc

— Boston Bruins (@NHLBruins) April 18, 2019
"We are trying to worry about the game that is in front of us," Bergeron said. "Obviously we didn't get the result we wanted in Game 3 and tonight was a little bit more of what we wanted to bring. Now it's about Game 5 and we have to be ready and rectify some things."
This series is now the first to two wins and it doesn't matter the combination. The Bruins' first two outings in Toronto proved they can win on the road. But they'd much rather find themselves in the proverbial driver's seat with a Game 5 victory.
This had all the makings of a long and lengthy series. The Bruins and Maple Leafs are living up to the hype through the first four games.
Boston hung on for dear life in the third.
They don't make things easy for themselves sometimes.
The Bruins began the night with a two-goal lead only to see that evaporate before Pastrnak netted his first two tallies of the playoffs. They needed to hold off the second Maple Leafs surge in the third after Toronto cut a three-goal lead down to one.
At no point should a three-goal lead with nine minutes left in the third period turn into a nail-biter. But the Bruins escaped disaster and found a way to even the series up at two games a piece.
Cassidy had a lot to like about Game 4. But he also gets to hammer home a message after nearly blowing two leads Wednesday night. The Bruins need to stay sharp from start to finish the rest of the series because a team like the Leafs can make them pay when given an opportunity to do so.