Bruins
The Bruins reaped the benefits of the 'Drake Curse' against the Maple Leafs
"Drake, if you love our city like I know you do, please stop going to our sporting events."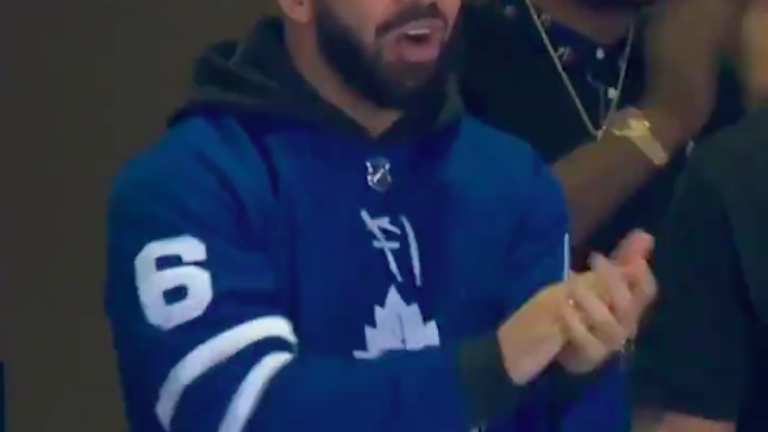 The Drake Curse claimed its latest victim Wednesday night when the Toronto Maple Leafs fell to the Boston Bruins, 6-4.
Drake, a rapper and Toronto native, was in Maple Leafs attire at Scotiabank Arena. That spelled doom for the blue-and-white side, like it has for just about every team he has supported over the past few years.
The 'God's Plan' artist is a longtime fan of the Toronto Raptors (no NBA Finals appearances) and Kentucky Wildcats (no NCAA titles since 2012). He draped himself in an Irish flag at the weigh-in before UFC star Conor McGregor fought Khabib Nurmagomedov. McGregor lost. Alabama shared a video of him wearing Crimson Tide gear before the National Championship against Clemson. The Tigers won, 44-16.
And that's just on this side of the pond. Drake has been on tour throughout Europe this month, where he took pictures with Arsenal's Pierre-Emerick Aubameyang and Crystal Palace's Wilfried Zaha. Both soccer teams lost their next game. Then Paris Saint-Germain defender Layvin Kurzawa posted a photo with the rapper — shortly before his club suffered their worst Ligue 1 defeat in 19 years.
The curse prompted Italian club AS Roma to issue a tongue-in-cheek ban:
All Roma players banned from taking photos with Drake until the end of the season

— AS Roma English (@ASRomaEN) April 15, 2019
Drake has acknowledged the curse in the past. Before the NFL conference championships last year, he wore a shirt with the logos of all four remaining teams, then wished good luck to everyone who believed in the curse.
Bruins defenseman Zdeno Chara scored the eventual game-winning goal for Boston in the third period Wednesday to keep the curse alive. The artist actually met Chara at the All-Star Game in 2012 — "What's up big dog?" — and Drake told the towering blue liner about his long love for hockey.
Now, his fellow Maple Leafs fans are politely requesting Drake avoid the games. Toronto native and FOX Sports personality Rachel Bonnetta tweeted, "Drake, if you love our city like I know you do. Please stop going to our sporting events. Please."
The Bruins face the Maple Leafs in Boston on Friday, before returning north Sunday for Game 6.