Bruins
3 takeaways from the Bruins' Game 5 loss to the Maple Leafs
A goaltender interference review highlighted a frustrating night.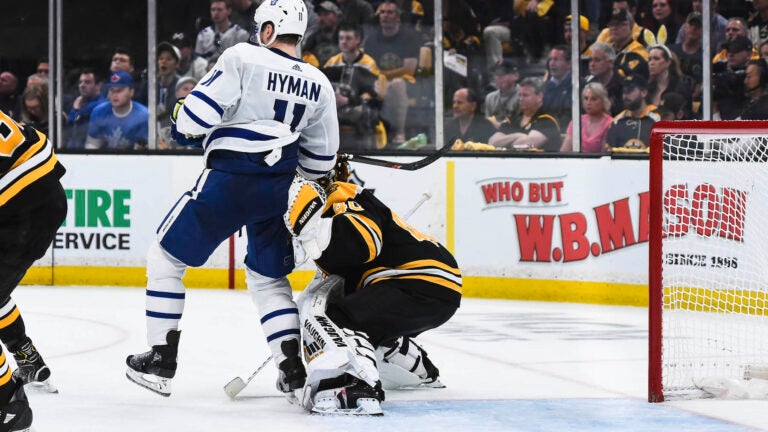 The Bruins didn't exactly have a sharp outing against the Maple Leafs in Game 5. But they didn't have any good bounces either.
The Maple Leafs weren't sharp either. But they got the break they needed at a critical time.
The Bruins thought they had a case for a bounce to go their way after Zach Hyman interfered with Tuukka Rask prior to Auston Matthews' third-period tally. But the call stood and Bruce Cassidy's squad enters do or die mode following their 2-1 loss Friday night at TD Garden.
Here's what we learned as the Bruins' season will be on the line come Sunday in Toronto.
Goaltender interference review highlights Boston's frustrating night
The Bruins didn't put themselves in a good position to take control of the series. But they didn't get any help from the official replay center in Toronto either.
Rask immediately waived his hands to the officials in frustration after Hyman's collision in his crease. Cassidy challenged after reviewing the play on his table but to no avail.
Leafs take a 1-0 lead from Auston Matthews' goal. Was review for goalie interference pic.twitter.com/mGHAfAjJLI

— Pete Blackburn (@PeteBlackburn) April 20, 2019
"I just felt that there was contact, so I went after the ref and let him know that there was contact. They looked at, so it was a goal," Rask said postgame. "I just saw [Hyman]. He had the puck. As soon as he passed it he kind of like bumped into my head and that was it. But, you know, I mean I trust that they get them right."
Rask, who did all he could to keep the Bruins afloat in his 25-save outing, stayed as even-keeled as possible during his postgame media session. His coach, however, had a more blunt statement regarding the official decision from the Toronto war room.
"From my viewpoint, it clearly looked like goaltender interference," Cassidy said. "The call didn't go our way and it's 1-0 with eight minutes to go. We have time to get ourselves back in the game and regroup. Unfortunately, we weren't able to do that."
The wounded Bruins faced a 2-0 deficit following Kasperi Kapanen's first goal of the series.
David Krejci got the Bruins within one with 43.7 seconds left in regulation. They could've used that desperation earlier. Now they're desperate to keep their season going.
Mixing and matching didn't make a difference
Sometimes the lineup jumbling works and sometimes it doesn't. Cassidy's changes in Game 5 didn't make one difference.
Sean Kuraly returned to the lineup in his usual fourth-line spot — getting the starting assignment against the Leafs' top trio of Hyman, John Tavares, and Mitch Marner — with Noel Acciari and Chris Wagner. That reunion was short-lived. Kuraly and Wagner found themselves with Charlie Coyle beginning in the middle stanza.
David Pastrnak moved back with Brad Marchand and Patrice Bergeron on the top line. That moved Danton Heinen down to the fourth line with Acciari and David Backes, who tallied a game-low 4:36 time on ice. Marcus Johansson moved up to Pastrnak's spot on the second line with Krejci and Jake DeBrusk to complete Cassidy's night of changes.
Cassidy looked for a spark following a flat opening 20. He didn't get it. The cast of forwards — aside from Krejci — couldn't get out of their shells in an uninspiring effort.
"The play of not one individual player, but the group not generating enough shots or recovery of situations where we could've taken advantage," Cassidy said about the hesitation from his lineup. "We just turned down too many shots."
The Bruins somehow outshot the Leafs 29-27. But sometimes the final shot totals don't indicate how things played out.
Resilient Bruins face the biggest test of the season
This isn't the same Maple Leafs squad that came into TD Garden at this time last year fighting for their season. They're a more confident group having gone through the postseason grind since Matthews' arrival in 2016. And they have every reason to feel good about their chances of closing things out in Toronto on Easter Sunday.
But the Bruins aren't far behind. They had chances in Games 3 and 5 to turn the tide in their favor. That's in the past, though.
Cassidy's squad earned a hard-fought win up north in Game 4. They've been a resilient bunch all season long. Overcoming injuries and finding ways to win in any fashion highlighted their 82-game season. It got them to the point of hosting this first-round series — a feat that seemed unlikely when the likes of Bergeron, Zdeno Chara, and Charlie McAvoy missed time during the first half of the regular season.
They've persevered all season long, but the Bruins know they have to come out better in Game 6. Another flat performance — this time in front of a hostile Maple Leafs fanbase at Scotiabank Arena — will unquestionably result in them booking tee times sooner than expected.
The Bruins' backs are against the wall. But that didn't stop Pastrnak from making a bold claim following their frustrating Game 5 outing.
"Well, we won there already, so we know what we need to do. Tonight wasn't our best game, and we know we've got better," Pastrnak said. "So, we're pretty confident that we can bring it back home, and we will."