Bruins
What Tuukka Rask and Bruce Cassidy had to say about the goaltender interference non-call in Game 5
"Guess if I just fell on my ass there it might have been a different story."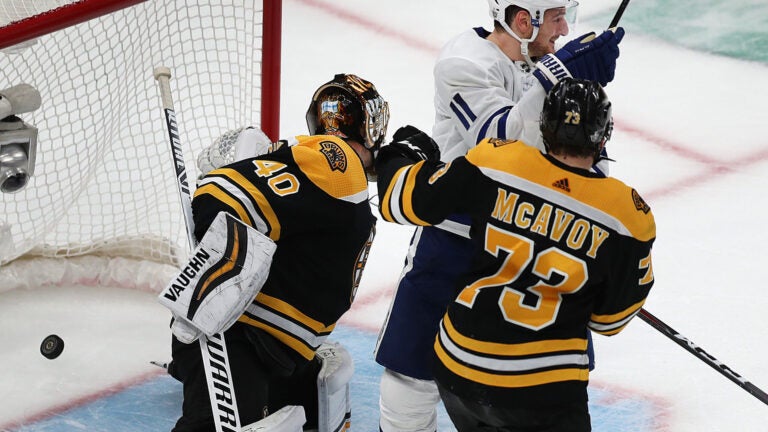 The Bruins and Maple Leafs were locked in a scoreless tie midway through the third period of Game 5 when Toronto forward Zach Hyman made contact with Tuukka Rask. Rask couldn't recover from the contact in time to slide across and stop Auston Matthew's one-timer.
The Maple Leafs went on to win 2-1 and take a 3-2 lead in the first-round series. Boston head coach Bruce Cassidy challenged the ruling on the goal, but the officials determined after a lengthy review that no goaltender interference had been committed.
"I just felt contact so I kind of went after the ref there to let him know there was contact," Rask told reporters after the game Friday. "They looked at it, so it's a goal."
The Bruins goalie believes he would have been able to slide across and push the puck away if Hyman had not distracted him, even though it was not major contact.
"It happened so quickly and you don't want to start selling it," he said. "Guess if I just fell on my ass there it might have been a different story, but, yeah, tough."
Cassidy did not waver in his assessment of the non-call after the game.
"Clearly interferes with Tuukka," the Bruins coach said. "It goes to Toronto, and they have to make a decision. I just hope they don't predict whether they thought the goalie could make the save, get across on time. It's either interference, or it's not."
Cassidy noted he had raised concerns about the Maple Leafs crowding the goaltender earlier in the series but was not sure if the officials supervisor had passed those along to the referees. On the play Friday, he said Hyman pushed off defenseman Charlie McAvoy and then backed into Rask.
"From my viewpoint, it certainly looked like goaltender interference," Cassidy said. "The call didn't go our way. It's 1-0 with eight minutes to go. We had time to get ourselves back in the game and regroup, and unfortunately we weren't able to do that."
The NHL stated the original call on the ice stood because the review was either inconclusive and/or there was "any doubt whatsoever" as to whether the call was correct.
Philadelphia Flyers goaltender Cam Talbot and former Buffalo Sabres netminder Martin Biron both voiced support for Rask and overturning the call.
"Games are being lost in the playoffs and it's not right," Talbot tweeted.
https://twitter.com/ctalbot33/status/1119418858576797697