Bruins
3 takeaways from the Bruins' Game 7 win over the Maple Leafs
Tuukka Rask and a plethora of unsung heroes sparked the Bruins to another Game 7 win over the Leafs.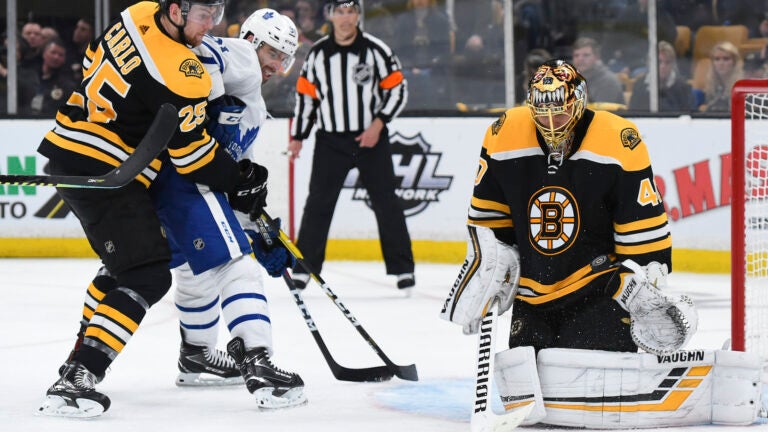 COMMENTARY
Game 7. The two best words in postseason hockey.
It's become synonymous whenever the Bruins and Maple Leafs meet in the Stanley Cup Playoffs. Their three first-round series in the last seven years all went the distance.
And the results stayed the same: a Boston win over Toronto.
The Bruins didn't need any third period heroics this time around. Bruce Cassidy's side responded to an energized TD Garden crowd — highlighted by Julian Edelman's appearance — and jumped on the Maple Leafs early en route to their 5-1 victory.
Joakim Nordstrom and Marcus Johansson got the party started with pair of first-period goals to give the Bruins a 2-0 cushion.
The Maple Leafs shifted the momentum in the middle frame and found some quality looks from the high slot, resulting in their lone goal from John Tavares. But Tuukka Rask made sure they didn't get any closer with his stellar 32-save outing.
Patrice Bergeron, Sean Kuraly, and Charlie Coyle sealed Toronto's fate with their third period tallies.
"I loved the atmosphere in the building right from the get-go, Game 7. Original Six franchises, hungry, great fan support," Cassidy said postgame. "Julian Edelman chugging a beer was awesome. Probably got everyone fired up including us."
"Well I thought we stayed patient. Obviously gaining the lead is huge, you can never get away from that, but they came back and they gave us a push and we stayed composed and did the right things," Bergeron added. "And I thought we took care of the puck most of the night and then we bounced; obviously that third goal was huge by Sean [Kuraly], but yeah I thought we composed and focused all night and a lot about details. It thought tonight was a game of details and we got it done."
Here's what we learned from the Boston's latest Game 7 victory over Toronto.
Unsung heroes spark Boston's offense
Joakim Nordstrom? JOAKIM NORDSTROM! (thanks Freddie) pic.twitter.com/MUqRxpEbYP

— Pete Blackburn (@PeteBlackburn) April 23, 2019
It's easy to get lost in all of the star power amongst the two Atlantic division titans. The potent list includes Bergeron, Brad Marchand, David Pastrnak, Auston Matthews, Mitch Marner and John Tavares.
There's such an emphasis to contain the star-studded cast and deservingly slow. But that often leaves opportunities for less established players to step up on hockey's biggest stage.
Jake DeBrusk made a name for himself last season following his five-goal series against the Maple Leafs, including his pair in Game 7.
It happened again on Tuesday with the unlikely cast of Nordstrom, Johansson, Coyle and Kuraly.
"Terrific. That's why they're in the lineup," Cassidy said about the unsung heroes. "We talked about it at the start of the series that we felt we needed a certain type of lineup to beat Toronto, and we finally found it late in the series. I thought Game 6 and 7 we skated well. A guy like Nordstrom is a good part of that, [Karson] Kuhlman, [and] Kuraly obviously."
The cast of bottom-six forwards sparked Boston's offense on a night when it's top guns didn't really have it. And at crucial times.
The Bruins aimed for a fast start in Game 7. But it's unlikely they ever envisioned Johannsson and Nordstrom leading the way on the score sheet.
The Maple Leafs pushed back with Tavares's tally during their second-period push. Kuraly responded early in the third with a slick top corner wrist shot past Toronto goalie Frederik Andersen, thus getting the Bruins back on track.
.@kurals9 leaping his way into the second round. #NHLBruins pic.twitter.com/o29B7EO4aE

— Boston Bruins (@NHLBruins) April 24, 2019
"I just think the last two games the character of this group showed, it's unbelievable," Johannsson said postgame. "I think we earned our way to Game 7 in Toronto and we earned the win tonight."
It's a testament to the team's depth and the moves Don Sweeney made at the trade deadline. The Bruins have four legitimate lines that can light the lamp. The strength in numbers — and overall team health — bodes well in their quest for another Stanley Cup.
"Donny [Sweeney] has done a great job with depth, so we know we can use different players because of injuries," Cassidy added. "Knock on wood, I believe we are going to be healthy going into the Columbus series with the group we finished with."
Tuukka Rask played lights out
Just one of 32 huge ?‍♂️'s for Tuuuuuuukk @tuukkarask | #NHLBruins pic.twitter.com/WOLkpADph3

— Boston Bruins (@NHLBruins) April 24, 2019
The Boston Bruins will go as far as their 31-year-old goaltender will take them.
With their playoff lives in the balance, Rask showed up in a big way. The Finn stopped 32 of the 33 shots en route to his best performance of the series.
"He really handled himself well, great composure, got out and played the puck when he needed to, froze it when he needed to," Cassidy said about his goaltender. "I think tonight he was our best player tonight. I thought we had a lot of guys play well, but he was our best player."
The Bruins purposefully lightened his workload during the regular season for moments like this. That lighter schedule — from 54 games last year to 46 in 2018-19 — kept Rask sharp throughout this year's first round series.
"We limited his workload this year, and you wonder how it's going to affect the playoffs," Cassidy added. "And I think tonight hopefully he got some residual effect from that where he was fresh the last couple of games, playing every second night. It pays off and hopefully even more going forward."
Calm, cool and collected, Rask never let the moment get to him in Game 7. He kept a potent Toronto offense in check on the biggest stage of the season.
Resilient Bruins move on to Columbus
The veteran-laden Bruins never led in the series until the final horn sounded in Game 7. Three times they fell behind a game and three consecutive times they responded with a victory before ultimately winning the series finale.
"At the end of the day you look around the room at Zee [Zdeno Chara] and Bergy [Bergeron] and [David] Krejci and those guys that have been through it. That's the reason this team is resilient," Cassidy said.
"I've said it all along. It's the leadership group. I think as a staff we always try to go back to work the next day, no matter what happens, good, bad or indifferent. Learn from the stuff you maybe didn't do as well as you'd like and build on the positives. So, you put those two things together, and I'm not surprised that our group's able to bounce back."
But the Bruins had to close the book on the Maple Leafs quickly. A rested Columbus Blue Jackets squad — fresh off their historic sweep of the Presidents' Trophy-winning Tampa Bay Lightning — await for a quick turnaround beginning Thursday night.
Few people, if any, expected a Boston-Columbus matchup in Round 2. But make no mistake about it, Columbus is for real. They just swept the best team in the league with relative ease. The Bruins won't have an easy time against John Tortorella's bunch.
"My initial thought is they beat a really good team because I thought Tampa was lights out and solid," Cassidy said about the Blue Jackets. "So, clearly, we got our hands full. We're going to enjoy this one tonight, but tomorrow we'll be back in trying to break them down. I don't mind a quick turnaround necessarily when you're playing well."
The Bruins are one step closer to hoisting Lord Stanley's Cup again. They have all the makings of a championship contender. Their latest Round 1 win over the Maple Leafs proved that.