Bruins
3 takeaways from the Bruins' Game 1 OT win over the Blue Jackets
The Bruins nearly let one get away before Charlie Coyle saved the day.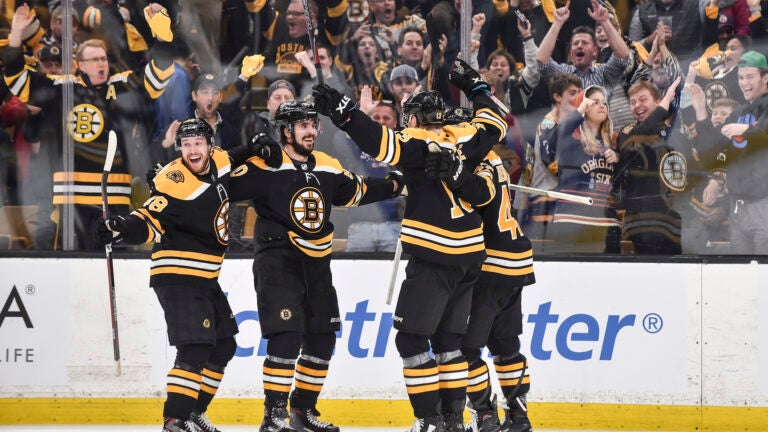 COMMENTARY
The scoreboard didn't necessarily reflect it, but the Boston Bruins — riding the high of a Game 7 victory over Toronto 48 hours prior — came out and dominated the Columbus Blue Jackets Thursday night.
Bruce Cassidy's squad was flying from the get-go en route to their 3-2 overtime victory.
Yet, the Bruins almost let Game 1 slip away. A two-goal-in-13-second span midway through the third period — via Brandon Dubinsky and Pierre-Luc Dubois — re-energized a Blue Jackets squad one week removed from their historic sweep of the Tampa Bay Lightning.
But Charlie Coyle saved the day.
The Weymouth-born forward bounced back from his turnover on Columbus' first goal and netted the equalizer with 4:35 remaining in regulation. He then potted a one-time tap in from Marcus Johansson at 5:15 of the extra session to give his hometown team the come-from-behind Game 1 victory.
"You just try to stay in the moment, especially playoff time," Coyle said about his mindset down the stretch. "We always say, 'You can't get too high, can't get too low,' even if you really want to, and it's hard to contain yourself sometimes.
"A lot of outside noise can kind of sway that too, so you just keep a level head. I think we have great leaders on the team who kind of portray that, and it trickles down to us, to the younger guys."
Here's what we learned following Boston's first overtime win of the postseason.
Coyle's emphatic homecoming
Simply put, Don Sweeney looks like a genius right now.
Coyle, coming over from Minnesota for Ryan Donato during the trade deadline, has five goals in Boston's eight playoff games. He's arguably been the Bruins' best all-around forward this postseason.
The former Boston University standout filled the third line center role that the Bruins desperately needed for a potential Cup run. Whenever the Bruins needed a spark, they've gotten it from Coyle.
Don't forget he tied it up, too.@CharlieCoyle_3 | #NHLBruins pic.twitter.com/h8eGDpotO1

— Boston Bruins (@NHLBruins) April 26, 2019
Hollywood writers would have a hard time scripting a better homecoming for the local product. Coyle resurrected the Bruins from the brink of defeat — in a game that had no business losing — and capped off the evening with the OT winner.
All in the arena he attended as a kid.
"I asked him, 'How ya like playing at home?'" Walpole's own Chris Wagner said about his first words during the game-winning celebration.
"The timing of it has been terrific, and he was a big part of that tonight. So, very happy for him. He's a hard-working guy. Glad he got rewarded," Cassidy added.
It's obvious that he loves playing in front of friends and family at TD Garden. And he's rightfully given them something to cheer for in return.
For your viewing pleasure.@CharlieCoyle_3 | #NHLBruins pic.twitter.com/eG9ulEVEsr

— Boston Bruins (@NHLBruins) April 26, 2019
Missed chances nearly haunted the Bruins.
The Bruins held a 1-0 lead after 20 minutes. It could've easily been more if it weren't for fanning on quality chances, and for Sergei Bobrovsky's performance.
That was the theme of Game 1. The Bruins completely dominated the Blue Jackets from start to finish but needed the extra session to earn what was rightfully theirs.
Boston outshot Columbus 37-22 on a night of numerous chances, but they couldn't extend the 1-0 lead. It nearly came back to haunt them.
"Yeah, I think their goaltender did a great job of keeping them in the game for a while. Obviously, hit a couple posts, he made a couple unbelievable saves," Torey Krug said about the missed opportunities. "Once you get the lead, you try to extend it, but we weren't able to and that's why it came down to a tied game. That's part of it."
Allowing any team to hang around isn't ideal, especially in the postseason. The Bruins learned that first hand in Game 1. But they persevered and, once again, found a way to win.
David Pastrnak is in a funk
Lost in the mayhem of the late-game heroics and overtime theatrics was a horrendous outing for Pastrnak That's a phrase you'd seldom hear during the regular season, but it's becoming vernacular this postseason.
The 22-year-old hasn't been himself at all during this playoff run aside from a two-goal outing during Boston's Game 4 win in Toronto.
Thursday's free-flowing contest normally favors a player of Pastrnak's caliber. Yet, the talented Czech committed some head-scratching turnovers on a night where he drifted up and down Cassidy's lineup.
One of the glaring differences from the regular season to the playoffs is his disappearance on the power play. Pastrnak made his money this season unloading his patented one-timer from his office at the left faceoff circle. He's passed those opportunities up as evident in Game 1, and his hesitation with the puck has him settling on lower percentage plays.
The Bruins have an easier path to realize their Stanley Cup aspirations. The bottom-six carried the team over the past two games scoring seven of Boston's last eight goals. But they'll need Pastrnak to wake up because the bottom-six can only carry the team so far. Luckily, he has the skill and attitude to do so.