Bruins
What the Bruins had to say about that Columbus cannon
"I don't want to hear that thing once."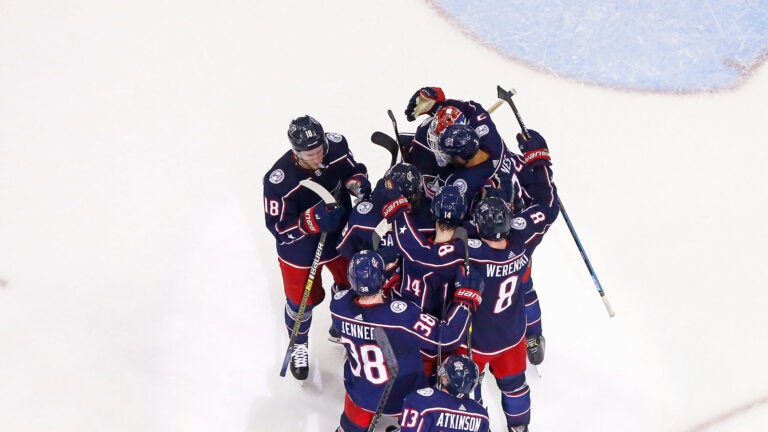 Aesthetics in hockey are a wonderful thing. It can give any hockey barn — from the hometown skating rinks to NHL arenas — an added element. TD Garden, for example, has its plethora of historic images, banners and memorabilia that complement the Causeway Street building.
The Bruins won't be back in their friendly confines until Game 5 Saturday night. They'll land in Columbus on Monday for a four-night stay in Ohio's capital city for Games 3 and 4 of their second-round series with the Blue Jackets.
David Pastrnak and company will have their hands full against a physically skilled Blue Jackets bunch. They'll be keeping both their eyes and ears on a swivel inside Nationwide Arena. Yes, the ears too, because they'll once again encounter the loud cannon that sounds off before puck drop and after every Columbus goal.
"I remember Claude [Julien] back in the day, he said, 'Watch out'," Pastrnak said regarding his first encounter with the cannon. "But I didn't know what that meant, and then I heard it."
David Pastrnak on his first experience with the Blue Jackets cannon at Nationwide Arena:

"Claude told me – 'Watch out for the cannon.' I had no idea what he was talking about." pic.twitter.com/CxLNNJ2Vkw

— Conor Ryan (@ConorRyan_93) April 29, 2019
Loud noises aren't anything new in sports, whether it's from a cannon or fans screaming at the top of their lungs. Many players will tell you that it doesn't matter how loud or how quiet a fan base is on a given night. That's a good sign showcasing their pinpoint focus on any playing surface.
Pastrnak is no different from that norm. But what about coaches? Do they feel the same way, especially when it comes to the cannon in Columbus?
"I hope I don't hear it, obviously," Bruce Cassidy said following Monday's practice at Warrior Ice Arena.
"After that, to be honest with you, I don't really notice it. When [the other] team scores, it's loud and I'm pissed off. And that's the routine," added Cassidy.
Annoying to some, sure. But everyone that hears the cannon can have some fun with it, right?
Sean Kuraly knows a thing or two about the Blue Jackets' traditions. He grew up in Dublin, a suburb northwest of Columbus nearly 18 miles away.
But the cannon didn't become a regular fixture at Blue Jackets games until Kuraly's days with the Indiana Ice of the USHL. His free time to attend Blue Jackets tilts at Nationwide Arena diminished further during his four-year collegiate career at Miami University in Oxford, Ohio.
So by the time Kuraly played his first game in Black and Gold in front of his fellow Ohioians, he too, had a surprised a reaction to the cannon.
"The [cannon shot] at warmups will get you before the game sometimes, or the one right before the game, because you don't know it's coming," Kuraly said. "But after the goal you know it's coming."
The best answer for the cannon? Not giving up goals.
The Bruins haven't had much of a problem defensively or the last few games. Their last 18 periods of hockey dating back to Game 5 of the Maple Leafs series resulted in just 10 goals against. Tuukka Rask's performance between the pipes and the defensive layers in Boston's defensive end provided the team a chance to win every game over this span.
The little the Bruins hear the cannon go off, the better.
"I don't want to hear that thing once," defenseman Brandon Carlo, who made his NHL debut at Nationwide Arena in 2016-17, said with a smile.
If only it were that easy.
The Bruins, at the very least, want to reclaim home-ice advantage before returning home for Game 5 on Saturday. Then, they'll have a loud and raucous TD Garden crowd behind them, especially following Brandon Dubinsky's comments after Game 2. They won't need a cannon for additional ambiance, either.