Bruins
Video: The Bruins could not overcome a 2-goal deficit in Game 3 against the Blue Jackets
Columbus goalie Sergei Bobrovsky stopped 35 shots as the Blue Jackets took a 2-1 series lead.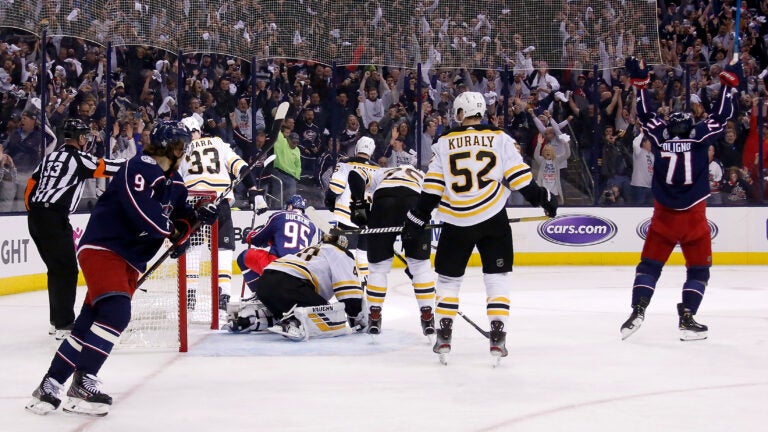 The Blue Jackets outlasted the Bruins Tuesday night, securing a 2-1 victory in Game 3 at Nationwide Arena.
Columbus' Boone Jenner and Matt Duchene scored the first two goals of the evening.
Jake DeBrusk put the Bruins on the scoreboard at the end of the second period, but ultimately the 2-1 score prevailed. The Bruins now find themselves behind in the second-round series for the first time.
Here are all the goals from the night:
First period
Boone Jenner, 1-0 Blue Jackets
Defenseman Scott Harrington started a quick breakout for the Blue Jackets late in the first period. Harrington's first pass hit Riley Nash at the red line, who immediately sent the puck to Jenner. Jenner's lateral move to his left forced Tuukka Rask to over-commit to the shot, and Blue Jackets took the lead.
— x-Columbus Blue Jackets (@BlueJacketsNHL) April 30, 2019
Second period
Matt Duchene, 2-0 Blue Jackets
The Blue Jackets laid siege to Rask and the Bruins' penalty kill after Brad Marchand was penalized for a high stick halfway through the second period. Duchene placed himself in front of the net during a chaotic sequence and easily picked up a rebound off Rask's pads and put it home for the two-goal lead.
Matt Duchene makes it 2 #NHLBruins– 0#CBJ– 2 pic.twitter.com/bbJkBlhJci

— Boston Bruins on CLNS (@BruinsCLNS) May 1, 2019
Jake DeBrusk, 2-1 Blue Jackets
With less than a minute to play in the second period, DeBrusk pushed the puck through Sergei Bobrovsky's pads and into the net before the referee blew the whistle. After a video review, the league determined it was a "continuous play" and affirmed DeBrusk had scored.
Jake DeBrusk cuts the CBJ lead in half. 2-1 with 39.9 to go in the 2nd. #NHLBruins pic.twitter.com/sqvOlKRJtC

— Marina Molnar (@mkmolnar) May 1, 2019
Third period
No goals were scored in the third period.  The Bruins could not find a way to score on Columbus and Bobrovsky shut the door, making an impressive save on Patrice Bergeron's redirect of a Torey Krug pass.
I hope Sergei Bobrovsky's wearing a cup. What a save. He's been unreal tonight pic.twitter.com/VENhlMvmd9

— Evan Marinofsky (@emarinofsky) May 1, 2019
Game 4 is scheduled for 7:30 p.m. Thursday in Columbus. It will air on NBC Sports Network.