Bruins
3 takeaways from the Bruins' Game 3 loss to the Blue Jackets
"We're going to have to figure something out, as a group."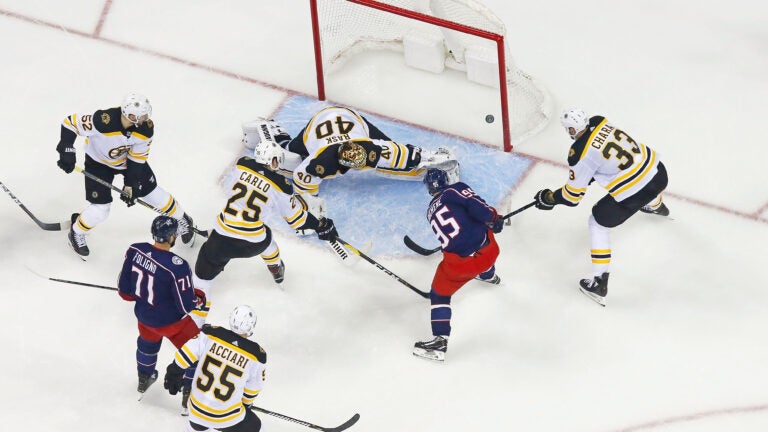 COMMENTARY
With the extra day off, a rested Bruins squad had their skating legs going for the most part in Game 3 against the Blue Jackets.
But so did Columbus.
The Blue Jackets weathered a Bruins surge in the first and took control when Boone Jenner gave his team a 1-0 lead late in the opening period. Matt Duchene, the Game 2 hero, added his second of the series in the second, while Jake DeBrusk answered with his third of the postseason following review.
The Bruins built off of DeBrusk's tally. But they had a bad case of post-itis and also ran into a brick wall known as Sergei Bobrovsky, who made 15 of his 36 saves in the final 20.
"They're a hard team to play against when they have the lead," DeBrusk told reporters postgame.
Here's what we learned following the Blue Jackets' 2-1 victory inside a raucous Nationwide Arena in Game 3.
The Bruins' special teams weren't special.
YOU KNOW HIS NAME, IT'S MATT DUCHENE! pic.twitter.com/3yxuH5js4d

— x-Columbus Blue Jackets (@BlueJacketsNHL) May 1, 2019
"We're going to have to figure something out, as a group," head coach Bruce Cassidy said during his postgame press conference.
Unlike Game 2, the Bruins didn't hesitate all that much in their decisions with the puck. They managed double-digit shot totals in all three periods and developed quality scoring attempts as the game progressed.
But they couldn't sustain any puck possession at all in their chances with the man advantage.
The Bruins didn't handle the puck enough to get into their power play setup in their first attempt midway through the opening period. Every zone entry was met with sustained pressure from the Blue Jackets' shorthanded units. That tilted the ice in Columbus' favor, eventually leading to Jenner's impressive tally toward the end of the first.
As for Boston's penalty kill, well, that didn't fare much better. Duchene struck again late on Brad Marchand's minor for high-sticking as the Bruins failed to clear the zone despite multiple attempts to send the puck down the other end.
Cassidy needed timely special teams moments from his bench. A power play goal could've given the Bruins something more to build on following a decent start. The PP unit managed a mere one shot on goal.
A timely kill in the second with Tuukka Rask standing on his head could've tilted the ice back in their favor. But Zdeno Chara, Brandon Carlo, Noel Acciari, and Ohio's own Sean Kuraly got caught in a long shift.
The Blue Jackets made their special teams moments matter. The Bruins didn't. The latter heads back to the drawing board searching for answers.
Marchand tests the fine line
The veteran winger turned a corner during the regular season and into the Toronto series. And we're not talking about his on-ice performance following his first career 100-point season, but rather, keeping his emotions in check.
He didn't land a questionable hit all season long, nor did he lick any of his opponents. Marchand always had a response for any tempting developments, but he never tested the fine line.
The Blue Jackets, like so many others, tried tempting Marchand in Game 1. And they got a response from Marchand in the form of a broken stick for Cam Atkinson following a faceoff altercation. The former Boston College standout joked that Marchand owed him $300 for his broken piece of lumber.
Marchand left Game 2 unscathed. Game 3, however, tested his temptation.
Marchand's frustrating night included his unnecessary high stick on Jenner that led to Duchene's tally and a turnover that negated Boston's third period power play attempt just 16 seconds in when Patrice Bergeron took a tripping penalty on Josh Anderson.
And then came his punch to the back of the head of a kneeling Scott Harrington toward the end of regulation.
Brad Marchand punching the back of Scott Harrington's head while Harrington is down on his knees. pic.twitter.com/3JYYH8o89O

— Flintor (@TheFlintor) May 1, 2019
Yes, the Bruins need more out of Marchand and the rest of their top players like Bergeron and David Pastrnak. The ninth-year winger can't be a liability. Otherwise, they'll encounter another second-round exit.
Bobrovsky is in a zone
The two-time Vezina winner had some luck on his side with the likes of Charlie McAvoy, Brandon Carlo and Noel Acciari all hitting iron Tuesday night. But he earned his luck as well.
The Blue Jackets earned their sweep over the Lightning in Round 1 with a well-rounded performance from every skater in their lineup. Bobrovsky backstopped Columbus every step of the way with timely saves against top talents like Nikita Kucherov, Steven Stamkos, and Brayden Point.
That play carried over into Round 2. But the Blue Jackets' D in front of him also stymied the Bruins' best players the last two games. Marchand, Bergeron and Pastrnak — reunited as a unit in the third period — combined for just 10 shots on goal.
Bobrovsky, Seth Jones, and Artemi Panarin are all peaking at the right time. Boston's top trio hasn't. That's been a difference maker.
The Bruins, though, feel they have something to build on, especially after their third-period effort on Tuesday. And maybe, just, maybe, they found a formula to beat Bobrovsky and company. Getting traffic and secondary chances is a start. But they could also use a good bounce here and there as well.
"The secondary saves that he's making are very impressive," Carlo said. "But he's definitely going to crack at some point. I have a lot of faith that we're going to be putting pucks past him pretty soon."
laying it all on the line pic.twitter.com/5r9WDShBbZ

— x-Columbus Blue Jackets (@BlueJacketsNHL) May 1, 2019
Getting traffic and secondary scoring chances is a start. But they could also use a good bounce here and there as well.
And their top players, like Pastrnak, need to step up.
"We lost two games in a row. It's tough," Pastrnak said to the assembled media in front of his locker. "I don't really want to talk about myself. It's a team sport, and I'm not focusing on if I score a goal or not. I'm trying to help the team, and you know, I'm doing my best."
Pastrnak's best, if you want to call it that, hasn't been good enough. Bobrovsky's best has.