Bruins
3 takeaways from the Bruins' thrilling Game 5 win over the Blue Jackets
The Bruins' resiliency, David Pastrnak's bounce-back night, and John Tortorella's bold statement highlighted an eventful Game 5.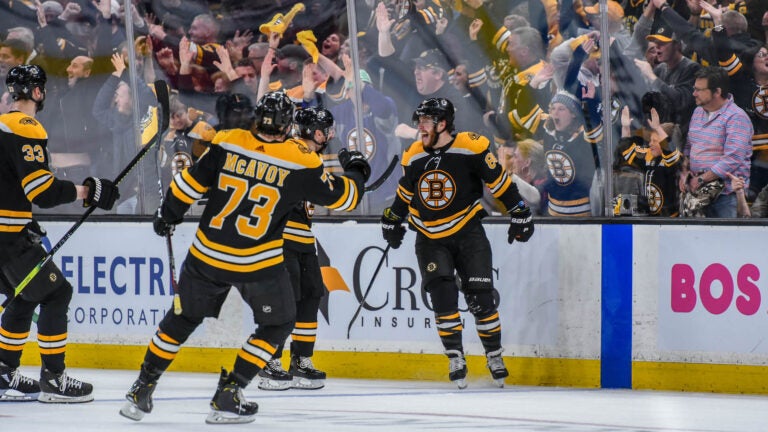 If you turned your television off after Brad Marchand gave his team a comfortable 2-0 lead in the third period, you might have thought the game was over.
It was far from that.
The Bruins and Blue Jackets combined for five goals over the final 9:27 of the third period and collectively raised the heart rates of everyone inside TD Garden to unhealthy territories.
But the resilient Bruins — having squandered a 3-1 lead after conceding two goals just 1:57 apart — relied on their best players to get the job done in Game 5.
David Pastrnak shook off his mysterious playoff funk with a tremendous clutch performance. The 22-year-old netted Boston's final two goals of the evening, including the game-winner with 1:28 remaining in regulation.
Winner, winner…Pasta for dinner.@pastrnak96 | #NHLBruins pic.twitter.com/EHAP8vJgFt

— Boston Bruins (@NHLBruins) May 5, 2019
"I mean, we need everybody to contribute. Those guys play a lot of minutes. Pastrnak's a young guy. We talked about that the other day, came through for us," head coach Bruce Cassidy said following the 4-3 win.
"Connor Clifton — young guy — makes a hell of a play to Marchy [Brad Marchand], so these young guys were able to rise up to the moment, big contributors to the win, and you have to if you're going to win at this time of the year because they're young guys that are playing in our lineup," he said.
Here's what we learned as the Bruins carry a 3-2 series lead to Columbus for Game 6 Monday night.
Pastrnak finally breaks through
The first-star honors he received Saturday night was a long time coming.
Pastrnak fought the tide of the Blue Jackets' momentum with two pivotal goals on the scoreboard. More importantly, he looked like himself doing it and that was on full display on his first tally of the evening.
The Czech playmaker had a full head of steam for a 2-on-1 attempt with Patrice Bergeron. Pastrnak looked at Bergeron's direction with Sergei Bobrovsky cheating toward the direction of the four-time Selke winner. With time and space, Pastrnak fired a quick wrist shot past Bobrovsky to give the Bruins a 3-1 lead.
.@pastrnak96 was feeling it tonight.#NHLBruins pic.twitter.com/ukupqQMFf0

— Boston Bruins (@NHLBruins) May 5, 2019
"It's nice to score goals but at the same time I always try to have my way, had a good game as a line, picked each other up when it's the most needed," Pastrnak said. "We went through a lot this season — a bunch of injuries and just believing in one another. Every time someone was out, another guy stepped up and I would say that counts to belief. We are not done, but we have to enjoy tonight but regroup and look to Game 6 tomorrow."
The 22-year-old didn't look like the first time All-Star to start the series. But he had all the traits for a breakthrough. His supreme talent, contagious charisma, and positive attitude in helping the team win in any capacity all came to fruition in Game 5.
An inevitability for sure, especially if you ask his fellow top line winger.
"It's inevitable. You get those opportunities every game, they're going to go in. He's done it all year," Marchand said following his three-point night (one goal, two assists). "He's been huge for our group. He continues to be. These are the things we've come to expect out of him. Show up in the big moments and continue what he does."
He's received quite the criticism throughout the series, but Pastrnak quietly sits second on the team's postseason scoring list with 12 points.
Pastrnak didn't need to address his critics publicly. Instead, he let his play do all the talking.
The Bruins' resiliency prevailed in crunch time
The Bruins' puck movement and relentless forechecking put them in the proverbial driver's seat.
Boston held two separate two-goal leads as Tuukka Rask stayed composed between the pipes. Columbus never threatened to make a dent for the first half of the third period.
But it all came crashing down.
Ryan Dzingel struck first and roofed a shot over Rask's shoulder to cut the deficit to one with 7:53 left in the third period. Dean Kukan notched the equalizer just 1:57 later.
Suddenly, the Bruins found themselves back at square one. But they never panicked. They stuck with the game plan that allowed them to dominate the Blue Jackets for a good chunk of Game 5. They trusted in their big guns to get the job done.
The Bruins finally got their well-deserved reward in the end. And they didn't even need overtime.
"They made a couple of high-end plays, but that's our group. We're resilient," Cassidy said about his team. "We've battled through a lot this year. We came back from an elimination game on the road against a good team. We battled through injuries all year to keep our position in the standings, so our guys are pretty good at that. Credit to the veteran guys in the room, and even the younger guys we talked about, their contributions. They're learning to play through this as well for young guys to keep their composure."
A character and statement win rolled up into one.
The Bruins showed that they were the better team. But they also showcased the guts and wherewithal to battle back in the face of adversity. That's what separates evenly matched teams in May and June.
Cassidy's squad persevered and now have a chance to close out the series Monday night. But they know full well that the fourth win in a series is always the toughest one to get.
John Tortorella guarantees a Game 7
"We'll be back here for Game 7." -John Tortorella pic.twitter.com/xTbC0gkOzM

— #StanleyCup on NBC (@NHLonNBCSports) May 5, 2019
He's no stranger to notable press conference moments. But his words following Game 5 was even a bold claim by John Tortorella's standards.
The fourth-year Columbus coach took a question Saturday regarding the key contributions from Dzingel and Kukan. Yet, instead of focusing on their timely third-period goals, Tortorella offered a guarantee following their tough loss.
"We got some lines to get some offense, yeah. We found some lines that were going to give us some offense and we'll get ready to play Game 7," Tortorella said.
Another question from a Columbus reporter came to Tortorella. Why does he feel so confident about returning to Causeway Street Wednesday night for Game 7?
"We will. Because we will," Tortorella added.
A subtle, yet bold claim that surely provides bulletin board material inside Boston's locker room.
The Bruins' primary goal come Monday is to finish off the series and secure their date with the Carolina Hurricanes in the Eastern Conference Finals. Their secondary goal: making Torts eat his own words.