Bruins
Brad Marchand channeled his inner Bill Belichick: 'On to Round 3'
"We'll talk about Round 3."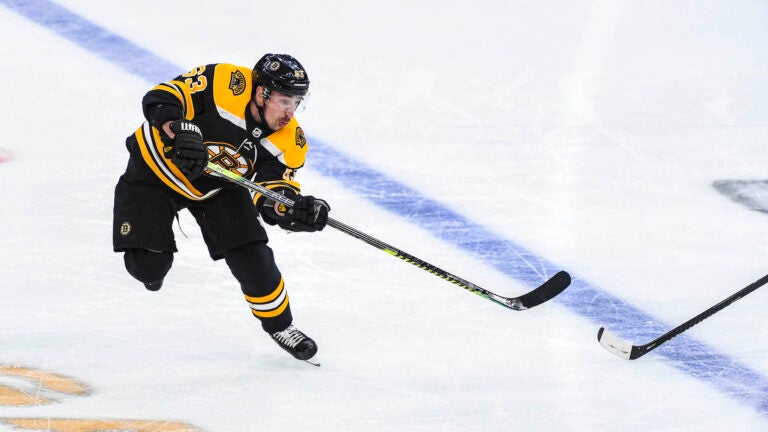 Brad Marchand apparently uses his off time to keep up with his studies at the "Bill Belichick School of Media Relations."
That's the assumptive hyperbole during his scrum interview following the Bruins' Game 6 win over John Tortorella's dented Blue Jackets in Columbus.
Nineteen questions, thirty-nine words, and thousands of opinions on social media from fans and media alike. The best way to describe Marchand in that moment? Crispy.
Marchand sure knows how to stir the pot. The attention of his viral moments comes with a certain territory, though. Boston GM Don Sweeney addressed that issue during the team's off-day on Tuesday.
Brad Marchand is still crispy. Tonight he went in Marshawn Lynch mode with the media postgame. pic.twitter.com/ded0v1BFDm

— Bruins Daily (@BruinsDaily) May 7, 2019
"Crispy, is that the word that I've heard?" Sweeney said. "It's something we'll address. We always do. We talk to all of our players when we have situations that arise and become a little more public than we would like them.
"We'll address it accordingly. Brad has obligations to you and the media in a respectful manner and be a professional, and we'll address it. And to be honest with you, so does the media, you know in the same light. I would ask for the same on both sides."
A bigger media contingent made their way to the press room at Warrior Ice Arena Wednesday as the Bruins began initial Eastern Conference Final preparations for the Carolina Hurricanes. None of the press corps hovered around Marchand's locker, though, looking for answers following Game 6. He came to us in the press room instead.
Marchand succeeded Bruce Cassidy at the podium. Questions came about why he was so short with the press following Game 6.
He didn't answer. He went to the Belichick media playbook instead.
His first answer: "We'll talk about Round 3."
The follow up question from a fellow reporter: you're not going to talk about the Game 6 answers?
"Not today," Marchand said. "We're on to Round 3."
Sounds like another day of short Marchand quotes. But it was hardly that. He was forthcoming on questions ranging from returning to the conference finals for the first time in six years to his impressions of the resurgent Hurricanes.
"It's very exciting to be where we're at," Marchand said. "But we can't get lost in the moment. We're only halfway to where we want to be. We've done what we wanted to accomplish to this point, but we're not satisfied. And we didn't come in the beginning of the year saying we want to get to the third round. We want to go the distance. We're happy with where we're at, but a long ways from where we want to be."
What Marchand and the Bruins want at the end of the year is another Stanley Cup. The Black and Gold are eight wins away from giving Boston its third pro sports championship since October.
The media — especially local — will continue to document the journey hoping to get more answers from Marchand. It's our job to get the best answers possible from Marchand, Patrice Bergeron, Tuukka Rask, Zdeno Chara, Bruce Cassidy, and the rest of the members inside the locker room. At times, we get great material about a given topic. Other times not so much.
So I see why some of my fellow knights of the keyboard are upset at Marchand following Game 6 for making their job tougher. And I can see why Marchand gets irked over some of the questions directed toward him.
There's a two-way street here as Sweeney alluded to. But it's not a question of right or wrong. It's more of allowing Marchand and the press to fulfill their required media obligations. The veteran winger has provided good material more often than not throughout his Boston tenure. That shouldn't change anytime soon, even if there's a method to Marchand's madness.
Marchand may be "crispy" of late — as first referenced by David Pastrnak following Boston's thrilling Game 5 victory over Columbus at TD Garden. The grind of playoff hockey continues.
There's only one way to sum this up, to quote the great philosopher known as Patriots coach Bill Belichick: "It is what it is."