Bruins
Charlie McAvoy on his single-game suspension: 'I'm not a very good lawyer'
"We're on to Carolina now."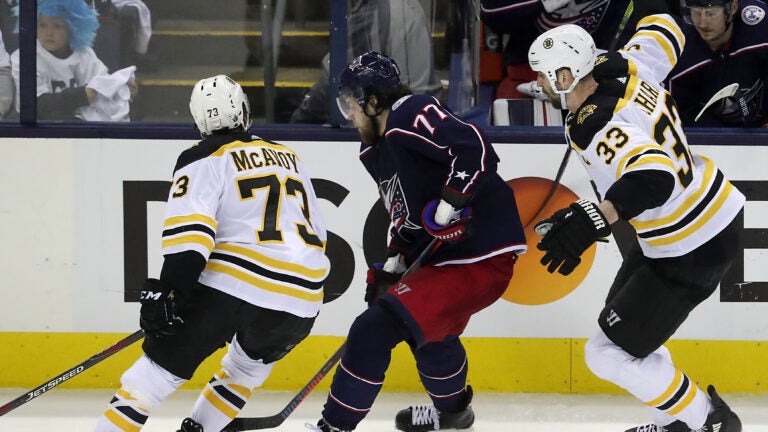 Charlie McAvoy is better at defending the Boston Bruins' goal than defending himself in NHL Department of Player Safety hearings.
On Tuesday, the Bruins defenseman was suspended for Game 1 of the Eastern Conference finals for his hit on Columbus's Josh Anderson. McAvoy was grateful for the opportunity to present a defense of his actions even though the league's decision did not go his way. 
"I said my piece in accordance with the rules, and I think we put forth a pretty good defense," McAvoy said. "You know, really slowing it down and watching it and seeing how his body changed there at the last second, opened up. It was tough. I was trying to make a hockey play.
"It was just a little unfortunate, really. Just trying to play the game and it happened. I have to serve it. Like I said, I respect the process. I'm glad that I was able to say my piece and be able to defend myself. All things together, I'm not a very good lawyer, I guess," he concluded with a smile.
.@CMcAvoy44 on his one-game suspension: "Respect the process. I respect their decision. Just disappointed that I won't be playing in Game 1. That being said, I have complete faith in this team to go out and play our game." pic.twitter.com/PUkuKRZT2p

— Boston Bruins (@NHLBruins) May 8, 2019
The 21-year-old initially received a two-minute minor penalty for an illegal hit to the head, which came with 23 seconds left in the second period of the Bruins' 3-0 series-clinching win. In explaining the suspension, the league said McAvoy's hit delivered "direct and forceful" contact to Anderson's head, and it could've been avoided.
Anderson returned to the ice for the start of the third period and appeared to make amends with McAvoy in the postgame handshake line. The Bruins defenseman does not intend to alter his approach moving forward.
"I can't change the kind of player I am," McAvoy said. "I don't think I'm a dirty player by any means. I think this was merely a tough circumstance. I was trying to deliver a legal check. I felt that, for the most part, I did get a really good amount of body, a healthy amount of body. I thought it was a full body check."
While noting he's disappointed he won't be able to help the Bruins in the series opener against the Carolina Hurricanes, McAvoy said he plans to use the night off to rest some "bumps and bruises" and reset mentally.
"I didn't see what I was doing as trying to be dirty, trying to even any sort of scores," McAvoy said. "It was just time and place and it happened. It was unfortunate. I'm dealing with it. We're on to Carolina now. For me personally, I'm on to doing everything I can to be ready to go."
The Bruins, sans McAvoy, face the Hurricanes at 8 p.m. Thursday at TD Garden.