Bruins
4 things the Bruins must do to beat the Hurricanes
The Bruins and Hurricanes are set for their first postseason meeting in 10 years.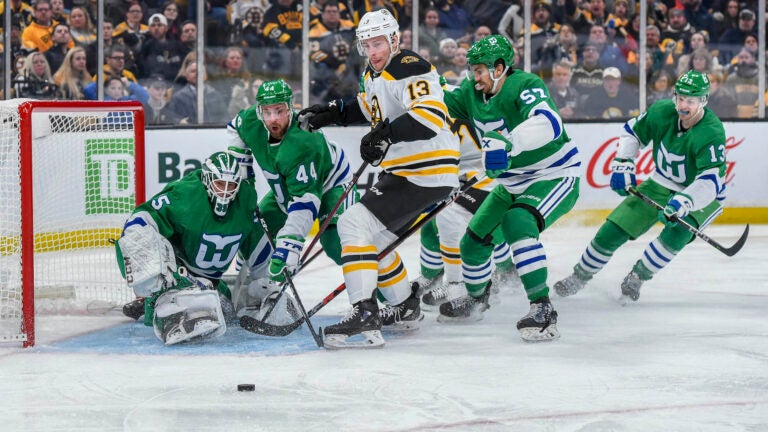 COMMENTARY
The Boston Bruins are happy to be back in the Eastern Conference Finals for the first time since 2013. But they have a bigger prize in mind.
Bruce Cassidy's squad, fresh off three straight wins over the scrappy Blue Jackets after trailing two-games-to-one in the second round, face another of the league's fascinating teams in the Carolina Hurricanes in Round 3.
The Cinderella Hurricanes have won six straight entering Game 1. They followed a dramatic Game 7 double-overtime victory over the defending Stanley Cup Champion Washington Capitals with a sweep of the New York Islanders in the second round.
Few thought Carolina would make their fourth conference finals appearance at the start of the season — let alone make the playoffs. Make no mistake, the resilient Hurricanes earned their spot in Round 3. Now, they hope to earn another upset against the Stanley Cup favorite Bruins.
"First of all, very excited to be back. A lot of hard work just to get here and we are only halfway," Patrice Bergeron said about reaching the conference finals.
"Carolina is a great team. I think we've seen it when we have played them. They're a team that is in your face and doesn't give you much space and are very deep. I think it is going to be a similar series to what we have seen from the first two. Five-on-five is very tight hockey, and they have some big bodies too."
The series begins Thursday night with Charlie McAvoy serving a one-game suspension. These four keys will undoubtedly determine whether or not the Bruins will be playing for Lord Stanley in a few short weeks.
1. Get another sharp series from Tuukka Rask
The Bruins will go as far as Rask takes them.
The polarizing Rask left his critics in the dust through the first two rounds. The Finn outdueled Frederik Andersen and Sergei Bobrovsky in his stellar 13 postseason outings. He has the stats to back it up, too, stopping 435 of the 462 shots he faced en route to a 2.02 GAA and .938 SV%.
Rask can't slow down now. The Bruins still need him as he'll likely have to beat out the Hurricanes' goaltending duo.
Tuukka Rask in elimination/close-out games this postseason:

1.00 GAA
.969 sv%
3-0 rec
1 SO
pic.twitter.com/dl3g0uqf1a

— Tucker Boynton (@Tucker_TnL) May 7, 2019
Petr Mrazek (5-3-0) backstopped the Canes to start the postseason before sustaining a lower-body injury in Game 1 against the Islanders. Curtis McElhinney (3-0-0) seamlessly picked up where Mrazek left off to finish off the Round 2 sweep.
The Bruins will likely see both Mrazek and McElhinney this series. But Rask isn't worried about who is in the opposing net. His attention rather turns to a potent Hurricanes offensive attack led by Sebastian Aho, Teuvo Teravainen, Justin Williams, and Jordan Staal.
Aho's speed, skill, and silky mitts make him the difference maker of the aforementioned quartet. Rask and his teammates will keep a close eye on the 21-year-old, who led the team with 83 points during the regular season.
Rask will have his hands full, as the Hurricanes have a plethora of puck-moving defenseman that love to join in on the offensive fun. Jaccob Slavin — Carolina's top postseason point-getter with 11 points — Dougie Hamilton, Brett Pesce and Justin Faulk all complement the talented forward core with their precise decision making. The Hurricanes are as good as anyone when they get their cycle going in the attacking end.
2. Exploit Carolina's young defensemen
Dougie Hamilton is on FIRE pic.twitter.com/k727Da1Z54

— Carolina Hurricanes (@NHLCanes) April 17, 2019
The Hurricanes are one of the league's intriguing stories. That's an impressive feat in and of itself considering that they're the youngest team in the entire 31-team National Hockey League.
They have youth — and perhaps speed — on their side, with eight players 24 or younger and an average age of 25.7. But their inexperience and vulnerability for mistakes could give the Bruins an opening.
The Bruins have a good mix of youth (David Pastrnak, Jake DeBrusk, Charlie McAvoy, Connor Clifton) and leadership that championship caliber teams are accustomed to having. Seven players in Boston's veteran core are from the 2011 Stanley Cup roster — Rask, Bergeron, Zdeno Chara, David Krejci, Brad Marchand, Steven Kampfer (in his second go-around with the club) — and remain on the team eight years later.
Youth and experience don't always translate on paper. But the latter undoubtedly provides a vital role as the games and series progress. When the games get tight down the stretch wisdom will definitely be a huge factor. The composed Bruins showcased resiliency all season long be it through comebacks or replacing players in the lineup.
The Bruins need to attack Carolina's young defense with a purpose, get pucks in below the goal line, and establish an offensive presence early and often. Their grinding pace will eventually wear down Carolina's young defensive core of Hamilton (25), Slavin (25), Pesce (24), Faulk (27) and Calvin de Haan (27).
3. Don't just rely on depth scoring
Charlie Coyle wins it in OT for the Bruins pic.twitter.com/g8McYdawdX

— Spittin' Chiclets (@spittinchiclets) April 26, 2019
The Bruins' secondary scoring surge got them past the Maple Leafs and Blue Jackets.
Over half of Boston's scoring output against Columbus came from outside of the top line. Charlie Coyle, Sean Kuraly, Noel Acciari, and Krejci all stepped up and shouldered the load while Bergeron, Pastrnak and Marchand found their grooves in the latter half of the series.
It's been a pleasant surprise for sure. But the Bruins simply can't rely on that to continue the deeper they advance in the playoffs, especially playing a Hurricanes bunch that allowed a mere five goals in their four games with the Islanders.
Much like the Blue Jackets, the Hurricanes — anchored on the back end by Slavin, who Bergeron touted as extremely underrated, and Hamilton, the ex-Bruin — wore potent offenses down with a physical defensive structure.
Carolina likes to keep everything to the outside and force you to beat them with almost pinpoint accuracy. The Bruins need their top line to find cracks in their system. That's easier said than done especially with Mrazek's and McElhinney's performances between the pipes.
"You're trying to see some of the tendencies those goalies are having and try to see if you can counter with a few tips here and there," Bergeron said. "With that being said it comes down to cliches of making some traffic, moving the puck, getting some rebounds. There's no secret with the way we've been playing. It's going to be no different against those two goalies."
Yes, the Bruins need secondary scoring to complement the top line. But both departments need cohesion for a chance to play for Lord's Stanley Cup.
4. Get back to basics on the power play
Patrice Bergeron with a big PP goal for the @NHLBruins. ?

(?: @NHLonNBCSports) pic.twitter.com/BHEeCK9AtS

— theScore (@theScore) May 3, 2019
The Hurricanes are one of the best even-strength defensive teams all postseason. The Islanders found that out the hard way as they only scored two five-on-five goals in their second round series.
Even strength goals will be hard to come by. Knowing this, the Bruins need to get back to basics on the power play after a tough second round performance. But the league's third-most efficient power play unit can find solace knowing they'll be up against a Hurricanes shorthanded unit that comes into Round 3 with the fourth-worst success rate at 75 percent.
The primary point of emphasis for a Boston power play resurgence? Getting Pastrnak time and space to deliver his patented one-timer from his office from the left face-off circle. The Hurricanes haven't defended that weak side area well enough this postseason as evident by Alex Ovechkin's three power-play tallies from that exact same spot.
The Bruins tried getting clean looks to set up Pastrnak from his favorite spot all postseason. They had success all regular season with that setup. But that hasn't carried over into the postseason.
Yes, the Bruins have other go-to options on the power play, including a setup for Bergeron at the bumper. That could come in handy if the Hurricanes penalty kill opts to stop the Pastrnak setup.
The Bruins' top power play unit featuring Pastrnak, Bergeron, Marchand, Torey Krug and Jake DeBrusk have formidable options. But Pastrnak provides the best success rate of an effective man-advantage unit. They have the matchup to use that potent Pastrnak setup, too.