Bruins
3 takeaways from the Bruins' Game 1 victory over the Hurricanes
The Bruins kickstarted the Eastern Conference Finals with a third-period comeback.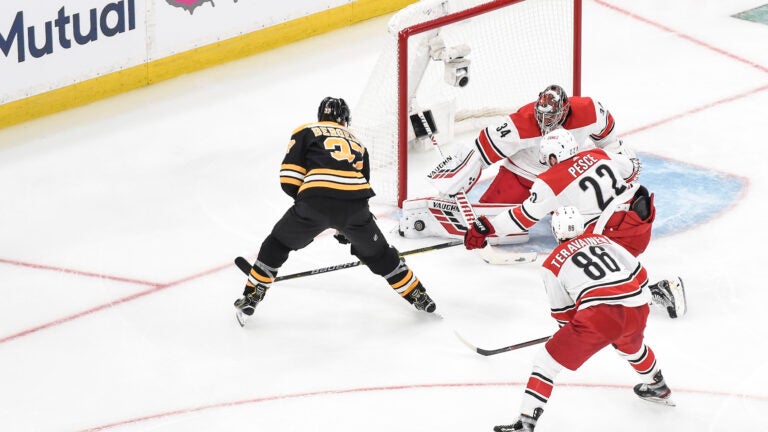 COMMENTARY
The Bruins are back in the Eastern Conference Finals for the first time since 2013. They aren't satisfied just being here, though, as evident with their Game 1 victory over the Carolina Hurricanes.
It didn't come easy. Bruce Cassidy's squad had to weather a Carolina storm (no pun intended) in the first 40 minutes. But the B's overcame a 2-1 deficit with four straight third period goals en route to the 5-2 win.
The Sebastian Aho-led Hurricanes had their skating legs going for a good chunk of Game 1, but couldn't sustain the pace in the third. The resilient Bruins did something they hadn't done all postseason with their first victory after trailing through 40 minutes.
Marcus Johansson sparked the scoring frenzy after hammering home a rebound on the power play just 2:26 into the third period. Patrice Bergeron added another 28 seconds later to put the Bruins in the proverbial driver's seat. Charlie Coyle and Chris Wagner sealed the three-goal triumph in the final minutes.
"Oh, I think so, right? Because no one's really happy after the second," Cassidy said. "You know, we talked about it internally. I'm not going to tell you everything we said, but we're not real happy about our second period. It's been a bit of an issue for us, so they know.
"It's just the way it is. Usually, it's not magical. It's usually you have to out-will the guy with the puck," he continued. "You take their second goal; we lost four puck battles continuously on our way up the ice. They won four. Let's put it that way. We have to do more of that, and I think we did on those goals. We won some pucks. JoJo [Johansson] won one in front and Jake makes a great play, and Bergy finds one and wins it in front. That's the way it goes after that. I thought we did a good job in that area."
Here's what we learned from the first postseason meeting between the Bruins and Hurricanes since Scott Walker's overtime winner in Game 7 of their 2009 second-round matchup.
The power play came through in crunch time.
Marcus Johansson PPG ties it up 2-2 #NHLBruins pic.twitter.com/0cmEBvY84u

— Marina Molnar (@mkmolnar) May 10, 2019
The Hurricanes generated the lion's share of the five-on-five chances through the first 40 minutes, even notching a power play tally on Aho's tip-in just three seconds after Sean Kuraly went to the box for roughing.
The Bruins weren't so sharp following Steven Kampfer's opening tally. Their power play, in particular, didn't generate any traction after whiffing on their first three attempts.
But the Bruins found their legs in the third, taking a 2-1 deficit and turning it into a 3-2 lead in just 28 seconds on Johansson and Bergeron's power play tallies.
Two great plays by Jake DeBrusk made that Patrice Bergeron PPG happen #NHLBruins pic.twitter.com/JQwkA2c4P6

— Marina Molnar (@mkmolnar) May 10, 2019
"Well, I think we did a little bit, to be honest with you. We did get frustrated. We didn't get in," Cassidy said about the power play's early struggles. "We have to make some adjustments there. We talked about things you can do, but until you live it, it makes it difficult. But at the end of the day, they're an experienced group. They know that we need them at that particular point."
The Bruins could've easily been in a 1-0 hole, but they turned the power play from a liability into a difference maker.
Even-strength goals are hard to come by this time of year, especially against a sound defensive Hurricanes team that allowed only two five-on-five goals against the Islanders in Round 2. The Bruins need an effective power play to counter that. It was ugly at times, but Boston's man advantage units got the job done with the man advantage when they needed to.
"Yeah, you know, we talked about it. I think it's been something all series where it's been pretty even five-on-five and special teams have been winning games, and I think today is kind of the same thing," Bergeron said. "Early on in the game, I thought we didn't really execute the way we wanted to on the power play and in the third, we talked about it. We talked about a few things that we needed to adjust, and I thought we did that and got the result."
The Bruins had trouble with Carolina's speed.
The Bruins really missed Charlie McAvoy in the series opener. It wasn't just the absence of his upper-end talent, but also his speed and skating prowess.
The youthful Hurricanes love to use speed and skill set to set up quality scoring chances in high percentage areas. That didn't bode well for Boston's defensive core dealing with McAvoy's one-game absence.
Case in point: The second period when Greg McKegg sped past Kampfer in a loose puck battle to give Carolina the 2-1 lead before a collision with Tuukka Rask.
? Greg McKegg ?

The @NHLCanes take the lead! Watch #CARvsBOS: https://t.co/IFXhOHfRHQ pic.twitter.com/SGmJWO3Cvd

— #StanleyCup on NBC (@NHLonNBCSports) May 10, 2019
"Yeah, well, they're a heavy team. They're fast and they can make plays so obviously. That's a recipe for success, and we got to take away time and space, and I thought we did pretty good," defenseman Connor Clifton said. "They got some chances, but every game we're going to give up some."
Boston's blue-line core won't be without McAvoy for long. The 2016 first-round pick will be back for Game 2 on Sunday afternoon.
Tuukka Rask, again, gives the Bruins hope.
There's a few reasons why @tuukkarask has been so dominant and here's one of them. #StanleyCup

???: https://t.co/7Q9vXNUvjT @NBCSN
???: https://t.co/eVCyWTbCNm @Sportsnet pic.twitter.com/NY4x7BaSCj

— NHL (@NHL) May 10, 2019
The Bruins needed another stellar effort from Rask, and he delivered with a handful of timely saves — 29 in all — backstopping his team to a Game 1 victory.
"It was huge all game, especially early on though. He's made some tremendous saves," Bergeron said. "They're crashing the net, they're going to that net, and he did a good job of holding his own."
A hot goaltenders can carry a team a long way during the playoffs. He can be a difference-maker toward a team's Stanley Cup chances. Rask's outings this postseason increased Boston's odds of hoisting that Cup for the first time in eight years.
It is getting to the point where a team needs a deflection or a lucky bounce to put the puck past Rask. He is on top of his game, simply put.