Bruins
3 takeaways from the Bruins' Game 2 win over the Hurricanes
The Bruins put forth a dominating effort on Mother's Day.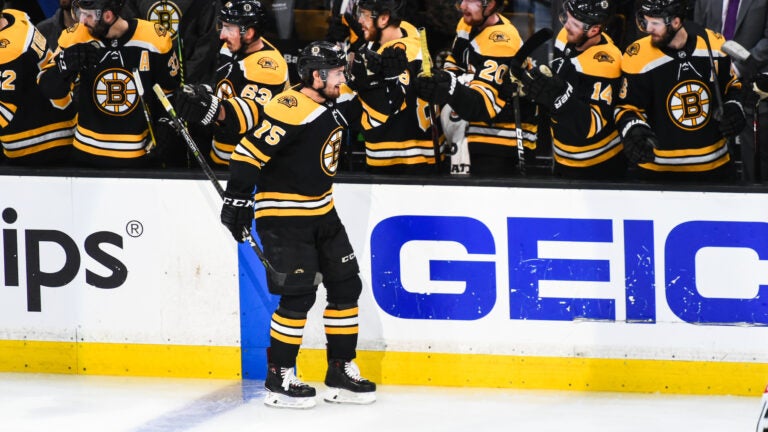 They're halfway to playing for a chance at Lord Stanley.
The Boston Bruins put forth a dominating effort in Game 2 against Carolina. The Hurricanes simply have no answer for a Black and Gold bunch that's tallied 10 goals in the last four periods, while giving up only two.
"I think tonight was a really good game for us. I think we played our game. We played to our culture and obviously we were able to break through and score some goals there and that's good for everyone's confidence," defenseman Charlie McAvoy said after returning from his one-game suspension.
"But it's over now and we're headed down there. We have a lot of respect for this team and we know that they'll play a lot better next game."
Here's what we learned following Boston's 6-2 Mother's Day victory at TD Garden.
Strength in numbers leads to a playoff record
The Bruins have good reason to boast about their depth. GM Don Sweeney put the team in a position for their strength in numbers to shine entering the postseason.
They now have an accolade to showcase that deep roster.
Connor Clifton became the 19th different Bruin to light the lamp this postseason following his first career NHL tally — regular season or playoffs — at 3:46 of the second period. This matched the 1987-88 Boston squad — led by Cam Neely and Ray Bourque — that reached the Stanley Cup Final.
Connor Clifton is the @NHLBruins' 19th different goal scorer this postseason, tying the franchise mark for most in a single playoff (also 19 in 1988). #NHLStats #StanleyCup pic.twitter.com/i3byFKfdFy

— NHL Public Relations (@PR_NHL) May 12, 2019
"I think it's pretty self-explanatory. Obviously, there's a lot of character in this room," Clifton said. "We don't rely too heavily on one individual. It's very team-oriented, and it's awesome."
The Bruins had five different goal scorers in Game 2, highlighted by Matt Grzelcyk's pair. None of their tallies came from the top line of Brad Marchand, Patrice Bergeron, and David Pastrnak. But the potent trio was just as happy for the rest of guys contributing on the scoresheet.
It's a contagious feeling. The Bruins have the depth to showcase their scoring prowess. Their strength in numbers, along with Tuukka Rask's stellar play between the pipes, put them within striking distance of their third Cup Final appearance since 2011.
Brad Marchand is in the 'Canes heads
Justin Williams gets the only penalty in this confrontation with Brad Marchand and I'm sure everyone will react reasonably!! pic.twitter.com/NWm7g9fAYV

— Pete Blackburn (@PeteBlackburn) May 12, 2019
Marchand doesn't have to find the scoresheet to get under his opponents' skin thanks to his edgy and energetic play.
Case in point: Sunday afternoon, Marchand got away with cross-checking Justin Williams shortly after the Bruins killed off their third penalty of the night. Carolina's captain retaliated — taking off Marchand's chin strap in the process — and earned a trip to the penalty box with Marchand pointing him in the direction of the sin bin.
The Bruins' power play — much like they did on Jake DeBrusk's third goal of the postseason on their first attempt — capitalized on Williams' retaliatory penalty, with Grzelcyk's second tally of the afternoon.
"Yeah, I'm disappointed in general," Williams said about his exchange with Marchand. "Absolutely. I've got to know better."
Frustration settled in for Williams and company in Game 2. Everything they touched turned into "poop" — to paraphrase another Williams postgame quote.
Marchand went from preventing a retaliatory penalty on Clifton following a Jordan Staal hit from behind in Game 1 — that resulted in a Bruins' power play goal shortly thereafter — to goading Williams in Game 2.
"I think [Williams] was just a little frustrated that he fell down," Marchand said. "But it was good that we were able to capitalize on that opportunity. I've been on that side plenty of times, and it's not fun. But he's their captain, and a leader over there and he bounced back and got a big goal there to kind of get them going."
Williams' third-period tip-in, as Marchand alluded to, broke Boston's string of 10 consecutive goals. But the veteran isn't interested in any consolation as the Hurricanes return home with an 0-2 deficit for the second time in three rounds.
?Brad Marchand on his exchange with Justin Williams in the second period: "I think he was just a little frustrated that he fell down."

Williams: "Yeah, I'm disappointed in general. Absolutely. I've got to know better." pic.twitter.com/7hcO7jXV1r

— Bruins Daily (@BruinsDaily) May 13, 2019
Time for a goalie change in Carolina?
Grzelcyk's bounce-back from an early hit by Michal Ferland set the tone for the Bruins. Petr Mrazek's first goal allowed — on Grzelcyk's first of two — marked the beginning of a frustrating night between the pipes.
DeBrusk, Grzelcyk, Clifton, Danton Heinen, and David Backes all found the back of the net in Game 2. Mrazek and a frustrated Hurricanes D — highlighted by another no-show by former Bruin Dougie Hamilton — had no answer once the Bruins found their skating legs.
Mrazek fought the puck throughout Game 2. He rarely got a clean look and subjected himself to juicy rebounds en route to a 19-save effort on 25 shots.
Petr Mrazek is gonna want that one back. pic.twitter.com/3xbPQ96q9k

— Conor Ryan (@ConorRyan_93) May 12, 2019
The Hurricanes had Curtis McElhinney waiting in the wings. Head coach Rod Brind'Amour didn't call his number, opting to keep Mrazek in instead. That might change come Game 3 Tuesday night in front of a rabid Hurricanes fanbase in Raleigh.
"We haven't gotten there," Brind'Amour said about his pending call to start Game 3. "We've still got to let this one digest a little bit and then move on."
The Bruins prepared for both Mrazek and McElhinney before the series. They made life hard for Mrazek, who returned from injury to start the Conference Finals. Now they may face McElhinney, who backstopped the Hurricanes to three-straight wins to complete their second-round sweep of the New York Islanders.
Bruce Cassidy's squad will come prepared either way looking to create a storm as the series shifts from TD Garden to PNC Arena.