Bruins
Bruins notebook: Forward Chris Wagner to miss Game 4
Wagner returned to Boston for further testing.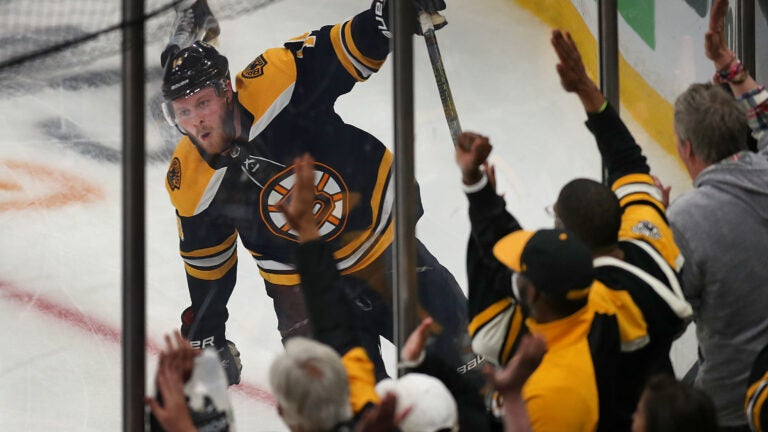 RALEIGH, N.C. — Bruins right wing Chris Wagner has returned to Boston for testing and will miss Game 4 of the Eastern Conference finals, coach Bruce Cassidy announced following an afternoon skate at PNC Arena Wednesday.
"Once we get to Boston, we'll give you a further update down the road,'' Cassidy said.
Wagner injured his right arm and exited late in the third period of Boston's Game 3 win Tuesday night. With five minutes remaining, and the Hurricanes pushing to score an equalizing goal, Carolina defenseman Justin Faulk fired a shot that nailed Wagner in his right forearm. The 27-year-old Walpole, Mass., native immediately clutched his wrist before heading off to the dressing room.
"You never want to see injuries like that," center Charlie Coyle said Wednesday. "That's a testament to him and what he's willing to give to this team. To block a shot like that, that gets us fired up. It's the little things. They add up. That's a big loss for us."
In 12 games this postseason, Wagner has two goals — both in these conference finals. Skating alongside center Sean Kuraly and left wing Joakim Nordstrom, he has been a vital component to the Bruins' impressive fourth line and overall depth.
"He's always going to bring tenacity, grit, physicality,'' Cassidy said. "He's a good energy guy. You know what you're going to get out of him every night. We'll miss him.''
With Wagner out, Noel Acciari, who has not played since Game 4 of the conference semifinals, will return to the lineup. Acciari took rushes as the right wing alongside Nordstrom and Kuraly in Wednesday's practice. He had been cleared to play in Game 3, but Cassidy elected to stick to the same lineup for the sixth straight game.
In 72 regular-season games, Acciari recorded six goals and eight assists.
"The guy going in, Noel, is very similar," Cassidy said. "They're very similar. We don't lose much. That's no disrespect to Chris. That's maybe a compliment to Noel. That's just what he brings. That line should keep on motoring."
Acciari wished his teammate a speedy recovery but also expressed an eagerness to get back on the ice.
"I'm excited," Acciari said. "Watching these guys do what they're doing the past four games, I couldn't be happier for them. I just want to do my job and make sure that we keep that going."
It's not impossible
Only four teams in NHL history have overcome a 0-3 series deficit, but the Bruins are fully expecting the Hurricanes to try to rattle off four straight wins.
"They're not going to sit back and just die down," Coyle said.
"It's a desperate team that's obviously fighting for their lives," added defenseman Torey Krug.
Although the likelihood of a comeback is low, it's not impossible. Patrice Bergeron, Zdeno Chara, David Krejci, Brad Marchand, and Tuukka Rask were all part of Boston's 2010 squad that blew a 3-0 lead in the conference semifinals against the Philadelphia Flyers.
"Listen, it can happen," Cassidy said. "If a team catches fire the right way at the right time."
Cassidy said he expects the veteran group's past experiences to help bring out that killer instinct as well as urgency to get the job done in as few games as possible.
"You don't want to go down that road again," he said. "I think you realize you don't want to give one away."
Chara seems to have put the 2010 collapse far behind him, but he acknowledged that the fourth win is always the toughest one to get. Like the Hurricanes, Chara said the Bruins will take things one day at a time and keep their focus solely on the next game.
"You have to earn everything you want to accomplish," Chara said. "You can't just rely on the fact that it's just going to happen."
Day off
In addition to Wagner, the other Bruins not on the ice for Wednesday's practice were Rask, Chara, and defenseman Steven Kampfer.