Bruins
What we learned from the Bruins' Game 3 win over the Hurricanes
Tuukka Rask is 'in a zone.'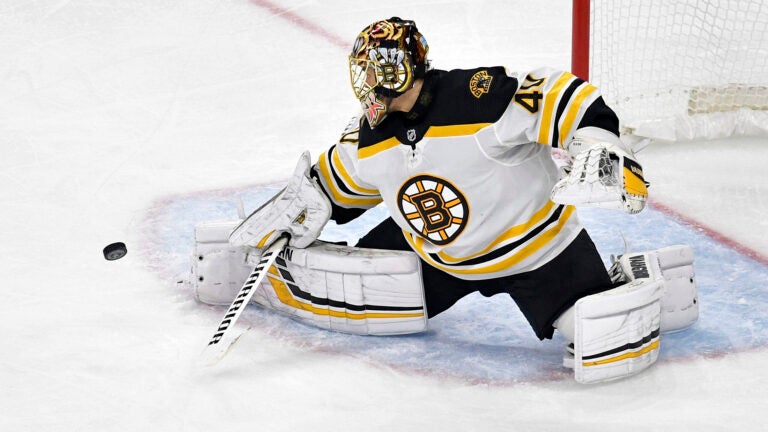 COMMENTARY
RALEIGH, N.C. — The Boston Bruins needed to weather a storm before finding their legs in Game 3. But the opening surge from the desperate Carolina Hurricanes collided with a brick wall between the pipes.
Tuukka Rask singlehandedly downgraded the Hurricanes' surge to a tropical storm after 20 first-period saves. The Bruins then went to work to help out their veteran netminder.
Walpole's own Chris Wagner opened the floodgates with his second goal of the postseason just 1:21 into the second period. Brad Marchand added his sixth of the playoffs with a power play tally 5:07 later to give the Bruins some cushion.
They needed that cushion, too, as Rask allowed his lone blunder on Calvin de Haan's first goal in 69 games. But that soft goal didn't put a dent in his spectacular outing as the Black and Gold sustained Carolina's late push to hand them their first home postseason loss in 2019.
"They're a great team at home and they've been playing good hockey all year, especially more so in the playoffs — 5-0 at home — and we knew that," Patrice Bergeron said postgame. "We wanted a better start, I'll be honest. But, you know, Tuukka was a big difference there in the first and we weathered the storm like you said, and then we got going after that."
The Bruins are one win away from playing for Lord Stanley. Here's what we learned from their 2-1 Game 3 victory over the Hurricanes inside a raucous PNC Arena.
Rask is 'in a zone'
Rask's night started with a near disaster as he left a wide open net for fellow Finn Teuvo Teravainen following a friendly fire moment with Zdeno Chara. But Teravainen missed just wide and the Bruins got bailed out.
Teravainen's miss didn't phase Rask at all. He composed himself and found his groove against the desperate Canes with a 35-save outing.
A four-consecutive save span on Carolina's first power play attempt — including a trio on rebounds — highlighted Rask's night. Yet his coach, Bruce Cassidy, couldn't bear watching.
A 20-save first for @tuukkarask.#NHLBruins pic.twitter.com/20JT7vMr5M

— Boston Bruins (@NHLBruins) May 15, 2019
"Yeah I think I had my eyes closed for three of them," Cassidy said to a round of laughs.
Rask stayed dialed-in following that four-save moment. Not surprising from a calming goaltender, to say the least.
"To me, Tuukka is always one of those guys that's calm and collected," Bergeron said. "He's always even-keeled and right now he's in a zone."
"He's such a calming presence for us," Charlie McAvoy added. "Obviously they came out and they played real hard at the beginning. We probably gave up more scoring chances than we would've liked, but Tuukka stood tall for us, allowed us to come into [the first] intermission at 0-0 and reset."
The first-period difference maker calmed the team down in the opening stretch. The Bruins built on Rask's 20-save stretch with a stellar middle 20 before finishing the job in the third.
The games have different verses of course. But the outcomes have been the same with Rask between the pipes, especially in their last six playoff games — all wins.
This isn't Rask's first playoff grind, but it's his best run since backstopping the Bruins to the 2013 Stanley Cup Final. He's one win away from the same feat six years later.
"That's the experience," Rask said. "Once you've played in the playoffs for many, many years you see all the scenarios that can happen out there."
He's seen almost every postseason scenario, especially with a three-games-to-none lead. Rask was on the bitter end of losing four straight to end a series — that coming in 2010 during the second round against the Flyers. But he also held the fort against Sidney Crosby, Evgeni Malkin and the Penguins to complete the Eastern Conference Final sweep three years later.
Rask and the Bruins want nothing more now than to return to Boston as Stanley Cup Finalists.
Fourth line comes through with and without Wagner
A penalty-ridden, low-scoring game sometimes calls for unsung heroes.
Walpole's own Chris Wagner played that role to a T. The first-year Bruin broke the ice with a beautiful tip-in past Curtis McElhinney — replacing Petr Mrazek in the Carolina net — on Joakim Nordstrom's feed a mere 81 seconds into the second period.
Joakim Nordstrom has been on fire in these playoffs. What a pass to Chris Wagner for the goal pic.twitter.com/qEBrc1YVqD

— Evan Marinofsky (@emarinofsky) May 15, 2019
The Bruins' fourth line once again frustrated a Hurricanes bunch looking for answers. But it came at a cost. Wagner exited the game late in the third period after blocking a shot in the wrist. The initial diagnosis isn't promising, either, as Wagner supported a sling, showcasing discomfort before entering the X-ray room at PNC Arena.
Nordstrom and Sean Kuraly got the last shift in the third period. The remaining fourth-line duo showcased their aggressive forecheck and prevented the Hurricanes from gaining a clean entry in the final seconds.
Cassidy won't have to look far for options. Noel Acciari made the trip to Raleigh after missing the last five games with an undisclosed injury. His chemistry with Nordstrom and Kuraly against the Maple Leafs and Blue Jackets make him the obvious potential replacement for Wagner come Game 4 Thursday night.