Bruins
Video: Watch the goals from the Bruins' Game 4 win over the Hurricanes
The Bruins' top-line accounted for 11 shots and all four goals.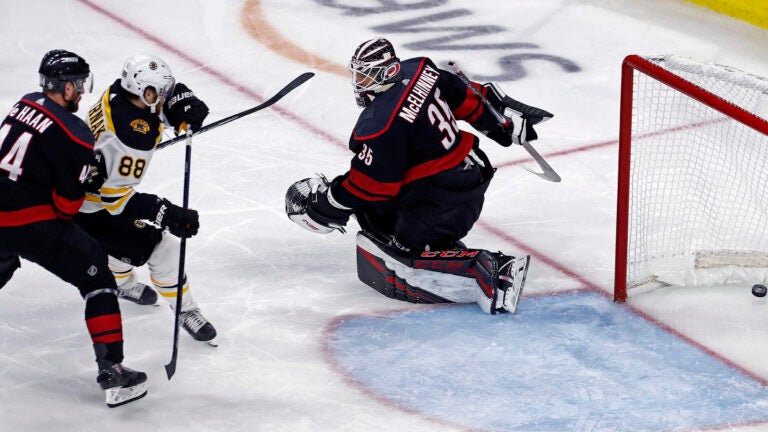 The Boston Bruins advanced to the Stanley Cup finals with a 4-0 win over the Carolina Hurricanes in Game 4.
David Pastrnak opened the scoring for the Bruins, and the top-line didn't stop there as Boston completed the sweep. Pastrnak, Patrice Bergeron, and Brad Marchand accounted for 11 shots and all four goals.
Tuuka Rask finished with 20 saves for his second shutout of the postseason.
Boston will face the winner of the San Jose Sharks-St. Louis Blues series for the right to etch their names on the cup.
First Period
There were no goals scored in the opening frame, thanks in large part to Rask's glove.
Tuukka Rask is making glove save with such contempt and cockiness tonight. pic.twitter.com/UnuFGAjG5V

— Bucci Mane (@Buccigross) May 17, 2019
Second Period
David Pastrnak, 1-0 Bruins
Pastrnak broke the deadlock for the Bruins at the 15:14 mark of the second period. Marchand faked a shot as he rushed into the Carolina zone, then fed his line-mate in front. Pastrnak buried the power-play opportunity to give Boston a 1-0 lead.
Speed kills.#NHLBruins pic.twitter.com/7L4ZLUA5ZP

— Boston Bruins (@NHLBruins) May 17, 2019
Pastrnak had a similar opportunity on another Marchand pass minutes later, but a Hurricanes defenseman managed to lift his stick at the last second and the puck skipped underneath.
Patrice Bergeron, 2-0 Bruins
Bergeron extended the Bruins' lead with 1:26 left in the period. On the power-play once more, Pastrnak found Bergeron in space in the slot and Bergeron found the back of the net.
That's six power-play goals for Bergy this postseason.#NHLBruins pic.twitter.com/1hzQBio4BW

— Boston Bruins (@NHLBruins) May 17, 2019
The Hurricanes had four shots in the period.
Third Period
Patrice Bergeron, 3-0 Bruins
Carolina defenseman Jaccob Slavin handed Boston a third goal. His errant pass deflected off Bergeron's skate into the path of Pastrnak, who had clear ice between him and Hurricanes goalie Curtis McElhinney. Pastrnak elected to pass it back to Bergeron, who had an open net and made no mistake for his second score of the night.
These two are having a night.#NHLBruins pic.twitter.com/RD9EbGcKWi

— Boston Bruins (@NHLBruins) May 17, 2019
Brad Marchand, 4-0 Bruins
Marchand sealed the sweep with an empty-netter, and the celebrations began.
https://twitter.com/NHLBruins/status/1129219076281241602