Bruins
3 takeaways from the Bruins' sweep of the Hurricanes
The Bruins are set to make their third Stanley Cup Final appearance of the decade.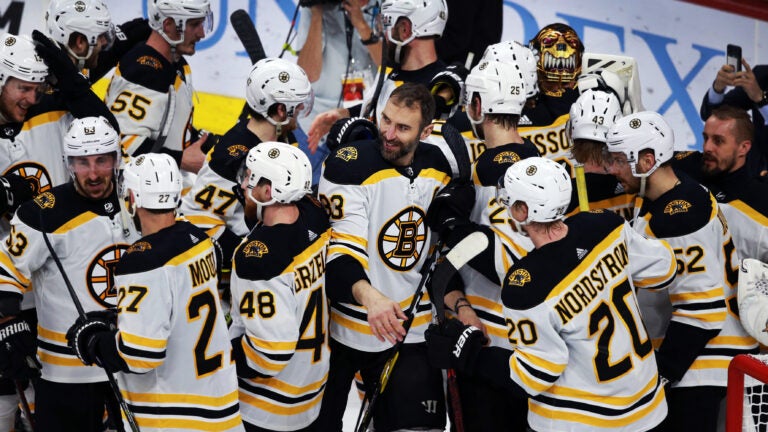 COMMENTARY
RALEIGH, N.C. — The Boston Bruins didn't need to weather a storm against a desperate Carolina Hurricanes bunch in Game 4. They created one instead.
Bruce Cassidy's bunch displayed a killer instinct without captain Zdeno Chara (undisclosed injury). Everyone stepped up in his absence, including the Ol' Reliables.
David Pastrnak's and Patrice Bergeron's second-period power play tallies got the Black and Gold off and running. Tuukka Rask held the fort again to conclude another stellar Eastern Conference Finals outing. And the Bruins' D never gave the Hurricanes any chance to breathe even without their 6-foot-9 ageless wonder.
"As you get older, you appreciate [the moment] even more, and you realize how hard it is to get to this point," Bergeron said following Boston's 4-0 win at PNC Arena. "Obviously you're thankful and you want to stay in the moment. Right now we want to appreciate this tonight, but then it's back to work with what's in front of us."
Here's what we learned as the Bruins await the Blues or Sharks following their sweep of the Hurricanes.
Surgical precision from the 'perfection line'
They went missing in spurts during the first three rounds. But Cassidy knew that Pastrnak, Bergeron and Brad Marchand wouldn't sustain the same struggles for long.
Boston's potent top trio — aka the 'perfection line' — took control of the Columbus series beginning in Game 4 of the second round. They followed that up with a sensational outing against Carolina, capped off with its series clincher.
Their stellar decision making kept the young Hurricanes defense on their heels all night. And Carolina did little to prevent any pushback in the attacking end.
The results for Marchand, Bergeron and Pastrnak: four goals, four assists and just one shot on goal against in five-on-five situations. Talk about getting it done on both ends of the ice, especially after a rather pedestrian Game 3 performance by their standards.
Slavin turns the puck over and Patrice Bergeron scores his 2nd of the night, 3-0 #NHLBruins pic.twitter.com/izLfjThjPh

— Marina Molnar (@mkmolnar) May 17, 2019
"Well it's easy to say yes, but I did sense it, because they weren't very good in Game 3, and they acknowledged it," Cassidy said.
"[Assistant coaches] Jay [Pandolfo] and Joe [Sacco] will usually sit them down and go through some shifts with them when they look out of sync. Because they have such good chemistry that's usually when we know that they have to dial it back in. So they sat down [Wednesday] before practice and they kind of sorted through some of the stuff. They've generally bounced back after — I don't know if you want to call them tutorials because I don't know if we're teaching them because they're three elite players. It's just more reminding them of what made them successful."
Marchand, Bergeron, and Pastrnak reminded the rest of the league why they're so good. The top line and Rask played a starring role in Raleigh Thursday night. But every Bruin had a hand in the Game 4 clincher.
Next man up continued without Chara
His celebration with teammates — in full uniform — marked the only time Chara touched the ice in Game 4. The captain surely sent some thanks in his celebratory remarks to the six blue-liners who filled his big void.
Matt Grzelcyk — paired with fellow ex-BU teammate Charlie McAvoy — moved up to Chara's top spot on the top defensive pair in Game 4. Torey Krug and Brandon Carlo stayed intact as a pairing. John Moore, in his first game back from an upper-body injury sustained in the Columbus series, skated with rookie Connor Clifton.
Of course the Bruins got another strong outing from Rask. But the defense kept the Hurricanes away from the dangerous scoring areas as the likes of Sebastian Aho, Teuvo Teravainen and Jaccob Slavin settled for perimeter-based shots with their season on the line.
The Bruins were in this spot earlier in the series with McAvoy serving his first career suspension following his illegal check to Josh Anderson in Game 6 of the Columbus series. So, it was only fitting that they ended the series with another stellar outing without their leader.
"We talk about that just because we have guys out — whether it's Zee [Chara] or Charlie [McAvoy] — we don't need any superheroes back there to step in," Krug said after notching exactly 27 minutes of ice time.
"It's just about playing good solid hockey, and our systems will take over eventually. We have a great goaltender that backstops us and gives us a chance to win. Like I said before, no superheroes. Just good solid plays and we'll be okay."
Maybe the goaltender Krug alluded to can get away with wearing a cape.
Putting Rask's '19 run in perspective
Ice in his veins.@tuukkarask | #NHLBruins pic.twitter.com/nQK80ImqLS

— Boston Bruins (@NHLBruins) May 17, 2019
Radio silence. That's all you'll hear from the anti-Rask crowd over the next several days.
Rask put the Bruins on his back throughout this postseason run. You can put this 2019 performance right up there with his 2013 outing where he backstopped the Bruins to their second Stanley Cup Final in three years after allowing just two goals against the Sidney Crosby-led Penguins in Round 3.
Need any more evidence of Rask's dominance this postseason? More than his 1.85 goals against average and .942 save percentage in 17 games?
And then there's this nugget: In all three of the Bruins clinchers, Rask allowed just one goal on 96 shots. That accounts for an otherworldly .990 save percentage.
"That just seems like another fact to go along with a whole bunch of them that describes his postseason," McAvoy said about Rask. "He's playing unbelievable right now, and he's our rock. And we know when we make mistakes at this time of year, which are bound to happen…we definitely had a couple of them tonight, and he's our rock and he's just there. They're getting chances, and he's just making saves and making it look effortless."
Everything looks easy to Rask at this moment. But the challenges await for Rask and the Bruins as they'll battle a long layover when they welcome the Sharks or the Blues in Game 1 sometime next week.