Bruins
Charlie McAvoy and the Bruins re-created Tom Brady's famous AFC Championship Instagram post
McAvoy and Torey Krug want fans to know they are "still here," too.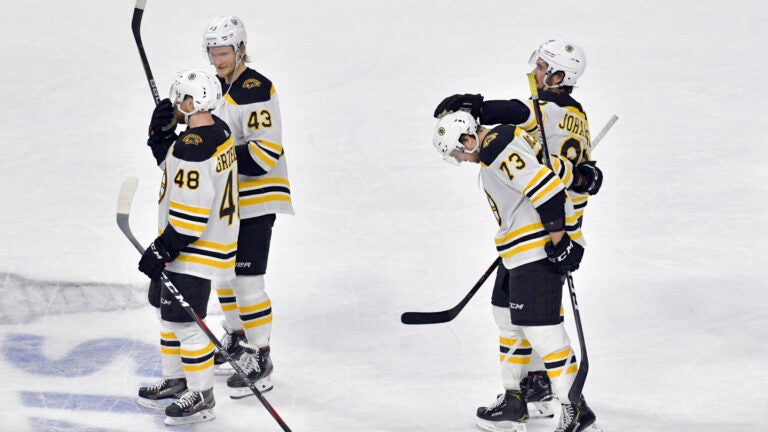 After the Patriots won the AFC Championship on Jan. 20, Tom Brady posted a video to his Instagram of him and Rob Gronkowski sporting sly grins on their faces, set to the tune of P. Diddy's 2001 song "Bad Boy For Life."
Sixteen weeks and five days later, Charlie McAvoy and some of his Bruins teammates re-created Brady's famous video on the team's plane back to Boston after completing a sweep of the Hurricanes to advance to the Stanley Cup Final.
McAvoy, Torey Krug, David Pastrnak, Matt Grzelcyk, Danton Heinen, and Brad Marchand can all be seen decked out in their 2019 Eastern Conference Champions gear and singing along to the song's chorus, which proclaims: "We ain't, go-in nowhere, we ain't, goin nowhere / We can't be stopped now, cause it's Bad Boy for life."
"W! @tombrady @gronk #StillHere #NotDoneYet #LetsGoBs #FinalsBound," McAvoy wrote in the caption, all but confirming the allusion to Brady's video.
The Patriots won Super Bowl LIII after Brady's video proclaimed he and the Patriots were "still here."
It will be up to McAvoy, who leads Bruins skaters in average time on ice in the playoffs (24:20 per game), to help the Bruins find the same result in the Stanley Cup Final against either the Blues or the Sharks.