Bruins
David Backes ran gamut of emotions in realizing his dream to play for the Stanley Cup
"He's paid his dues in this league for a long time, and he gets to go to his first Stanley Cup Final."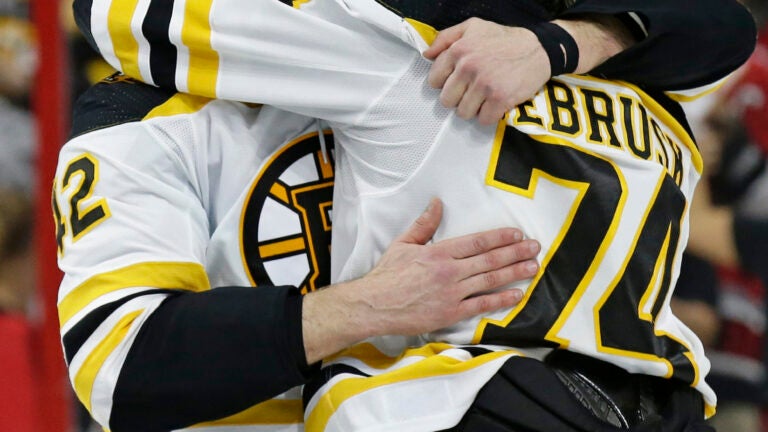 RALEIGH, N.C. — It took him 13 seasons, but Bruins veteran right wing David Backes is finally headed to his first Stanley Cup Final.
"It was pretty emotional right after the buzzer, getting some hugs from my teammates,'' Backes said following Boston's series-clinching Game 4 win over the Carolina Hurricanes Thursday night at PNC Arena. "We've been through a lot together. What a feeling.''
Selected 62nd overall in the 2003 NHL Draft, Backes spent the first 10 seasons of his professional career with the St. Louis Blues. A mainstay on the roster, Backes quickly made a name for himself — and reeled in a handful of individual accolades.
He earned the only All-Star nod of his career in 2011; he was a finalist for the Frank J. Selke Trophy, an award given to the league's best defensive forward, in 2012; and he was named team captain for five seasons.
But there was no postseason prosperity in St. Louis.
During his 10-year tenure with the Blues, Backes experienced four first-round exits and didn't qualify for the postseason four times. St. Louis lost in the Western Conference Finals in his final season with the team, marking the farthest point he had reached in the playoffs.
As a free agent in 2016, Backes inked a five-year, $30 million contract with the Bruins, with hopes that the city would offer a chance to compete for a championship.
The success, however, continued to require patience. In Backes's first season in Boston, the Bruins lost in the first round to the Ottawa Senators. In his second, they made it one stage further before getting eliminated, handily, by the Tampa Bay Lightning. Doubts started to creep into Backes's mind: Maybe a trip to the Stanley Cup just wasn't in the cards.
"You don't know,'' he said. "You don't know when you're going to get these opportunities. It's something we've stressed to the younger guys that they're pretty darn fortunate to be in the Stanley Cup Final now. We were saying Eastern Conference Final before, but now it's Stanley Cup Final. Some guys play their whole career and never get this opportunity.''
At last, with Boston's convincing 4-0 win over the Hurricanes Thursday night, Backes has advanced to his first Stanley Cup. After the game, he said he was overwhelmed with the full gamut of emotions: a little relief, a lot of love for his teammates, and gratitude for all the hard work that's allowed the team to reach this point.
"You've thought about this moment for a long time — of playing for that ultimate prize that you dream of when you're a kid,'' Backes said. "Now, it's reality. It's us against one other team, and one of us is going home with that Stanley Cup. It's what you dream about.''
The journey hasn't been easy for Backes, whose role started to change, too. His average time on ice has steadily declined in each of his three seasons with the Bruins. At 35 years old, he was a healthy scratch in Game 1 against the Toronto Maple Leafs due to concerns about his speed.
"When you're out, it's kind of a psychology experiment,'' Backes said. "What are you going to do with your brain? Are you going to let it go wild and have a pity party for yourself? Or are you going to prepare for the next opportunity you get? And when you get that opportunity, capitalize on it and make the most of it and make it tough for them to take you out of the lineup?''
He certainly opted for the latter, and, since re-entering the lineup, has made the most of his minutes. He's earned a spot in the Bruins' second line, alongside left winger Jake DeBrusk and center David Krejci. In 10 playoff games this year, Backes had registered two goals and three assists — in addition to offering intangibles, like physicality, that don't show up on the stat sheet.
"I got a lot of respect for David,'' coach Bruce Cassidy said. "It wasn't easy. We had a conversation the first time we sat him out, and we did in the playoffs as well, trying to get the best lineup — right or wrong. He was a true pro the whole time.''
The emotions could potentially multiply for Backes in the next round, as Boston's opponent will be either the San Jose Sharks or the St. Louis Blues, his former team. The Sharks currently lead the series, 2-1.
Although he called St. Louis a place that's "near and dear'' in his heart, and he still has some friends on the team, Backes said his focus is on preparing for the series, regardless of the opponent.
"They'll play out however they play out,'' he said. "I've got no bearing out that, so we'll watch from afar, get our rest, and hopefully heal a couple bumps and bruises that you get along these playoffs. You sacrifice a lot to win this game. We'll be ready for whoever it is.''
While Cassidy was undoubtedly excited for Backes, he noted Backes was not the only Bruin who will be getting his first taste of Stanley Cup hockey.
"He's done his part and more,'' Cassidy said. "I'm happy for him. He's paid his dues in this league for a long time, and he gets to go to his first Stanley Cup Final. As do I, by the way.''