Bruins
Hurricanes coach Rod Brind'Amour paid respect to Zdeno Chara in the handshake line
"Much respect for you. You can't keep doing this."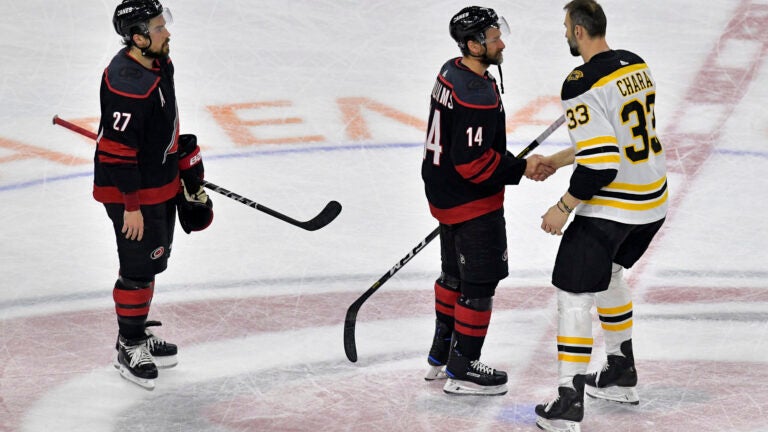 Zdeno Chara did not play in the Bruins' Game 4 win over the Hurricanes Thursday, but the team's longtime captain skated out in uniform after the game to celebrate and lead the Bruins in the ceremonial, end-of-series handshake line.
NBC Sports' microphones captured Chara's conversation with Hurricanes head coach Rod Brind'Amour, who wanted to know first and foremost if Chara was in good health.
"You gonna be alright?" Brind'Amour can be heard asking Chara.
"Yeah, I'll be alright," Chara, who the Bruins expect to return for Game 1 of the Stanley Cup Final, said.
Wow! Rod Brind'Amour showing such great respect for Z! Classy!

— Dan Roche (@RochieWBZ) May 17, 2019
"Well, good luck to you. Much respect for you. You can't keep doing this," Brind'Amour said, an apparent reference to Chara's age (he turned 42 in 2019). "Good for you. Good luck to you, good luck to you."
Brind'Amour, 48, played in the NHL for 20 years and retired after the 2009-10 season. 2018-19 was his first season as an NHL head coach.