Bruins
We don't know when the Stanley Cup Final will start, but here are the variables
The Sharks and Blues play Game 4 of the Western Conference finals Friday.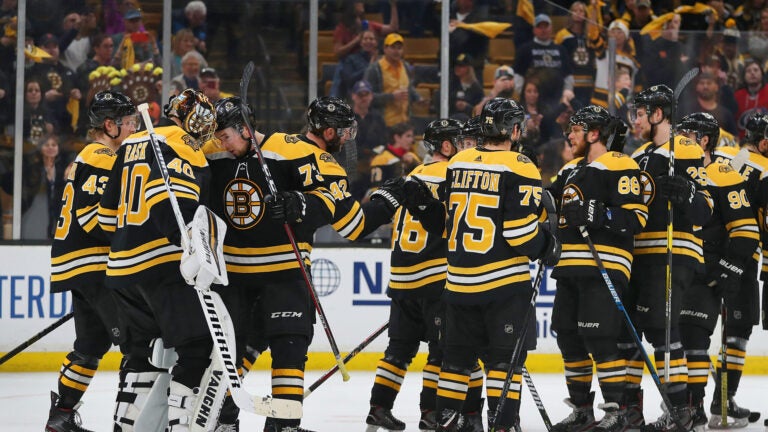 It's the question that has been at top of everyone's mind since the Bruins completed their sweep of the Carolina Hurricanes Thursday night.
When is the Stanley Cup Final going to begin? The answer? We don't know.
For the first time since 2013, we're heading to the #StanleyCup Final!

? All the highlights from last night's 4-0 ECF-clinching victory in Carolina: pic.twitter.com/qz8I2j3gt3

— Boston Bruins (@NHLBruins) May 17, 2019
Here's what we can tell you:
■ We likely won't know when it will begin until the Western Conference final is over. The San Jose Sharks lead the St. Louis Blues, 2-1, and could wrap up the series with wins in Game 4 Friday night in St. Louis and Game 5 Sunday afternoon at San Jose.
■ A Blues win Friday night would even the series, 2-2, in which case the earliest the Western Conference finals could conclude would be Game 6 on Tuesday night at St. Louis.
■ Should the Western Conference series go the distance and a Game 7 is necessary, that would be Thursday in San Jose.
■ Another factor the NHL may take into consideration is that since the Final will begin in Boston for Games 1 and 2, San Jose would need time to figure out the logistics of a trip to the East Coast on short notice.
■ One clue came in the Game 4 postgame press conferences: "I don't think we can start any earlier than a week from now — so that's a long stretch for us,'' said Bruins coach Bruce Cassidy after Thursday night's 4-0 victory.