Bruins
Zdeno Chara participates in morning skate with Bruins
Bruce Cassidy said both Chara and Matt Grzelcyk are game-time decisions for Game 5.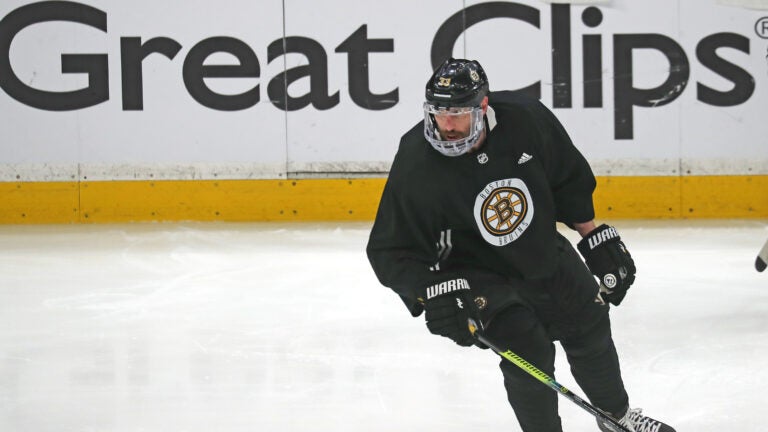 Wearing a jaw protector, Bruins captain Zdeno Chara took to the TD Garden ice for the morning skate Thursday before Game 5.
Coach Bruce Cassidy said both Chara and Matt Grzelcyk (concussion protocol) were game-time decisions, adding that team doctors have the final say on whether Chara could attempt to play.
"We'll see how they feel at 7-7:30 tonight," he said.
If cleared by doctors, Chara could return without missing a game after taking a deflected shot by the Blues' Brayden Schenn off his jaw in Game 4 at St. Louis Monday. He sat for nearly 37 minutes of the 4-2 loss, joining his teammates on the bench for the entire third period without taking a shift.
Zdeno Chara, bubble cage and broken jaw, on the ice before Game 5. pic.twitter.com/7LmZtbgJWh

— Matt Porter (@mattyports) June 6, 2019
Grzelcyk has been in concussion protocol since Blues center Oskar Sundqvist boarded him in Game 2 last week in Boston.
Cassidy left open the possibility of dressing seven defensemen. That would likely leave David Backes — who has played 37:15 in the first four games, lowest among forwards — on the outs. Steven Kampfer would be the first defenseman up if either Grzelcyk or Chara cannot play.
When teammates watched Chara dress for work Thursday, some felt admiration and awe.
"Much is made of his professionalism, his toughness, his approach," said fellow defenseman John Moore. "But until you see that in the flesh, you have a whole other level of appreciation for it.
"The guy's 42. When I'm 42, I'm certainly not going to be the first guy in the gym, weighing all my food, squatting the most on the team. Those are all the things you respect.
"You throw in the fact that what he's going through — that's something I'll tell my kids about. Life lessons I'll carry long beyond hockey."
A few teammates confirmed that Chara could speak to them. Since Chara was not comfortable speaking to reporters after the morning skate, the Bruins' media relations staff provided two Chara responses to questions from Professional Hockey Writers Association.
What is his biggest challenge in playing with this kind of injury?

"At this time of the playoffs, everyone has injuries and there are challenges that you have to overcome to play. I'm no different than any player on either team."

How did he weigh the risk of further injury when deciding whether to play?

"You don't think about that. You think about playing. You don't go into a game thinking you might get hurt."