Bruins
How the St. Louis media covered Bruins-Blues Game 5
There was a lot of talk about Bruins fans.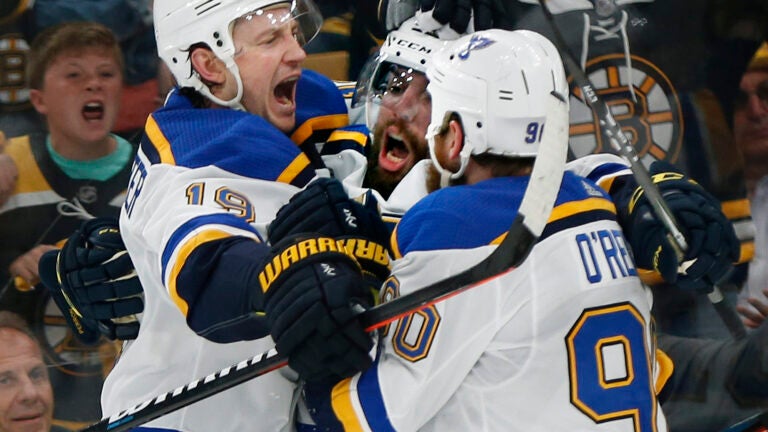 Nobody could ignore Tyler Bozak's uncalled trip of Noel Acciari in Game 5 of the Stanley Cup Final. Not Blues fans. Not the St. Louis media.
Still, the St. Louis Post-Dispatch seemed to embrace the no-call with the headline, "What a trip! Victory puts Blues on verge of Cup title." Blues beat reporter Jim Thomas acknowledged the gravity of the play, writing that "[St. Louis] may have benefited most from a penalty that wasn't called."
Best #STL visit to Boston ever! pic.twitter.com/Am6NYKm9PW

— 550 KTRS St. Louis (@550KTRS) June 7, 2019
On the other hand, Post-Dispatch columnist Ben Frederickson downplayed the uncalled penalty, writing that the play "was not as obvious as some will make it seem" and that the "story completely ignores the beginning and the end, and it omits the main character."
"They won because Zach Sanford, a Boston-area native who watched the first two games of this series from the press box alongside Post-Dispatch scribes as a healthy scratch, made a jaw-dropping first-period pass to teammate Ryan O'Reilly, who is playing like a man possessed," Frederickson wrote.
"But more than anything, the Blues won because Binnington plays for the Blues."
Frederickson also conveyed his disapproval for Bruins fans' reaction to the no-call, describing that "fans wearing black and yellow went from trading high-fives to exchanging haymakers." He also appeared on 550 KTRS St. Louis to discuss his impressions on the officiating:
Controversy, non-calls, questionable officiating… sound familiar? @Ben_Fred explains how the #Bruins should take a page from the #STLBlues examples: https://t.co/3oCk41wRwH #StanleyCupFinal

— 550 KTRS St. Louis (@550KTRS) June 7, 2019
Bruins fans not handling this well. Trash being thrown onto the ice.

— Ben Frederickson (@Ben_Fred) June 7, 2019
Another columnist for the Post-Dispatch, Benjamin Hochman, described the feelings of long-suffering Blues fans being one win away from the Stanley Cup. Featured was Blues legend and Hall-of-Famer Bernie Federko, who Hochman said had a "great grin across his famous face."
He included Emmy-winning actor and passionate Blues fan Jon Hamm, who on NBC talked about his childhood St. Louis sports fandom earlier in the series.
Hochman was also impressed with how St. Louis has gone toe-to-toe with the toughness of this Boston Bruins team.
"The Blues bruise," he wrote. "They're tough, unfazed, and they throw four lines at opponents – basically, they're out-Bostoning Boston."
KMOX Radio in St. Louis spotlighted the reactions from Bruins fans at TD Garden after the Bozak no-call. The piece touched on fans tossing debris onto the ice and Bruins President Cam Neely throwing his water bottle at a wall, while others threw fists at each other.
The Boston Bruins and their fans were not living their best lives last night after the tripping call that wasn't.https://t.co/XhOMLYe91s

— KMOX St. Louis News (@kmoxnews) June 7, 2019