Bruins
3 takeaways from the Bruins' 3-0 win over the Devils
The Bruins had their skating legs from the get-go.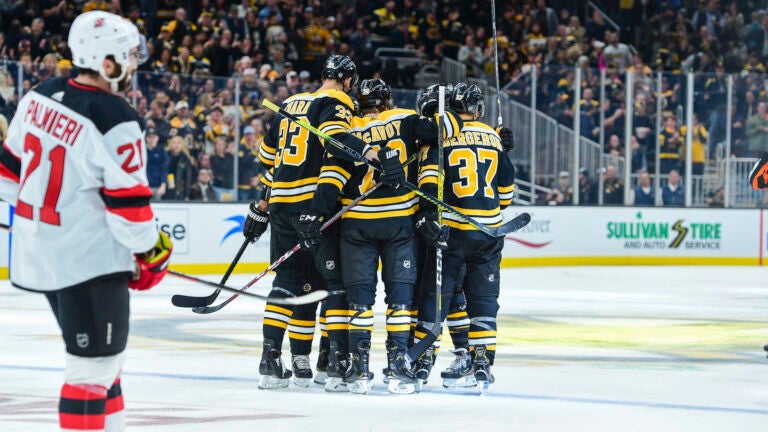 By Tim Rosenthal
The renovated TD Garden has its fair share of critics, but their primary tenant received rave reviews during their home opener.
The Boston Bruins picked up right where they left off from their season-opening four-game road trip in their first regular-season tilt at the new look Causeway St. facility.
Brad Marchand, Patrice Bergeron and company skated circles against a new-look New Jersey Devils bunch. The Bruins had their way against top overall pick Jack Hughes, former Hab P.K. Subban and company en route to a 3-0 victory on Saturday night.
Here's what we learned after the Bruins improved to 4-1 on the young campaign.
The Bruins had their skating legs from the get-go
During his pregame press conference, Bruce Cassidy addressed the concerns of a slow start following the four-game trip over three different time zones. The Bruins made sure they didn't let that linger into their home opener.
The potent top line of Marchand, Bergeron and David Pastrnak set the tone with a stellar shift leading to Marchand's fourth of the season just 3:33 in. Karson Kuhlman's energy resonated with David Krejci and Jake DeBrusk on the second line. The team's physicality on both ends of the ice got the Bruins into a sustained rhythm against a Devils team that's still searching for an identity in the early going.
There's eyes on that puck, we're convinced, and so is Brad Marchand (@Bmarch63). pic.twitter.com/4G4k2xBuRB

— NHL (@NHL) October 12, 2019
"It's a lot easier to play with a lead, instead of playing from behind," Marchand said after tallying his 300th career NHL assist. "It's great to be able to get a couple of goals early that allowed us to settle down a bit and try to learn from last game where we allowed the team to come back."
Marchand was referencing the Bruins' 4-2 loss to the Colorado Avalanche on the finale of their four-game road trip. Boston held a 2-0 lead before falling victim to four unanswered Avs tallies and questionable replay reviews.
They didn't need any replays on this night. Cassidy rolled out all four lines without hesitation as the Bruins exposed the Devils in all three phases.
Marchand and Bergeron's unmatched chemistry on the penalty kill, in particular, showcased Boston's fluid skating against a struggling New Jersey bunch. The dynamic duo later teamed up for Bergeron's first of the season — a power-play tally — to give the Bruins a 3-0 lead late in the second period.
Brad Marchand & Patrice Bergeron killing penalties.

That's it — that's the tweet. pic.twitter.com/GX5dFV52XB

— Conor Ryan (@ConorRyan_93) October 13, 2019
Patrice Bergeron PPG 3-0 #NHLBruins pic.twitter.com/SEOn229GQj

— Marina Molnar (@mkmolnar) October 13, 2019
Of course, we come to expect this from Boston's top line on a nightly basis. They had some good company Saturday night, however.
Fourth line gets it done on both ends of the ice
Cassidy worked with some makeshift lines aside from Marchand, Bergeron and Pastrnak, during the road trip. Krejci missed the season opener with a lower-body injury, thus leaving a void on the second line. Joakim Nordstrom, meanwhile, missed the first three tilts with a foot ailment.
Nordstrom, in his second game back, found his groove with fellow linemates Sean Kuraly and Chris Wagner. The Swede banked home a loose puck in the slot for his first of the season to give the Bruins a 2-0 lead at 11:22 of the opening stanza.
Joakim Nordstrom buries a loose puck and it's 2-0 #NHLBruins in the 1st pic.twitter.com/B9EUhcXRrf

— Marina Molnar (@mkmolnar) October 12, 2019
"I think today was definitely better than the first game," Nordstrom said. "I feel like I'm in decent shape — or pretty good shape — but just getting the habits back, getting your timing back…it's not 100 percent back yet, but that's the experience you get from playing games. So hopefully it gets better as we move on."
Nordstrom's timing should improve, especially if Saturday was anything to go by. The veteran, along with his fellow linemates, skated against the Devils top trio featuring two former top overall draft picks — Taylor Hall and Nico Hishcier — and four-time 20-goal scorer Kyle Palmieri during certain portions. They didn't really give New Jersey's No. 1 scoring line any breathing room either, as they disrupted shooting lanes, killed penalties and won puck battles along the boards and in front of Tuukka Rask.
"They did what they typically do, which is play against good players, manage the puck, check well to get it back, long shots, killed penalties," Cassidy said about Boston's fourth line. "They were able to chip in offensively which is — I think it picks everybody up on the team when they get rewarded because they do a lot of the grunt work, rarely see the power play. When they get opportunities to finish, I think it picks up our team."
Tuukka Rask backstopped the Bruins during a second period lag
The Bruins had a lot going for them Saturday night, but it wasn't perfect. The second period displayed the kinks that every team faces during a long, 82-game slate.
Cassidy's squad, comparably, wasn't as sharp in the middle stanza, as opposed to the first and third periods. Sloppy turnovers in their own end and lengthy shifts during the long change period kept the Bruins on their heels as the Devils sustained their biggest push of the night.
But that didn't phase Tuukka Rask one bit. The calm, cool and collected netminder earned his first shutout of the season as he bailed the Bruins out with 15 of his 31 saves in that middle period.
Brandon Carlo owes Tuukka Rask (and the post) dinner pic.twitter.com/xLnZxx4on9

— Evan Marinofsky (@emarinofsky) October 13, 2019
"We're still working on our game like every other team, and I thought that's where Tuukka really stepped up and that's when he should get the credit," Cassidy said.
"In a game like this, I thought that's when he earned his paycheck tonight. We broke down a lot there; trying to break pucks out and had some loose play, and he was really good. But, our start, I liked it a lot, and it's not easy to do — coming back from the road, kind of the way our travel worked out our guys got some disjointed sleep — but they had their legs."
Rask didn't suit up against the Avs, so he had a few extra days of rest comparably. That didn't alter the Bruins from starting and finishing strong in their home opener. But they needed some bailouts at certain points and Rask made sure the Bruins kept momentum with timely stops, much like he did during last year's postseason run.