Bruins
3 takeaways: David Pastrnak's career day sparks Bruins past Ducks
"It's always nice [to contribute]. That's what I'm getting paid for."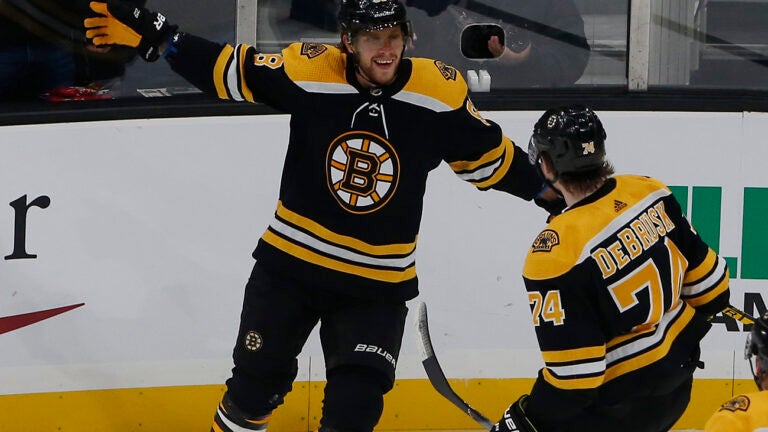 David Pastrnak joined elite company during the Bruins' Columbus Day tilt with the Anaheim Ducks.
The talented Czech winger became the 18th different player in franchise history to score four goals in a single game during Boston's 4-2 victory. Pastrnak — the first Bruin to light the lamp four times since Patrice Bergeron's career night against Carolina in Jan. 2018 — achieved the feat on five shots on goal.
"It's always nice [to contribute]," Pastrnak said. "That's what I'm getting paid for."
Pastrnak makes $6.6 million annually after he signed a six-year deal before the 2017-18 season, yet he's worth more. This is one of GM Don Sweeney's finest accomplishments considering Pastrnak's value to the Bruins.
Here's what we learned from Pastrnak's performance and more following Monday's matinee on Causeway Street.
We'll save you some time.

Here are all four of @pastrnak96's goals in one place.#NHLBruins pic.twitter.com/NV2AuBjjBh

— Boston Bruins (@NHLBruins) October 14, 2019
Hats off (and more) for David Pastrnak
Pastrnak has dazzled Bruins fans with fantastic highlight-reel goals throughout his Boston tenure. But his performance during the tough seven-game loss to St. Louis in the Stanley Cup Final, in particular, left a bitter taste in his mouth.
"For me, it's a new year. So as soon as the season started I tried to be a better player than last year," Pastrnak said. "Every year — coming into a new season — I just want to be a better player than the year before, and that's what I'm working on."
It seems like Pastrnak used that bitter ending in June as motivation in the early part of the 2019-20 campaign.
Pastrnak, along with his fellow prolific linemates in Brad Marchand and Patrice Bergeron, started to gel again during the season-opening four-game road trip. They've carried the Bruins' offense during the early six-game stretch combining for 24 points and 11 of the team's 16 goals.
The 2014 first-round pick has lit the lamp in a variety of ways early on. Monday was just another example of his evolution into a well-rounded goal scorer.
Pastrnak had plenty of time and space on his four tallies, lighting the lamp through his patented one-timer (twice) a tap-in in front of the net, and on the heels of a Bergeron faceoff win.
"He's such a talented player," Marchand (two assists) said of Pastrnak. "He's dangerous on every single play. Regardless of where he is and wherever he gets the puck, [defenders] need to make sure they do their job on them, because if not then he's going to find himself in a scoring position."
Pastrnak, who notched his fifth career hat trick early in the just 2:20 into the third, found himself in scoring positions quite often. His only blemish, however, came early in the second period when the referees assessed him a minor for "tripping" Max Comtois.
We're sure Pastrnak told the official to check his voicemails on his way to the penalty box. But he didn't need many words to back up his first career four-goal outing.
? David Pastrnak said he had ? and ? for breakfast prior to his four-goal outing. He had a lot more to say too following his career day. pic.twitter.com/BFoUwQd0sb

— Bruins Daily (@BruinsDaily) October 14, 2019
Boston's second-period blues continued
The momentum in any hockey game changes at any given moment. One minute a team can sustain extended zone time and generate quality chances in the attacking zone and the next they might find themselves victim to turnovers and extended time in the defending end.
The Bruins always find themselves on the latter end of the momentum pendulum during the middle stanza. This bad habit continued on Monday. Cassidy's squad found itself being outshot 24-17 through 40 minutes despite holding a 9-2 SOG advantage at one point of the opening stanza.
Yet, Jaroslav Halak bailed the Bruins out during a period of head-scratching decisions with the puck that led to frequent odd-man rushes and penalty killing time. David Krejci's departure didn't help things either, forcing Bruce Cassidy to double shift Charlie Coyle and Sean Kuraly for a good chunk of Monday's contest.
Jaroslav Halak's been hard to beat this afternoon #NHLBruins pic.twitter.com/Ya1LK3Nj1Q

— Boston Bruins on CLNS (@BruinsCLNS) October 14, 2019
Monday's second-period effort, in particular, created cause for concern from Cassidy.
"Yeah, I think we've established some leads here early on. Our first periods have been terrific, we're starting on time. You're going to naturally have a push from the other team," the fourth-year Bruins' bench boss said.
"We've got to get a little more into work mode in those second periods, focus on — it's early in the year, maybe are we thinking it's going to be an easy game? Are we not ready for the pushback to a certain extent because we've had the leads? It's a bit of everything. I think it's normal around the league, a team gets a first-period lead, usually, the other team is going to give you some problems in the second period. But we do have to correct it. Tonight was an exceptionally poor second period."
The Bruins excelled in several areas during their first six games. But their sloppy second-period play and secondary scoring output provide early areas of needed improvements for the long haul.
The Bruins might be without Krejci, again
Cassidy didn't have Krejci at his disposal during the season opener in Dallas. He may be without his second-line center again.
Krejci, who missed the first game of the year with a lower-body injury, first left the game in the opening period with a mysterious ailment. He returned for the middle stanza, but only logged two shifts before going down the tunnel for the second and final time of the afternoon.
The Bruins would likely bump Charlie Coyle up to center the second line with Jake DeBrusk and Karson Kuhlman if Krejci misses time. They'd likely insert Par Lindholm — a healthy scratch for the fourth straight game — into a bottom-six role as well.
"We'd probably look at Lindholm first. He's done a good job for us. Whether he goes right into that spot or if we move Charlie [Coyle], you know, but if he's not ready, I suspect Lindholm would certainly be the first guy we'd look at," Cassidy said. "We'll have to discuss that internally, see if there's a better fit in Providence, but I think Lindy's done his job here for us, so he should get that opportunity."
The Bruins may have some options down in Providence, including the highly-touted Jack Studnicka. But they're better off waiting to call up potential replacements until the appropriate time.