Bruins
3 takeaways from the Bruins' 4-3 overtime loss to the Maple Leafs
Boston got some much-needed secondary scoring in the losing effort.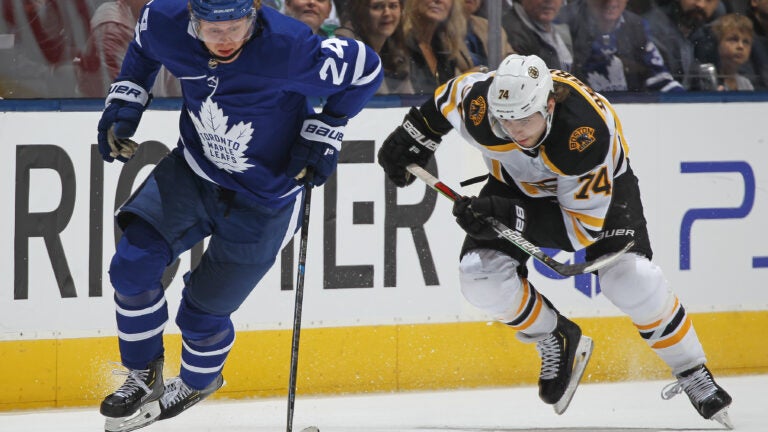 COMMENTARY
Secondary scoring — check.
Their best second period of the season — check.
Quality scoring chances — check.
The Bruins found their groove following a rough stretch in the middle of the first period after Charlie Coyle set up Jake DeBrusk to cut the deficit to 2-1 with his first goal of the season at 19:39. But a lucky bounce on Morgan Rielly's first of the night at 5:55 and a costly turnover by Sean Kuraly leading to Dmytro Timashov's first career tally at 15:54 put the Bruins' in the rare spot of catch-up mode.
Yet, despite missing some quality scoring chances, the Bruins put themselves in position to earn two points after Danton Heinen and David Pastrnak evened things up at 2-2 and 3-3, respectively during the third period.
The Bruins persevered but had to settle on just one point. Rielly made sure of that with his second tally with 1:06 left in overtime — tipping in a shot from Mitch Marner past Jaroslav Halak (26 saves) — to give the Leafs their fifth win of the season.
"I didn't like that stretch in the middle of the first period where we weren't competitive enough," head coach Bruce Cassidy said on a night where the Bruins outshot the Leafs 46-29.
"I thought our start was good; we were on [the puck]. But then we were trading chances a bit and it just didn't go our way. We just had to be harder on the puck and getting pucks back, and we were. As the game went along the second and third period we were [harder on pucks]."
Here's what we learned from the Bruins' 4-3 overtime loss at Scotiabank Arena on Saturday night.
The Bruins got much-needed secondary scoring.
The Bruins entered Saturday's tilt with 19 goals through the first seven games. Only five of those 19 tallies came from someone outside of their potent top line.
Saturday was different, as the second, third, and fourth lines contributed two-thirds of Boston's scoring output.
DeBrusk, in unquestionably his best performance of the young season, had a jump to his game after notching his first of the year. But a missed tap-in opportunity on Frederik Andersen's doorstep prevented the Edmonton native from adding a second tally.
But DeBrusk's goal late in the first gave the Bruins some much-needed life. They carried that momentum into the second and third as Cassidy rolled out all four lines at any given moment.
Charlie Coyle feeds Jake DeBrusk, his first goal of the season cuts the Leafs lead 2-1 #NHLBruins pic.twitter.com/EgJpaDqbAg

— Marina Molnar (@mkmolnar) October 19, 2019
Heinen, after Boston's stellar second period, evened things up with a top corner snapshot just 1:36 into the third.
A frustrating loss, sure, but the Bruins felt pretty good with the outing from their second, third, and fourth lines after amassing 20 of the team's 46 shots on goal. Some of the forwards played better than others, but the Bruins feel they have something to build on with their secondary scoring.
"It's coming," Charlie McAvoy said. "It's coming. It came tonight and it's only going to come more and more and in waves and we just have to stay patient."
The Bruins stayed patient Saturday night despite trailing 2-0 early. And the members of the top line, well, they weren't quiet either.
David Pastrnak stayed hot.
Seven goals in three games. If that doesn't scream top star of the week, then I don't know what does.
Pastrnak didn't have the same output he did after scoring four against the Ducks and a pair in Thursday's loss to the Lightning. Heck, he only received credit for two shots on goal in 24:10 of ice time on Saturday night.
But he battled on and gave the Bruins a chance to steal two points after notching his ninth of the season on his patented one-timer.
What a bullet from David Pastrnak.

3-3 game. pic.twitter.com/CIUxCdYWme

— Conor Ryan (@ConorRyan_93) October 20, 2019
Pastrnak could've been atop the NHL goal-scoring race last season if it weren't for a mid-season injury. He may very well find his way up the scoring ranks this season.
Just think, he's only 23 years old and hasn't come close to slowing down any time soon. And even a young star like Pastrnak has plenty of areas he wants to improve on as he hopes to develop into a well-rounded three-zone player just like his fellow linemates, Brad Marchand and Patrice Bergeron, who both assisted on Pastrnak's tying goal.
But was there any improvement in particular that really put Pastrnak on a torrid pace for 92 goals in 82 games so far this year?
"Yeah, it must be the gold sticks," McAvoy said with a chuckle.
A subtle change from a blue to gold piece of lumber aside, the Bruins landed a game-changer at 24th overall in 2014. Little did they know that he'd consistently produce at this high a rate.
The Bruins persevered but only have one point to show for it.
One team took advantage of some puck luck, and the other didn't. This prevented the Bruins from nabbing their sixth victory of the season in a highly entertaining tilt north of the border.
Sure, they had some miscues leading to an early two-goal deficit, but the Bruins checked off a few items on their to-do list. Their strong second period, secondary scoring output and improved 5-on-5 play put them in a spot to come from behind and tally a hard-earned point.
"We definitely had more focus on those aspects," DeBrusk said. "It was talked about that everyone wanted to pitch in. We put over 40 shots on them, so give their goaltender credit, they gave them a chance to win tonight and obviously they did the rest."
Scoring goals wasn't too difficult, but playing with a lead was. But the Bruins have plenty of constructive talking points — both good and bad — to go over before they welcome the Maple Leafs on Tuesday night for the second half of their early-season home-and-home.