Bruins
3 takeaways from the Bruins' 4-2 win over the Maple Leafs
On a night of accolades, the Bruins earned a hard-fought win over the Maple Leafs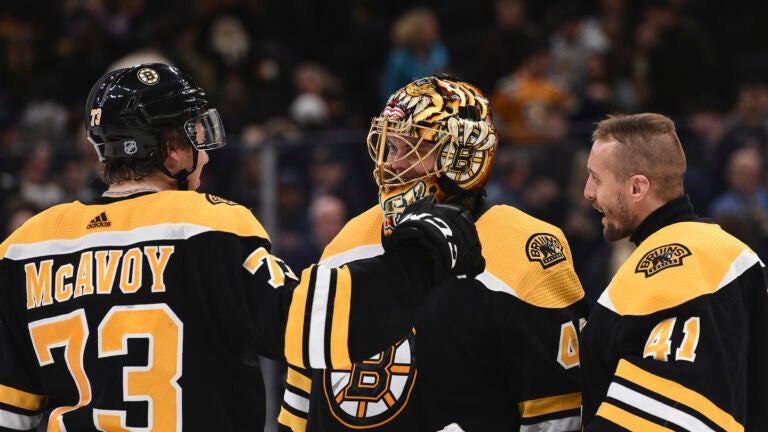 COMMENTARY
The Bruins celebrated a night of accolades against the Maple Leafs Tuesday night at TD Garden. Yet, they didn't have an easy time taking home two valuable early-season points in the second half of a home-and-home with their Original Six rivals.
But they made it worthwhile on a night where Tuukka Rask played in his 500th career NHL game, Bruce Cassidy coached in his 200th contest behind the Bruins' bench, and David Pastrnak tallied his 300th career point.
The Bruins never trailed against the Maple Leafs in their 4-2 victory Tuesday night at TD Garden. Here's what we learned after Boston notched its 300th all-time win over Toronto.
David Pastrnak sets the tone, while secondary scorers come through in the clutch.
At this rate, we might as well copy and paste Pastrnak's name on the scoresheet.
An off-side review that saw Patrice Bergeron's skate barely cross the blue-line roughly 20 seconds before Pastrnak's waived-off tally prevented the 2014 first-rounder from having another multi-goal game.
NO GOAL

David Pastrnak scores but it's called off for offsides pic.twitter.com/9v4fRXePRX

— Boston Bruins on CLNS (@BruinsCLNS) October 22, 2019
But the Czech sensation didn't disappoint with his between-the-legs goal to finally give the Bruins the 1-0 lead on a late first period power play.
David Pastrnak can't stop scoring goals pic.twitter.com/813NRRHbcf

— Pete Blackburn (@PeteBlackburn) October 22, 2019
Pastrnak dazzled again with his beautiful feed on Brad Marchand's goal to give the Bruins a 2-1 lead a mere 1:46 after Kasperi Kapanen's equalizer.
Pastrnak with an absurd pass to setup Marchand pic.twitter.com/FeSA5ERHLg

— Pete Blackburn (@PeteBlackburn) October 23, 2019
"Everything catches my eye with him lately," Cassidy said about Pastrnak. "He's just on it, he's on pucks, he's strong, his conditioning seems great. He's playing a lot of minutes — hard minutes — against good players every night. Play-making ability, he's making plays as well, getting his shot off."
Pastrnak and the Bruins' top line set the tone again. Yet, they still needed some secondary scoring after ex-Harvard standout Alex Kerfoot tied things up late in the second.
Enter a pair of bottom-six newcomers in Brett Ritchie and Par Lindholm.
Ritchie, playing on the second line for the injured Karson Kuhlman (out four weeks with a right tibia injury), tapped in Charlie Coyle's feed for his third of the year midway through the third.
Brett Ritchie for the lead! 3-2 #NHLBruins pic.twitter.com/kwNEOauvsN

— Marina Molnar (@mkmolnar) October 23, 2019
Lindholm, following a stellar penalty kill late in regulation, sealed the victory against his former squad by banking home a rebound past Michael Hutchinson.
Par Lindholm gets his first as a Bruin! 4-2 #NHLBruins pic.twitter.com/vUur4Ue8Us

— Marina Molnar (@mkmolnar) October 23, 2019
The bigger picture: the Bruins found secondary scoring in each of their last two games without second-line center David Krejci. They'll need more of that with Krejci and Kuhlman out of the lineup, especially come Saturday when they welcome the St. Louis Blues for the first time since mid-June.
Tuukka Rask was appreciative of his latest milestone.
Members of the Bruins marketing department approached Rask before his 500th game. They had a video package prepared for the milestone during one of the TV timeouts. Of course, Rask gave his approval to showcase that recognition.
They did, and Rask waived to the crowd following the standing ovation.
"It's super nice," Rask said about the reception. "It's one of those milestones that you only hit once if you ever get there — and I wanted to recognize the crowd for getting behind me and the team — so it was a nice moment."
? "Of course you're going to get criticized. Sometimes you suck and sometimes you don't." Tuukka Rask on feeling appreciated and staying even-keeled throughout his career.#NHLBruins #Tuukka500 pic.twitter.com/05Tulg7qq6

— Bruins Daily (@BruinsDaily) October 23, 2019
The even-keeled Rask has seen and heard it all during his Boston tenure. The well-documented hot takes on sports radio and social media made Rask one of the more polarizing netminders despite his accolades.
Yet, through all the ups and downs, Rask never wavered. He never had a reactionary response to his detractors but acknowledged the fact that he'll have his share of critics in a passionate hockey market.
"Of course [I feel appreciated]. I think every athlete should feel that," Rask said. "I mean, obviously, you're going to get criticized because that's your job and sometimes you suck, and sometimes you don't. But the fans are great; they're great supporters and I feel every athlete should feel appreciated and grateful that they play in this kind of town."
Rask didn't have a stand-on-his-head type of night against the team that drafted him. But he made some timely saves Tuesday night, especially on that late third-period penalty kill, en route to his fourth victory of the young season.
And now he has a fellow goaltending colleague to help ease the workload in Jaroslav Halak. The Bruins benefited from that last year as Rask put together one of his best postseason performances of his career. They're on that path again this year, only hoping for a different result this time around.
It's only fitting that Rask achieved his latest milestone against the team that drafted him before shipping him to Boston for Andrew Raycroft. It's also fitting that Rask will likely get the next start in Saturday's Stanley Cup rematch with the Blues.
"Yeah, the guys on the ice, they want to win for him every night. But I think they realized tonight was a special night, and I thought we played pretty well in front of him," Cassidy added. "Anyway, he's on to 501 on Saturday probably."
Anders Bjork made a good first impression.
Look at this forechecking by Danton Heinen, Anders Bjork and Sean Kuraly ? pic.twitter.com/TJk7srMl1T

— Boston Bruins on CLNS (@BruinsCLNS) October 22, 2019
He didn't find his name on the scoresheet in his first NHL game since Nov. 26 in Toronto. But Anders Bjork didn't hurt his long-term chances in Boston.
Skating mostly with Chris Wagner and Sean Kuraly, Bjork notched four shots on net during his 13:17 of ice time. The third-year Bruin stayed assertive in all three zones while going up against the likes of Auston Matthews and Mitch Marner at certain points. And he wasn't shy driving to the front of the net in search of scoring chances, something that should bode well given his skill set.
"We got the win so I can't not be happy with that," Bjork said following his first call-up from Providence this season. "But I definitely think I can bring a little more of my speed and my confidence when I'm playing up here [in Boston]. There's a bit more of my game that I didn't really show tonight, so hopefully, I find a way to do that."
Bjork came into training camp with something to prove after injuries cut his first two seasons short. He nearly earned an opening night roster spot, but the Bruins opted to send him to Providence to start the season.
Yes, injuries to Krejci, Kuhlman and Joakim Nordstrom sped up his arrival to Boston, but Bjork earned his promotion to the big club. Now he hopes to avoid those trips up and down I-95 for good.