Bruins
3 takeaways from the Bruins' 7-4 win over the Rangers
Boston stayed red-hot as the top line led the way in New York.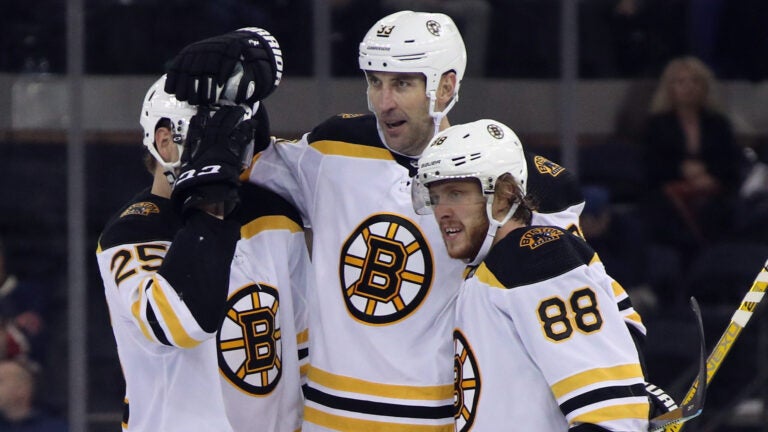 COMMENTARY
NEW YORK — The Boston Bruins put on a Broadway-like show inside the "World's Most Famous Arena" on Sunday night.
They had to overcome a 1-0 deficit following Michael Haley's first-period tally. The Bruins erased that opening-period setback with ease, scoring seven of the game's next 10 goals — including four in the second period — en route to the 7-4 victory at Madison Square Garden.
Patrice Bergeron led the way with his fifth career hat trick. His fellow linemates Brad Marchand and David Pastrnak both tallied five points on the night.
Bergy with one for good measure.#NHLBruins pic.twitter.com/MxDgJT3UuA

— Boston Bruins (@NHLBruins) October 28, 2019
"At the end of the day we felt that we outplayed them in the first period and if we just stuck to what we do well and what we were doing we'd be ok," Bruce Cassidy said about overcoming the first-period deficit. "We ran a nice faceoff play to start the second period, got rewarded. Some of those calls have not gone our way this year. That one, the goal stood and we were pretty good after that."
Here's what we learned from another impressive Boston victory.
The Rangers had no answer for the Bruins' top line.
The prolific trio of Marchand, Bergeron and Pastrnak can take over a game at a moment's notice. The young Rangers squad found out first hand as the top line combined for a whopping 13 points on the night.
Pastrnak, the NHL's leading goal scorer, didn't light the lamp for the first time in eight games. Yet the Bruins still put up a seven-spot as Bergeron and Marchand combined for five goals on the evening.
"They are going to have good nights when they are on," Cassidy said about the top line. "They are ready to go, they are good pros, they read off each other well, they are always ready to play and tonight they got rewarded for it."
The top line cashed in on those rewards just 11 seconds into the second period as Pastrnak's hard drive to the net set up Bergeron's first goal of the evening.
Bergeron ties things up…. pic.twitter.com/VX0h7zHIpc

— Conor Ryan (@ConorRyan_93) October 28, 2019
Marchand put the Bruins ahead for good a mere 57 seconds later. The ever-crafty veteran used his slick mitts to deke past Henrik Lundqvist, creating enough space to put the puck past the Rangers' all-time winningest goaltender.
OK, @Bmarch63. #NHLBruins pic.twitter.com/2Su7Vz0weK

— Boston Bruins (@NHLBruins) October 28, 2019
The top line stayed hot, just like the rest of the team in their stellar first month of the season. Something good always happens whenever Marchand, Bergeron, and Pastrnak hit the ice.
Peter Cehlarik had a quiet season debut.
Joakim Nordstrom's absence for Sunday's tilt paved way for Peter Cehlarik's recall from Providence.
Cehlarik didn't have a stellar season debut, finishing with a minus-two rating and a first-period penalty.
"I thought Pete was OK," Cassidy said. "He didn't seem to get his legs under him. He's used to, when you go down there [in the AHL] you play a lot, you are one of the better players. You come up here and you have to be ready to go and that's the tough challenge."
In all fairness, it's tough to make a short-term impact when you come into a lineup you haven't played with before. It's even tougher when you're paired alongside David Backes and Sean Kuraly, who aren't exactly well-known offensive commodities.
Yet, Cehlarik had a chance to make a statement. Instead, he had a night to forget after tallying 12:05 of ice time.
The Bruins stayed red-hot.
So much for that initial Stanley Cup hangover.
The Bruins improved to 8-1-2 with one more game left in October. Their success starts from the net out as both Tuukka Rask and Jaroslav Halak picked up right where they left off a year ago. The timely saves and stellar outings from both netminders kept Boston in every game they've played.
Additionally, Boston's disciplined defensive approach has helped counter and generate scoring chances in the offensive end. It also doesn't hurt to have Marchand, Pastrnak, and Bergeron leading the way, but they also received some much-needed secondary scoring over the past week.
It's all come together for Cassidy's squad so far. They'll hit some roadblocks during the long 82-game campaign, but the Bruins have developed a winning formula for yet another successful season.