Bruins
3 takeaways from the Bruins' 5-1 win over the Sharks
The Bruins used their dominant power play to drown the Sharks.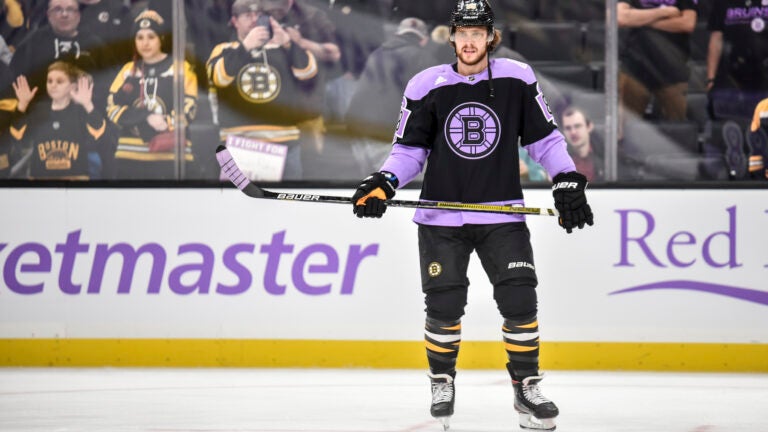 COMMENTARY
The Boston Bruins welcomed the San Jose Sharks to TD Garden Tuesday night in search of their fourth consecutive victory.
And that's exactly what they got.
Bruce Cassidy's squad dominated from start to finish, out-shooting the Sharks by a staggering 41-17 margin en route to their 5-1 victory.
David Pastrnak and David Krejci started Boston's evening with a pair of first-period power-play tallies.
Brent Burns cut the lead to 2-1 early in the second, but a trio of unanswered goals from Charlie Coyle, Chris Wagner, and Brandon Carlo put the game out of reach right before the second intermission.
A bird's eye view.@chriswags23 | #NHLBruins pic.twitter.com/AB90q6VO3Y

— Boston Bruins (@NHLBruins) October 30, 2019
"I thought we did a lot of things well," Cassidy said during his postgame press conference. "I guess when it comes to both power play groups, I thought we were really sharp. The fourth line pitches in with a big goal, different guys contributing, probably the minutes were as balanced as any game."
Here's what we learned as the Bruins improved to 9-1-2 to close out their October slate.
David Pastrnak is an early Hart Trophy favorite.
There is no one hotter in the National Hockey League right now than Pastrnak.
The 23-year-old Czech extended his point streak to 10 straight games following his first-period power-play tally.
What a feed. What a finish.#PB37 | @pastrnak96 pic.twitter.com/7KFDDt2VGA

— Boston Bruins (@NHLBruins) October 29, 2019
Pastrnak, a couple of nights removed from his five-point outing in New York, sits at the very top of the league in goals (12) and points (24). He truly deserves recognition as the top player in the league and as an early-season favorite for the Hart Trophy as league MVP, alongside players like Connor McDavid, Sidney Crosby and Alex Ovechkin.
Pastrnak has the perfect combination of skill, speed, strength, balance and ice vision. He deserves his place amongst the NHL elite and may very well start a trophy case by season's end.
Boston's power play handled San Jose's top-ranked PK with ease.
The Bruins have only lost one game in regulation this season. Their elite power play was one of many driving factors behind their first-month success.
The Sharks entered Tuesday's game with the league's best penalty kill at 93.2 percent. But Boston's man-advantage humbled San Jose's shorthanded unit with ease.
The Bruins scored twice on the man advantage — both in the first period — giving them complete control from the get-go
"It builds momentum," said Cassidy. "Skill guys feel good about themselves when they score. They want to touch the puck, they want to finish. How it affects the other team, typically they're going to have to be a little more disciplined, a little more careful about what penalties they take.
"I think at home when it's on, it looks good so you get the fans into the game."
There's a plethora of weapons to chose from in Boston's arsenal, and it usually centers around a one-timer from the left circle. That's exactly where Pastrnak and Krejci scored from against the Sharks.
Pasta isn't the only one that can rip it from over there.#DK46 | #NHLBruins pic.twitter.com/SgFawQUa0Z

— Boston Bruins (@NHLBruins) October 29, 2019
The Bruins are a tough team to beat at even strength. They're that much more deadly when their power play clicks, much like it did against San Jose's No. 1 ranked penalty kill.
Hockey Fights Cancer night was a success.
Looking good in lavender. ?#HockeyFightsCancer pic.twitter.com/yUzwOdA8ss

— Boston Bruins (@NHLBruins) October 29, 2019
Some things are bigger than hockey. The Bruins always do a great job of highlighting that.
The team hosted Hockey Fights Cancer night at TD Garden in an effort to raise money and spread awareness of the disease. They started the night wearing pink warmup sweaters that they later auctioned off.
As if that wasn't touching enough, the Bruins also welcomed Weymouth's Quinn Waters for the ceremonial puck drop.
Waters, known as The Mighty Quinn, was diagnosed with a Grade 4 brain tumor and has undergone several surgeries and rounds of chemotherapy to remove almost 95 percent of the tumor.
Fellow Weymouth native Charlie Coyle visited the inspirational Waters following his surgeries. Waters joined Coyle again at center ice for the ceremonial puck drop.
The Mighty Quinn, you are truly an inspiration. ?#HockeyFightsCancer pic.twitter.com/iNXXRgvY7u

— Boston Bruins (@NHLBruins) October 29, 2019
Waters had one request for Coyle: score a goal.
Wish granted. Coyle notched his second goal in as many games to put another smile on Waters's face.
"He told me to score one for him so that worked out well. I think they brought a little luck," an emotional Coyle said postgame. "He's out and about and getting to live his life and it's great that he's feeling healthier. They were probably pretty emotional and you feel it too seeing them walking out and giving the fist bumps and the crowd on their feet. He deserves it. "