Bruins
3 takeaways from the Bruins' 5-2 win over the Senators
Regaining focus was difficult for both teams following the David Backes-Scott Sabourin collision.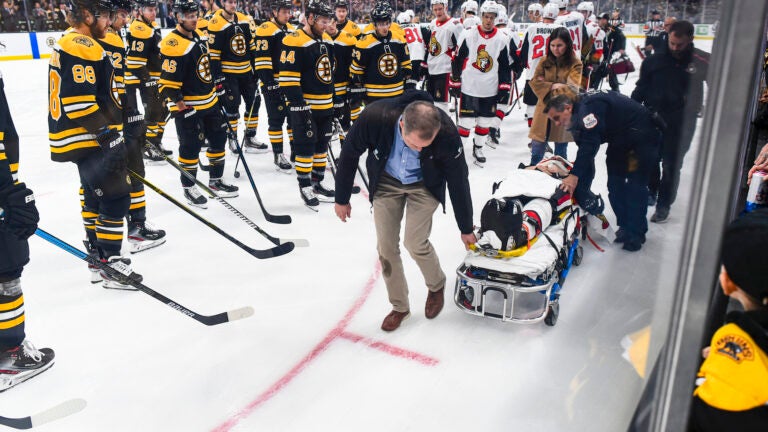 COMMENTARY
Putting Saturday's Bruins-Senators in context became difficult following an unfortunate circumstance involving Scott Sabourin and David Backes.
The two forwards bumped heads during a first-period collision. Sabourin initiated the contact on Backes, yet wound up on the worst end of things as the brunt of the impact forced him head first onto the ice.
Super scary moment at the Garden- Scott Sabourin comes in to hit Backes, appears to go unconscious after the collision, Backes shaken up and the arena sounds like a library pic.twitter.com/5V41rh4VRD

— Tucker Boynton (@Tucker_TnL) November 2, 2019
The game stopped for over 11 minutes as Sabourin was stretchered off. Both teams made their way toward Sabourin to send well-wishes on his way out. Sabourin, who remained conscious and was moving his extremities at a nearby Boston hospital, gave the crowd a thumbs-up before exiting TD Garden.
A visibly upset Backes made his way to the locker room after Sabourin's exit. The veteran sustained an upper-body injury and didn't return.
Both teams returned to action looking to regain their focus under a difficult circumstance. When things settled, the Bruins earned their 10th win of the season thanks to a three-goal third period — with Danton Heinen, Brad Marchand and Jake DeBrusk — and a stellar six-plus minute penalty kill to keep things tied at 2-2 in the second period.
"Both teams were a little bit off, and a little bit shaken," head coach Bruce Cassidy said following the 5-2 victory. "Then once you get back into the heat of the battle, you get back into it."
The Bruins earned another two points during an emotional night on Causeway Street. Here's what we learned.
Regaining focus provided a difficult task for both teams.
Cassidy said it best. The Bruins and Senators were off physically and emotionally following a routine yet tough-to-watch collision with Backes and Sabourin.
Several of Cassidy's players echoed the same thoughts inside the renovated Garden locker room.
"Obviously you have to try and somehow stay focused," Patrice Bergeron said on a night where he tallied his 500th career NHL regular-season assist. "It's not easy, and in that particular moment are with Scott [Sabourin] and you obviously hope that he has a speedy recovery. And on our side its the same thing with Backes. It's not easy when a play like that happened. So it took us a little bit of time probably, but I think it's understandable."
Yet, the two teams had to remain professional for the next 50-plus minutes. The intensity slowly picked up heading into the second where the Bruins killed off a six-plus minute power play as Brad Marchand served three minor penalties (one for hooking and a double-minor for spearing).
Marchand redeemed himself during Boston's three-goal third to give the Bruins a 4-2 lead with his eighth of the season on a beautiful feed from Pastrnak.
What a feed from Pastrnak to set up Marchand's power-play goal.

Another three-point game for No. 88. pic.twitter.com/MN5bokto0f

— Conor Ryan (@ConorRyan_93) November 3, 2019
"He's a good player in this league and they find ways to win and he scores goals," Senators coach D.J. Smith said about Marchand. "He's good at what he does. We just have to find a way – six-minute penalty and a five-on-three. I thought we had lots of chances we just didn't score."
Marchand's performance — and second-period antics — would've been a primary talking point on any other night. Not on Saturday as the Bruins and Sens turned their attention away from the ice all while trying to refocus following the Backes-Sabourin hit.
The power play re-established itself.
The Bruins' league-leading power play scored twice on Saturday. Yet they had to overcome their own second-period hurdle.
A pair of Mark Borowiecki penalties following Boston's massive kill on Marchand's penalty gave the power play a chance to blow things open. But the man advantage units couldn't generate many quality chances against Ottawa's 21st ranked shorthanded unit, thus keeping things tied at 2-2.
But the power play returned to form in the third on Borowiecki's third penalty of the night, leading to Marchand's tally, Pastrnak's second power-play point of the night, and Bergeron's 500th career assist.
The Bruins improved their power-play success rate to a whopping 32.1 percent in the early part of the season. Their penalty kill sits tied for sixth with an 85.1 percent success rate. Together they've helped propel the team to their best start since the 1929-30 campaign.
Heinen and DeBrusk are finding their grooves.
The Bruins' potent top line of Marchand, Bergeron, and Pastrnak netted three of the team's five goals. But they needed some secondary scoring to help the cause.
Enter Heinen and DeBrusk, who both skated with David Krejci on Saturday night. The second-line wingers came through with timely goals in the third.
First came Heinen's puck pursuit at the neutral zone and his ensuing drive to the net for the go-ahead tally at 5:43.
A great shift from Danton Heinen leads to the winger getting rewarded with his third goal of the season. pic.twitter.com/v42vVi5KFT

— Conor Ryan (@ConorRyan_93) November 3, 2019
Then DeBrusk, with the Bruins up 4-2 iced the victory late in the third — on Heinen's feed — for his second goal of the year.
Danton Heinen feeds Jake DeBrusk – who scores his second goal of the season.

5-2 Bruins. pic.twitter.com/eUQBFpMk0H

— Conor Ryan (@ConorRyan_93) November 3, 2019
"I thought Jake was better tonight, trying to get to the net, get inside. So, I'm glad to see him get rewarded," Cassidy said about DeBrusk. "Goal-scorers, doesn't matter when they score, they feel better about their game and I thought it wasn't a cheap one. It was a good shot, a good play."
"Heinen's [goal] was good — he won a battle on the wall," said Cassidy. "Things we've asked Danton to do better this year is to be heavier on pucks and battles. I thought he was tonight. He can do a lot of those things. We know he can defend well, we know he can make plays in space, he can contribute here and there on special teams. Nice to see him win a puck battle on the wall because, you saw it, once he gets on open ice he tends to be able to find the right areas to go to, and good for him."
Marchand, Bergeron, and Pastrnak will all encounter the rare off night or two during the long season. The Bruins will need their secondary scorers to come through when that time comes.
But they'll also need timely secondary scoring even when the top line finds the back of the net.