Bruins
3 takeaways: Bruins overcome sloppy second period to down Penguins
"We're in a pretty solid position right now. Maybe we needed to get kicked in the ass a little."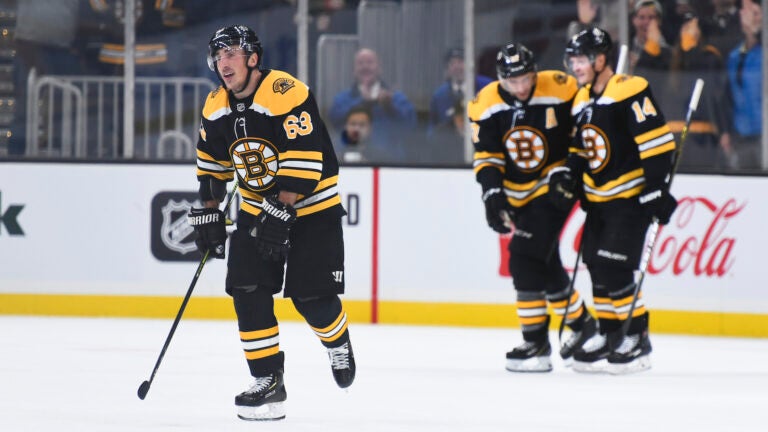 COMMENTARY
At one point, the Bruins looked to have things in cruise control during Monday's tilt with the Pittsburgh Penguins. Later, they appeared ripe for a collapse during their toughest 20 minutes of hockey this season.
Yet, even with the Penguins heavily tilting the ice in their favor after pulling Matt Murray in favor of Tristan Jerry before their four-goal, second-period onslaught, the Bruins fought back and found a way to win.
Was Bruce Cassidy concerned about the frequent defensive breakdowns in front of Jaroslav Halak during that second period? Yes. But a little adversity wasn't a bad thing for a red-hot Boston squad.
"I think at this point of the year, [the mindset is] 'Let's see this play out,'" Cassidy said following the Bruins' thrilling 6-4 win over the Penguins. "We're in a pretty solid position right now, maybe we needed to get kicked in the ass a little."
The Bruins have rarely been kicked at all this season. It didn't matter, and they found a way to snag another two points before leaving for Montreal. Here's what we learned as Cassidy's squad improved to 11-1-2 on the year.
They played their worst period of hockey yet.
The opening 20 didn't deviate from the norm. The Bruins had the Penguins on their heels with their usual aggressive puck pursuit in all three zones. Jake DeBrusk's second goal in as many games and Brad Marchand's first of two on the evening gave the team a 2-0 lead heading into the locker room.
David Pastrnak ended Murray's night with his 14th of the season just 4:22 into the second. The Bruins appeared well on their way toward another blowout.
Then came the stretch of proverbial fire drills in front Jaroslav Halak and complete and utter chaos in the defensive end. Pittsburgh's secondary scorers led the way to four unanswered goals — three coming on breakaways — in a 14-minute span from Dominik Kahun, Nick Bjugstad, Bryan Rust, and North Easton native John Marino.
John Marino (North Easton, Mass.) is the second player in three seasons to score his first NHL goal in his home state, with the last instance also occurring at TD Garden (Ryan Donato on March 19, 2018 w/ BOS). #NHLStats pic.twitter.com/jVjKVEgEGG

— NHL Public Relations (@PR_NHL) November 5, 2019
"Second period, we didn't really do anything well at all," Cassidy said. "One of those periods that we chased it the whole time."
The Bruins looked lost in the second. But they found their groove again in the third.
A red-hot Marchand put the team on his back in the third.
The Bruins normally see good things when Brad Marchand tallies a two-point night. But they needed more from their veteran winger and the rest of the team in the come-from-behind win.
Of course, they would've taken offense from anyone, but it didn't hurt having a sparkplug. Marchand provided that spark in the final 20.
Marchand showcased his skilled puck handling in all three of Boston's third-period tallies. None were more creative than his assist on Torey Krug's equalizer where Marchand shielded the puck from Rust and Evgeni Malkin for his third point of the night.
SNIPE CITY TOREY KRUG #NHLBruins pic.twitter.com/rglhHgDO0g

— Marina Molnar (@mkmolnar) November 5, 2019
The 10-year vet became the second Bruin to reach double-digit goals this year after putting the Bruins ahead for good on a slick wrister with less than two minutes left in regulation.
Brad Marchand gives the Bruins the lead with 1:57 to go. pic.twitter.com/rWTlekcfSj

— Conor Ryan (@ConorRyan_93) November 5, 2019
Marchand appreciated his latest accomplishment but kept an even-keeled approach as reporters gathered around his locker room for the postgame Q&A.
?"They're nice but you don't dwell on them. You're going to have good nights and you're going to have bad nights." — Brad Marchand on his 5-point night and career best 13-game point streak. pic.twitter.com/RrPgjdLRI8

— Bruins Daily (@BruinsDaily) November 5, 2019
"You know, they're nice but you don't dwell on them. You're going to have good nights and you're going to have bad nights," said Marchand, who sealed his five-point night with a secondary assist on Patrice Bergeron's empty-net tally.
The Bruins had a good start before their bad second period. But good things happened again in the third with Marchand leading the way.
Did Charlie McAvoy avoid a major injury?
An unfortunate collision between Scott Sabourin and David Backes silenced the TD Garden crowd during the Bruins-Senators tilt on Saturday night. The sold-out crowd held their collective breath again two nights later after Charlie McAvoy collided with his own goalpost while trying to stop a third-period breakaway attempt.
Charlie McAvoy clips head on post here. #NHLBruins pic.twitter.com/StbSTz2zJE

— Here's Your Replay ⬇️ (@HeresYourReplay) November 5, 2019
Fortunately, a bleeding McAvoy got up under his own power. He spent the rest of the night in the locker room for facial repairs.
Cassidy didn't provide any further update on McAvoy's status. But upon speculation, the Bruins may have avoided another serious injury to their young, talented right-shot blue-liner.
"Yeah, I don't believe there's anything more. It happened so late; I have not gotten an update," Cassidy said about McAvoy. "First thing you're worried about is a concussion, obviously, but I think it was just the cut in the back of his head…So, I'm going to assume that's the worst of their damage will be some sutures, but until I get back in there and get a better read on it, I've got nothing else right now."
The Bruins will have a better idea on McAvoy's status come Tuesday morning before their first meeting of the season with the Canadiens.