Bruins
3 takeaways from the Bruins' 5-4 loss to the Canadiens
Tuukka Rask had an off night, and an offside review cost the Bruins another win in Montreal.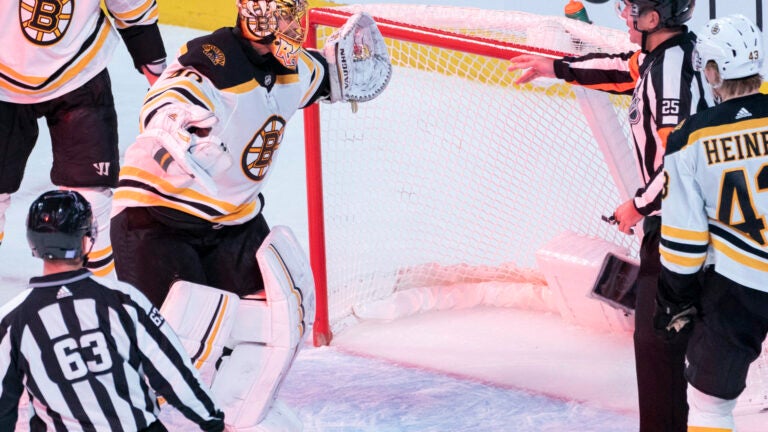 COMMENTARY
MONTREAL – It wasn't going to last forever.
The Boston Bruins, despite overcoming three separate deficits, fell to the hated Montreal Canadiens Tuesday night to end their six-game winning streak.
Bruce Cassidy's squad had an uphill battle from the get-go. The Bruins fell behind just 1:13 in when Victor Mete scored his first of two goals on the night on an easy tap in past Tuukka Rask.
A David Pastrnak one-timer on the power play brought the Bruins back even. That didn't last long as the Canadiens turned a tie game into a two-goal lead with Tomas Tatar and Paul Byron lighting the lamp before the first intermission.
The Bruins, playing their second game of a back-to-back and third game in four nights, didn't find their groove until the second period.
Conor Clifton, Anders Bjork, and Sean Kuraly provided timely secondary scoring to help even things up at 4-4 early in the third period.
The Bruins completed another come-from-behind effort when Charlie Coyle tallied the go-ahead goal moments after Kuraly's equalizer. Or so we thought. Upon review, the officials reversed Coyle's tally after the Weymouth native jumped offside by the slimmest of margins.
The Habs capitalized on their break as Ben Chiarot snuck a shot past Rask for the game-winner at 9:06 of the third period.
"There was a lot of stuff going on at both ends of the rink but none of it really went our way," Cassidy said following Boston's 5-4 loss. "So give credit to Montreal, they ended up getting the deciding goal at the end. That's the way it goes."
Here's what we learned from Boston's second regulation loss of the season.
Rask had his first blunder of the season.
This was far from Rask's best performance of the season. It was his worst.
The Finn allowed five goals to the Canadiens. It wasn't the high number of goals that were eye-opening, but rather the mishaps in pivotal situations that led to his off night.
Rask's biggest blunder came on Chiarot's game-winner. A normally routine save turned into a nightmare for Rask when Chariot's wrist shot snuck past the Bruins' netminder for the game-winner.
?GOAL?

Ben Chiarot sneaks one through Tuukka Rask #NHLBruins 4#Canadiens 5 pic.twitter.com/UdYgKcDUD2

— Boston Bruins on CLNS (@BruinsCLNS) November 6, 2019
"It was one of those nights where instead of a hockey puck, it feels like a golf ball," Rask said following his 26-save performance. "Just not tracking it well. Tough night for me. I thought we battled well. Could have easily won the game but I couldn't really make a save."
Rask was bound for a letdown at some point. It just so happened to come against the hated Canadiens.
But Rask, now at 7-1-1 on the year, earned the benefit of the doubt. Tuesday night was an outlier — and not a trend — for the winningest goalie in Bruins history.
Replay reviews are used for the wrong reasons.
Offside reviews aren't the Bruins' friend.
The Bruins entered Tuesday night with three offside reviews overturning one of their goals. Coyle became the fourth victim of this head-scratching process, further highlighting the absurdity of the offside challenge.
"A player in possession and control of the puck prior to entering the attacking zone and precedes the puck into the zone is not considered offside."

Coyle had control here. #BOSvsMTL pic.twitter.com/HZuJMXf8D8

— Peter Andrianopoulos (@peterandri) November 6, 2019
The league implemented the offside challenge to catch egregious cases in obvious situations. Yet, they're allowing any and every goal subject to review regardless of razor-thin margins happening up to a minute — or more in some instances — before a player lights the lamp.
The officials took several minutes before delivering their final call on Coyle's situation. If it's that close, it is absurd to even be reviewing it in the first place.
"My beef with that is some are going to go your way, some aren't. They aren't going our way lately," Cassidy said about the goal reversal. "They are over there for three minutes and you think, 'What is the purpose of this rule?' You find something or you don't. Three minutes, so now you are looking for something to be offside. You know it's going to go the other way and it did."
The league isn't using replay for the right reasons.
Brett Ritchie has an undefined role.
The Bruins added Ritchie this offseason hoping to fill a second or third line hole. He saw playing time with David Krejci and Charlie, yet hasn't found a definitive role despite netting his first goal on his very first shot of the season back on opening night.
Cassidy moved Ritchie around the lineup Tuesday night hoping to find the right fit. He spent the majority of his minutes with Chris Wagner and Sean Kuraly in a fourth-line role that doesn't suit his style of play.
"Ritchie I moved around, I didn't think he had his legs under him," Cassidy said. "Our team is an energy team and we expect to compete in these games so that was the biggest reason."
The Bruins have several big bodies like Ritchie vying for playing time. He hasn't done himself any favors solidifying a permanent spot in the lineup, especially with Bjork's recent offensive contributions.
David Backes, Joakim Nordstrom, Par Lindholm and Karson Kuhlman are all on the injured list. Ritchie may find himself watching the team from the press box — hoping to understand Cassidy's system — once some of the aforementioned injured players heal from their wounds.