Bruins
3 takeaways from the Bruins' embarrassing shootout loss to the Panthers
"It's on us."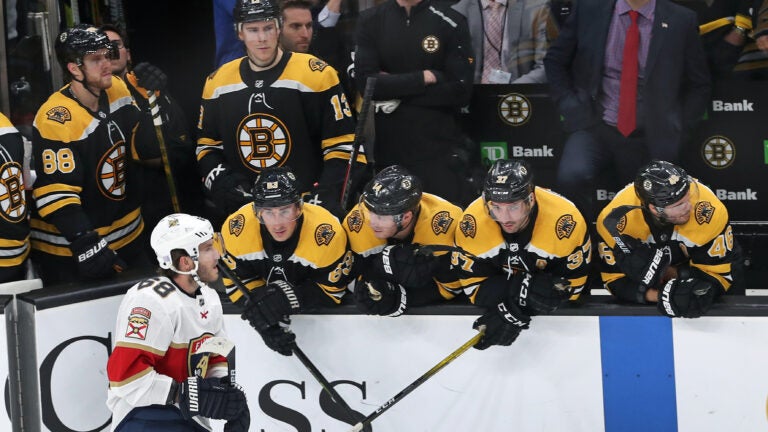 COMMENTARY
The Boston Bruins focused on sustaining a full 60-minute effort against the Florida Panthers Tuesday night. For 40 minutes, they were well on their way toward snapping their season-long three-game skid.
The Bruins turned on the switch with a big four-goal second period behind goals from David Pastrnak, Joakim Nordstrom, Anders Bjork, and Zdeno Chara. It seemed likely they would snap that skid.
Or so we thought.
In yet another case of failing to sustain their pace for a full 60, the Bruins fell victim to untimely penalties and a lack of structure in the final 20. The resilient Panthers, following a goalie switch from Sergei Bobrovsky to Sam Montembeault, took advantage of Boston's frequent breakdowns to tie things up from four down on tallies from Aaron Ekblad, Frank Vatrano, Mike Hoffman, and Keith Yandle.
The Panthers finished the job in the fourth round of the shootout to earn a 5-4 victory and extend the Bruins' season-long losing streak to four straight games.
"It's on us," captain Zdeno Chara said postgame. "We played some solid hockey in the first two periods and made some strong plays. Obviously, in the third period, we gave them too much space and time. We need to look at [the film] and we need to play the same way for 60 minutes."
Here's what we learned as the Bruins will go back to the drawing board following their disappointing loss on Military Appreciation Night at TD Garden.
Lights go out on Sergei Bobrovsky in the second.
The TD Garden lights are the real MVP on the Bruins' penalty kill. pic.twitter.com/Pwys5Wplbo

— Conor Ryan (@ConorRyan_93) November 13, 2019
The Bruins wanted to come out to a strong start in hopes of snapping their three-game skid. They didn't light the lamp in a slow first period, but Bruce Cassidy's squad sustained pressure on Bobrovsky while establishing layers in front of Tuukka Rask.
The lights turned off — literally — at the beginning of the second period. The Bruins — figuratively — turned on the switch as the middle 20 progressed.
Pastrnak started Boston's four-goal onslaught with a no-look tally past Bobrovsky, snapping his two-game goal drought for his 16th of the season at 11:55.
David Pastrnak with the no-look snipe pic.twitter.com/FBQGmGL3yJ

— Pete Blackburn (@PeteBlackburn) November 13, 2019
Nordstrom, Bjork, and Chara followed suit over the next 7:36 to close out the period.
Zdeno Chara with his third goal of the year. 4-0 Boston. pic.twitter.com/vTg8keRnZ1

— Conor Ryan (@ConorRyan_93) November 13, 2019
The Bruins returned to their formula that helped them during their torrid 11-1-1 start. They chased Bobrovsky just months after a solid postseason run with his former team that ended with a six-game loss to the Bruins in the second round.
But unlike that second-round win over the Blue Jackets, the Bruins couldn't close things out against Bobrovsky's current team Tuesday night.
Closing out games is becoming an issue.
The Bruins rarely had issues securing two points when leading at any point, especially when they had a multi-goal advantage. The odd instances they gave up any leads were just an outlier.
Well, in the last couple of weeks, the Bruins blew two multi-goal leads. Boston salvaged a victory over the Pittsburgh Penguins last Monday after relinquishing an early three-goal lead only to storm back in the third in its 6-4 victory.
They weren't so fortunate this time around.
Sure, the Bruins had their chances to close things out with Montembault in net. But Florida's backup netminder didn't waver despite sitting on the bench for the first 40 minutes.
Tensions from the 17,580 in attendance rose with each shift. The Bruins slowly watched their lead slip away.
A four-goal lead became three with Aaron Ekblad taking advantage of Nordstrom playing without a stick to put the Panthers on the board just 50 seconds into the third.
Aaron Ekblad records his second of the season, trimming the Bruins' lead down to three (4-1): pic.twitter.com/r3HT2A7Mzy

— The Rat Trick (@FanSidedTheRat) November 13, 2019
A three-goal lead became two when Vatrano struck against his former team on the power play with Wagner served a slashing penalty at 5:26.
Jonathan Huberdeau unleashes some slick stick-handling before setting up Frank Vatrano for the power-play goal!

The @FlaPanthers pull closer to the Bruins here in the third, and you can see the action live on FOX Sports Florida and streaming here: https://t.co/MapbRptktv pic.twitter.com/P7mM8wCNt6

— FOX Sports Florida & Sun (@FOXSportsFL) November 13, 2019
Boston's two-goal lead turned into one as Tuukka Rask somehow allowed this Mike Hoffman shot to sneak through.
Mike Hoffman cuts the Bruins' lead down to one after sneaking a backhander through Rask's five-hole (4-3, PPG): pic.twitter.com/PCubCmoODt

— The Rat Trick (@FanSidedTheRat) November 13, 2019
The Bruins entered scramble mode in the final 10-plus minutes. Yandle's tying tally — even with one of the Panthers holding Bergeron's stick — showcased Boston's disorganized third period to a T.
Keith Yandle snaps a shot over Tuuka Rask and the #FlaPanthers have come back from 4-0 down: pic.twitter.com/vYWrrv7VwX

— The Rat Trick (@FanSidedTheRat) November 13, 2019
"I think we just didn't buy into what we were doing in the first two periods," defenseman Brandon Carlo said. "We came in [after] that second period and we said that we needed to put together a full 60, but we really didn't do that."
Yet, on the heels of blowing their biggest lead in recent memory, the Bruins still could've salvaged two points out of this. They didn't. Instead, they'll carry a four-game losing streak for the first time since November, 2017.
Boston's extra-session woes continued.
Overtime hasn't been the Bruins' best friend this season. They've haven't scored in the five-minute three-on-three session and gave up one tally during its loss in Toronto during their four occasions of extra time.
The Bruins looked gassed even as they out-shot Florida 6-5 in the final five minutes. But they also passed up some golden opportunities.
Case in poin: Charlie Coyle and Charlie McAvoy both opting to pass the puck instead of firing a shot through a clear shooting lane.
"Well, I know Charlie Coyle did late. That was the obvious one. You'd like to see him go for the dagger there," Cassidy said about Coyle's overtime play. "Listen, we've had this discussion with Charlie. This isn't the first time it's been brought up to be selfish, shoot the puck more, so it will be brought up again. But it's done now. It's his call on the ice — he's been in the league a long time — so we'll just encourage him to be more of a goal scorer there."
The Bruins could've used that one clutch goal. They went to the shootout instead, where they entered Tuesday with an 0-2 mark in the glorified skills competition.
Looking to mix things up and avoid an 0-3 mark in the shootout, Cassidy opted to shoot second. The Bruins bench boss also made an unusual decision to go with Chris Wagner, McAvoy, and even Coyle over Pastrnak and Patrice Bergeron.
His reasoning?
"You know, we put Coyle in and recommended shooting," Cassidy said about his shootout lineup. "Pasta [Pastrnak] tends to like to deke, so that's why we went away from him. He's been a little bit cold lately in the shootout, so give some other guys an opportunity that we feel can finish."
He made a good call with Coyle as the Weymouth-born winger gave the Bruins their first shootout tally in their 10 attempts.
McAvoy missed his attempt, putting the Bruins at 1-for-11 in the shootout through the first two months of the season. Hoffman and Vincent Trocheck sealed Boston's fate with their shootout tallies.
"I'm not making any excuses or trying to sell you a line of crap here. I'm just trying to tell you that we typically are able to play through that stuff and get it done and we didn't," Cassidy added. "It's going to sting for a few days, but maybe it'll be a good motivating factor."
They'll need some sort of motivation heading into a tough weekend slate beginning Friday against the Maple Leafs in Toronto and ending at TD Garden Saturday against the league-leading Washington Capitals.