Bruins
3 takeaways from the Bruins' 5-1 win over the Devils
David Pastrnak and Matt Grzelcyk led the way with their two-goal outings.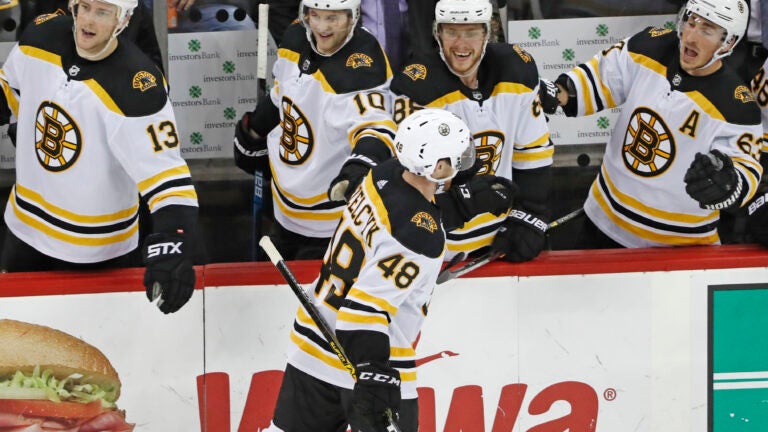 COMMENTARY
The Boston Bruins entered this week with a favorable schedule to get back on track. They took care of their first order of business Tuesday night against the lowly New Jersey Devils.
A pair of goals from both David Pastrnak and Matt Grzelcyk and a tally from New Jersey's own Connor Clifton along, with another strong outing from Tuukka Rask, sparked the Bruins — still without Patrice Bergeron and Torey Krug — to a 5-1 victory in Newark. Here's what we learned as Boston improved to 13-3-5 on the season.
Matt Grzelcyk is stepping up in Torey Krug's absence.
Without Krug, the Bruins miss a well-rounded and coveted offensive defenseman. Whether it's quarterbacking the top power-play unit or providing stability with Brandon Carlo on the second defensive pair, the team is always in good hands whenever Krug touches the ice.
Krug left a large vacancy in Boston's blue line after he exited with an upper-body injury against the Philadelphia Flyers on Nov. 10. But Cassidy had someone in mind to fill that hole.
While not a carbon copy, Grzelcyk resembles a good chunk of Krug's skillset. The Charlestown-born blue-liner slot right into Krug's spot on the top power-play line and the second defensive pairing with Carlo.
With his increased ice time, Grzelcyk's effort in Krug's absence stabilized a Bruins blue-line following their season-long four-game skid. He reaped the benefits of his solid play Tuesday night with his first career two-goal outing.
First career ✌️-goal game in the books.@Matt_Grzelcyk5 | #NHLBruins pic.twitter.com/6jVmqBp0t4

— Boston Bruins (@NHLBruins) November 20, 2019
"It's funny, we've got on Gryz on his shot and he's worked on that over the last couple of years," Cassidy told NESN's Jack Edwards and Andy Brickley postgame.
Grzlecyk entered Tuesday compiling 16 shots on net over his last six games. He added three more against the Devils.
It wasn't the quantity that stood out against New Jersey, but rather the quality of his shot selection. Both goals came from the left faceoff dot at nearly the exact same spot two periods apart.
Grzelcyk even deked P.K. Subban out of his skates en route to his second tally to put the Bruins ahead 4-1 at 10:33 in the third.
There were plenty of good choices tonight, but we have to crown @Matt_Grzelcyk5's second of the night as the @JagermeisterUSA Shot of the Game.#NHLBruins pic.twitter.com/xywUy5ldAX

— Boston Bruins (@NHLBruins) November 20, 2019
Make no mistake, the Bruins need Krug for the long-run, but Grzelcyk has showcased top-four potential over the last few games, helping the team in the short-term.
David Pastrnak changed the game on a dime in the third period.
Every NHL statistician might as well copy and paste Pastrnak's name on their nightly score sheet. But sometimes his game-changing moments won't need a place on box score.
Case in point: Pastrnak drawing a penalty on Subban just eight seconds before tallying his second goal of the night on the heels of a solid sequence from Rask and a stellar pass from David Krejci down the other end of the ice.
Just how important was that sequence? The Bruins, while playing well all night, only had a one-goal lead prior to Pastrnak tallying his 19th goal of the season. They struggled to close out games over the last couple of weeks, but the talented Czech made sure that the troubling trend didn't repeat itself.
David Pastrnak scores just eight seconds into the power play.

His 19th goal of the season gives the Bruins a 3-1 lead. pic.twitter.com/wT7MeOCge9

— Conor Ryan (@ConorRyan_93) November 20, 2019
Pastrnak isn't just a prolific goal scorer. He's also a game-changer. The 24th overall pick of the 2014 Entry Draft deserves a spot among the elite playmakers in the National Hockey League.
Jake DeBrusk and Brett Ritchie return as Bruins inch toward a healthier lineup.
As mentioned at the top, the Bruins didn't have their best two-way center (Bergeron) and primary puck-moving defenseman (Krug) for the second straight game. But they didn't arrive shorthanded as both DeBrusk (lower body) and Ritchie (upper body) returned to the lineup following a five-game absence.
DeBrusk and Ritchie skated with Par Lindholm on the third line. They both tallied over 13 minutes of ice time in their first game since Nov. 5 in Montreal. Their roles may change Thursday night as Cassidy remains optimistic about Bergeron's potential return for Boston's first matchup of the season with the Buffalo Sabres at TD Garden.
The Bruins may add more bodies before Thanksgiving, too. Krug remains a possibility for a return this week. John Moore skated in a red-no contact sweater during the last week, and Kevan Miller resumed skating activities. Both blue-liners were placed on long-term injured reserve to start the season.
Cassidy will have his hands full trying to find his ideal lineup as the injured players slowly find their way back. GM Don Sweeney may have to make corresponding moves to keep the Bruins under the salary cap. It won't be easy, but Boston's solid run through the first quarter of the season helps lessen any burden as they navigate through potential ramifications with a healthier roster.