Bruins
Tuukka Rask delivers incredible save vs. Sabres
Afterward, "save of the year'' echoed from both dressing rooms.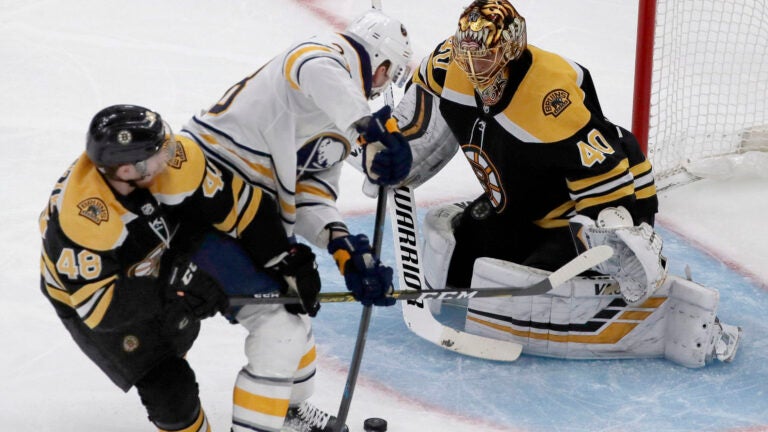 Bruins goaltender Tuukka Rask delivered one of the most acrobatic saves of his career Thursday night against the Sabres when he denied Evan Rodrigues, a former Boston University star, after a scramble in front of the net.
The save, which happened in the third period, eventually helped Boston claim a 3-2 win over Buffalo at TD Garden.
[fragment number=0]
From below the left circle, Rodrigues snapped the puck toward an empty net. Rask, who was in a paddle-down position, dropped his stick, dived to his right, and grabbed the puck with his blocker-hand palm.
Afterward, "save of the year'' echoed from both dressing rooms, with Rodrigues himself conceding the honors. Brad Marchand put it ahead of another incredible stop from this week, Marc-Andre Fleury's diving glove save against Toronto, by noting that Fleury stopped a backhand that may have been going wide. Rodrigues's shot was "a forehand, he ripped it,'' Marchand said.
"And, Tuuks is my boy . . . That's why he's making the big bucks.''
It was the best stop Chris Wagner had seen . . .
"Since ever?'' he said, after a pause.
Coach Cassidy called it "a Dominik Hasek save,'' referring to the acrobat in pads who once starred for the Sabres.
Rask said he hadn't made one like that before. A positionally sound goalie, he isn't usually scrambling like he was on that sequence. It fired him up to the point he didn't want to watch the videoboard replay.
"I didn't want to look,'' he said. "I'm not used to making saves like that. It was tough to — I was fist-pumping, myself. I'm like, 'That's awesome.' I've never made saves like that. It was tougher to shake off than a bad goal, you know? I just tried to regroup and focus on the next shot.''
[fragment number=1]