Bruins
3 takeaways from the Bruins' come-from-behind win over Minnesota
"You never know [what's going to happen] in this game."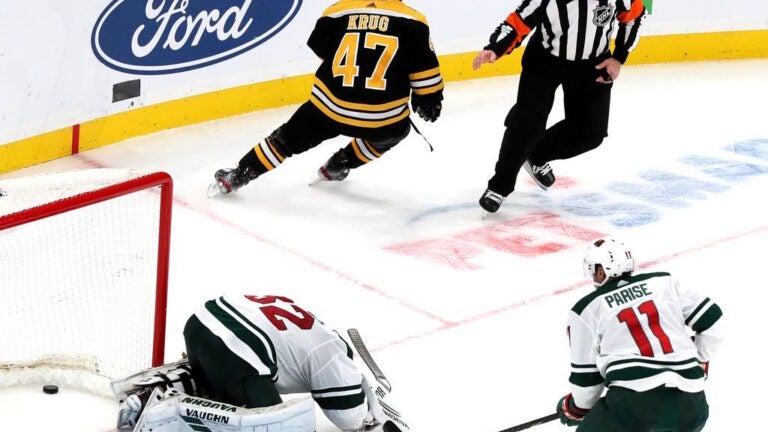 COMMENTARY
If you need an instance of leadership by example, look no further than the Boston Bruins' wild come-from-behind victory over Minnesota.
The Bruins played hard all night, but found difficulties sustaining a solid rhythm against a rebuilding Minnesota bunch that sat six points out of the West's final wild-card spot entering Saturday's slate.
The Bruins were shorthanded on seven occasions on a rather dubious night from the officiating. They found themselves on the wrong end of a few bounces — from missed scoring chances to allowing goals off rebounds. Heck, Bruins coach Bruce Cassidy even had to change his original goaltending plans as Jaroslav Halák entered TD Garden with an illness.
Amidst all of this, the Bruins came from two goals down with under two minutes left in regulation. David Krejčí scored twice with Tuukka Rask pulled for the extra attacker, and a returning Torey Krug completed the comeback with a sensational breakaway tally in the 3-on-3 overtime session.
Not bad for a resilient Bruins team who found themselves on the other end of a third-period come-from-behind effort just last week after blowing a four-goal lead in their shootout loss to the Florida Panthers.
"You never know [what's going to happen] in this game," Cassidy said following Boston's 5-4 win on Causeway Street Saturday night. "We saw it happen against us right here — a bigger lead — so it can happen."
Here's what we learned from the Bruins' improbable win over the Wild.
Tuukka Rask sets up overtime heroics.
Rask expected to sit on the bench just two nights removed from making a highlight-reel save against Sabres forward Evan Rodrigues. He didn't have as stellar of an outing in Saturday's inter-conference matchup, allowing four goals on 32 shots. But he battled through a night of juicy rebounds and second-chance opportunities.
And yes, Rask didn't make a trendy behind-the-back blocker save, but a timely stop on Jason Zucker's breakaway attempt kept the Bruins within two late in the third period.
"He went in and did a great job pinch-hitting," Cassidy said of Rask. "I think he had some tough luck around the net … He stretched out, made a great save [on Zucker]. He battled hard, good for him. I'm glad he got the win because, in those circumstances, it's not easy."
Nothing appeared easy for the Bruins on Saturday night. Except for the comeback.
Krejčí and Krug steal victory from the jaws of defeat.
The Bruins haven't provided Krejčí a quality second-line presence aside from Jake DeBrusk over the past two seasons. Brett Ritchie provided a temporary fix Saturday after setting DeBrusk up for his fourth goal of the season 4:14 into the second period.
Krug returned following a five-game absence with an upper-body injury. He spent much of his time helping the busy Bruins' shorthanded unit before finding his rhythm.
The two come-from-behind heroes fought on despite the circumstances. It was only fitting they came through in the clutch. And they had a little help from Patrice Bergeron, who tallied the primary assist on each of the three game-altering tallies.
The first goal of the comeback came after Bergeron broke his stick, yet the four-time Selke winner received a new piece of lumber from the bench and came back to tally his second assist of the night.
This one gave us life.#DK46 | #NHLBruins pic.twitter.com/1dNBnuMyOZ

— Boston Bruins (@NHLBruins) November 24, 2019
Charlie McAvoy drew a trip on Luke Kunin just 24 seconds after Krejčí's third goal of the season. Before long, the crafty Czech centerman blasted home a one-timer on a six-on-four power play to even things up.
Krech's tying rocket from the circle with 1:07 to go is your @JagermeisterUSA Shot of the Game! #NHLBruins pic.twitter.com/4qtBBjLqDA

— Boston Bruins (@NHLBruins) November 24, 2019
Finally, on Boston's only shot of overtime, Krug found daylight on his breakaway attempt, sliding his shot past Alex Stalock for the extra-session walk-off tally.
What rust?@ToreyKrug | #NHLBruins pic.twitter.com/rqZCwJ3Uil

— Boston Bruins (@NHLBruins) November 24, 2019
"I think with the group that we have, there's always another play to be made. Previously in the game, Tuukka made a hell of a save to keep us in the game, and then we came down and tied it," Krug said. "The group that's on the ice, we know that there are plays that we need and all that matters is that next round. So, the guys battled hard and we were able to focus on some good chances and Krejčí did a good job to answer and get a couple of goals for us."
The penalty disparity was difficult, but not overwhelming.
The Bruins spent nearly 20 percent of Saturday's game on the penalty kill. That's hardly a recipe for success even with a handful of questionable calls going against them.
Boston's regular PK personnel spent more time defending than attacking even though they fired 39 shots on net. The non-PK personnel could only watch before trying to find a flow.
The Bruins allowed a pair of power-play goals with Zucker and Eric Staal cashing in on rebounds. Not a bad night though, given their 16 minutes in penalties.
"When you're killing penalties, it takes away from the rhythm of the game," Krug said. "You have to find ways to get guys engaged and get them moving. But yeah the rhythm of the game and the flow just wasn't there."
The ebbs and flows of any hockey game can change on a dime. Krug and company just so happened to turn Saturday's game upside down once they found their groove late in regulation and into overtime.