Bruins
3 takeaways from the Bruins' 8-1 rout of the Canadiens
The Bruins scored 8 goals on 24 shots during Tuesday's blowout win in Montreal.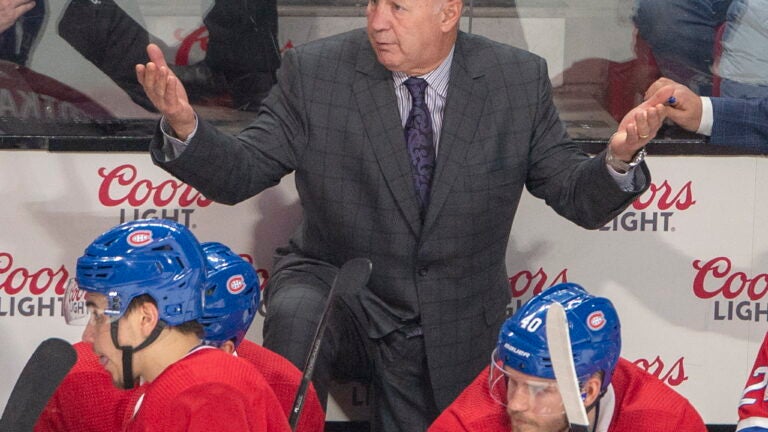 COMMENTARY
The first installment of the historic Bruins-Canadiens rivalry this season ended in a one-goal Montreal victory after a controversial offside review wiped out Charlie Coyle's go-ahead goal.
Round 2 wasn't even close.
The Boston Bruins, without Patrice Bergeron and Brett Ritchie, left nothing up to chance as they easily knocked out their rivals Tuesday night at the Bell Centre, 8-1.
"This is probably the rink we like to silence the most," Brad Marchand told NESN's Sophia Jurksztowicz during the second intermission. "It's a lot more fun when this rink is quiet because they are very loud and obnoxious. It feels good to silence them."
Bruce Cassidy's squad stepped on the gas pedal from the get-go. The Bruins took their first lead of the night after Jake DeBrusk netted his fifth goal of the season 8:03 into the first period. Shea Weber evened things up four minutes later, but the Bruins quickly responded with a pair of goals — from David Pastrnak and Brad Marchand — to take a 3-1 lead into the first intermission.
The carnage didn't stop there.
Pastrnak, who registered his second hat trick of the season, scored eight seconds into the second period following a designed faceoff play.
David Pastrnak, en fuego ? pic.twitter.com/DAFDWmVfXa

— Boston Bruins (@NHLBruins) November 27, 2019
Anders Bjork found the back of the net 62 seconds later, which forced Claude Julien to pull netminder Carey Price after allowing five goals on 11 shots.
Pastrnak completed his hat trick before the second intermission, while Charlie Coyle and Danton Heinen added insult to injury with third-period tallies.
"You don't see too many of those games between the Bruins and the Habs," Cassidy told NESN's Jack Edwards and Andy Brickley following the lopsided contest. "At the end of the day, we had good finish around the net, made some good plays obviously [and] got the saves we needed early."
Here's what we learned from the Bruins' rout of the Canadiens.
Hats off (again) for David Pastrnak
What more needs to be said about the season Pastrnak is currently having?
Pastrnak now has 23 goals in 24 games following his second hat trick of the season. The Bruins haven't had a 50-goal scorer in 25 years, and Pastrnak is almost halfway to that illustrious total before Thanksgiving.
To put Pastrnak's torrid start in perspective, the last player with more goals through 24 games of a season in the NHL was Mario Lemieux back in 1992-93.
Following his three-goal outing Tuesday night, Pastrnak now has a five-goal cushion over Edmonton's Connor McDavid, who sits in second in the National Hockey League with 18.
What makes Pastrnak so special is his ability to score from virtually anywhere on the ice. All three of his goals Tuesday night came from different spots in the offensive zone in a variety of fashions
The sixth-year winger started his impressive night with his patented one-timer from the left circle on Boston's second power-play opportunity. This shot has been his bread and butter all season and it's automatic at the moment.
David Pastrnak on the power play. Automatic. 2-1 Boston in the first. pic.twitter.com/NCOZtWFQEe

— Matt Castle (@Matt_Castle22) November 27, 2019
He followed that up with a wrist shot from the slot and a tip from just in front of the crease.
Pastrnak's impressive season may result in some individual hardware come season's end. He's truly been a joy to watch as he sets in on yet another career year.
Jake DeBrusk is finding consistency.
DeBrusk's play has flown under the radar compared to some of the other developments in November. But the Bruins are more than happy with his stellar play, especially over the last few games.
The high-flying winger is beginning to hit his stride after tallying five points in his last seven games. DeBrusk is one of those players that can sustain a long hot stretch of play at any moment.
That hot streak might be just around the corner after this recent stretch.
With Bergeron out and David Krejci moving up to the top line, DeBrusk needed to take on a bigger role, especially with Jack Studnicka earning second-line duties in his NHL debut.
DeBrusk gave the Bruins an early spark with his second goal in as many games after snapping a wrist shot past Price on Boston's first power-play attempt.
.@pastrnak96 is getting his own highlight reel, so we're going with #CELLYSZN for tonight's @JagermeisterUSA Shot of the Game.@JDebrusk | #NHLBruins pic.twitter.com/gOKLgJY5Wb

— Boston Bruins (@NHLBruins) November 27, 2019
The Bruins showed just how dangerous they can be when the secondary scoring shows up. DeBrusk has been that secondary scoring catalyst in the past, and his recent production comes at a good time for a Bruins squad that's still banged up.
Jack Studnicka has an eventful NHL debut.
It was a matter of when and not if Boston's highly-touted prospect would make his NHL debut this season. And what better way to arrive on the NHL scene than an Original Six rivalry clash in Montreal.
Studnicka, Boston's second-round pick in 2017, lived up to the hype and notched his first NHL point.
The 20-year-old had to fill big shoes in the top-six playing alongside DeBrusk and Coyle, but he never looked out of place.
Studnicka finished with 18 shifts for 14:30 ice time. He capped off the night with his first career point after beating out a Habs defender behind the net for a loose puck before feeding Heinen for the final tally of the night.
Jack Studnicka with his first career point. A nice set-up for Danton Heinen.

Bruins lead, 8-1. pic.twitter.com/UEeawULemR

— Conor Ryan (@ConorRyan_93) November 27, 2019
Like any prospect, Studnicka still needs to fine-tune his skill set, especially when it comes to his strength on and off the puck. He didn't shy away from contact, but he was on the receiving end of some powerful hits on his very first shift.
Welcome to the NHL, Jack Studnicka pic.twitter.com/L61IYVqXUr

— Boston Bruins on CLNS (@BruinsCLNS) November 27, 2019
The 6-foot-3 centerman made a good first impression with Cassidy and the coaching staff. That's all you can ask for out of a debuting player, even a highly-touted prospect.